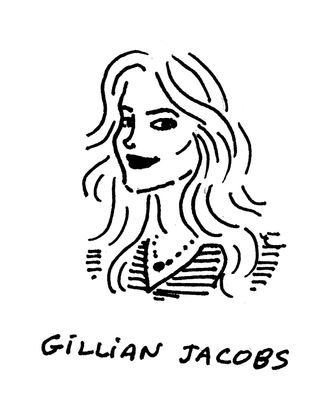 Illustration: Joana Avillez
In Fashion Feelings, we'll be talking to notable people about how fashion changed their lives. Here, actress and star of Netflix's Love Gillian Jacobs talks about developing her personal style after a lifetime of leisurewear.
I was in my mid-20s before I felt like I had my own individual style. My mother wouldn't let me wear anything that she didn't like, so she controlled my wardrobe until I went to college. As a kid, I wore full sweatsuits — like a sweatshirt and matching sweatpants — and usually a color-coordinated turtleneck underneath. I was really into monochromatic dressing in the third grade: I had a full fuchsia outfit, like fuchsia clogs, fuchsia bike shorts, and a fuchsia headband. By sixth grade I was trying to look cooler and in eighth grade there was a big overalls phase. I want to say I owned a dozen pairs. I had denim, corduroy, pastel colors — you name it, they sold it, I had it. My mom put me in a lot of sweater sets in high school. I looked like I was going to go to a ladies' brunch. She dressed me like a little version of her, and I am sure she thought it was a totally fine, presentable outfit.
There was no real step forward for me sartorially in college. I went to Juilliard where we had these weird mandates that we couldn't wear pants with waistbands that would restrict our breathing. It was more sweatpants, T-shirts, and hoodies. But it was a really big deal on Fridays when we got to wear jeans to class.
When I moved to New York, it was the first time I really had an awareness of fashion. I saw people on the street wearing clothing that I had seen in magazines, which blew my mind. There was such a gap in Pittsburgh between what you see in Vogue and what everybody wore. I started going to Barneys my senior year. I didn't buy anything, just tried stuff on. One time I got a $3,000 Alexander McQueen dress stuck over my head, and had a really panicky moment in the dressing room, trying to get it off without ripping it as the saleswoman was banging on the door.
It's funny: You spend four years dressing like you're going to the gym and then suddenly realize: I'm actually going to be auditioning for things and having to look fashionable or presentable or cute. Everyone panicked because none of us owned any real-world clothes. I remember being told that blue would be a good color to wear to auditions. So I got a bunch of blue skirts. Then you have to audition for Law & Order and you're playing a lawyer, so I would buy a little suit at Banana Republic. It was just me buying for auditions at that point, trying to have things that were appropriate for a variety of parts. I started going to Century 21, Loehmann's, Filene's Basement, T.J. Maxx. I was learning through failure — buying things that didn't work, things that in my mind would be wonderful but in reality looked really stupid on me.
When I moved to L.A., I went to Maxfield, and discovered even more lines. I got into an A.P.C. moment that I'm still in. Now, I really like prints. I like to be comfortable day-to-day. But if I'm dressing up, I want to scare myself a little bit. I like British designers a whole lot: Peter Pilotto, Mary Katrantzou, J.W. Anderson.