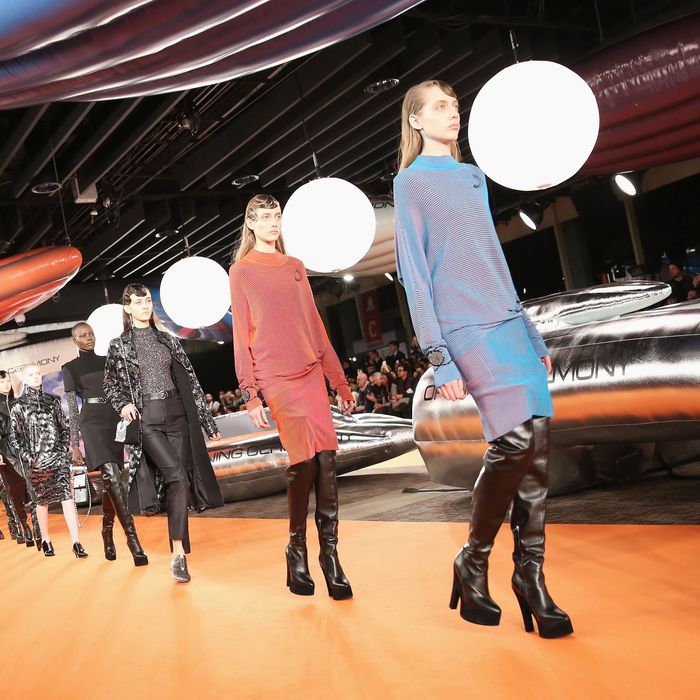 The future is that way.
Photo: Monica Schipper/Getty Images
It's one thing to be a sci-fi fan, and another thing entirely to reach out to one of your sci-fi heroes to collaborate on a fashion collection, as Opening Ceremony's Humberto Leon and Carol Lim did for their show last night. "Carol and I have been talking about Blade Runner and all these movies we grew up loving," Leon explained post-show, "so we decided to actually contact Syd Mead." Mead — the concept artist responsible for Blade Runner, Tron, and Aliens, was also known for his futuristic cityscapes, which Leon and Lim incorporated into prints and jacquards on shirts and turtlenecks. (He was credited simply as "visual futurist" in the show's program.)
But they didn't want the show to feel too Star Trek, Leon said. "We really loved this idea of future but reality, and the idea of the two combining," said Leon. "Yes, we're approaching this idea of the future, but we really wanted there to be a reality in the clothing. We wanted stuff that you could really look at and say, 'I could wear this to work,' or 'I could wear this out.'" So the wackier moments — like lab-goggle lenses designed in collaboration with fledgling Korean brand Gentle Monster — were balanced out by a sturdy parka or a fuzzy jacquard coat — things that would fit smoothly into a non-space-cadet's wardrobe.

As for the set Snapchatted and Instagrammed the world over, it was a collaboration with Lexus's Design Disrupted program, which also worked with Gareth Pugh on his indoor-tornado show two years ago. Pneumatic spacecrafts lined the runway, rising and falling on command. But the futuristic vision had a lot of Mead's '70s and '80s heyday in it. In the same way Leon and Lim channeled the analog '90s a year ago, they managed to evoke a more innocent and optimistic time. "There was this great idea about doing this lo-fi, hi-fi vibe, which I feel if you watch a lot of these films, it's always about the lo-fi, hi-fi," said Leon. "So, we wanted that quality in the show, and we wanted this idea that things felt like they were not permanent, but that there was this idea of, almost like a movie set." Jaden Smith, sitting in the front row, certainly looked entranced.