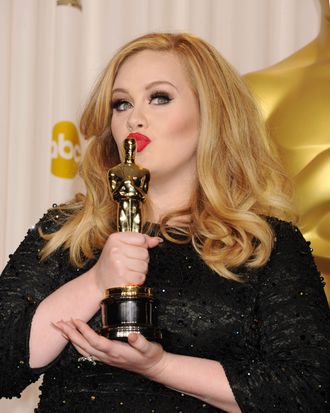 Oscar-winner Adele
Photo: Jeffrey Mayer/Jeffrey Mayer
Tonight's a big night for Leonardo DiCaprio. He's so tantalizingly close to that Best Actor win, so heavily favored to take home the Oscar. Surely, he'll be happy to know that Adele is in his corner.
She tweeted her support for DiCaprio, telling him to "Meet me at the clock anytime bruv." It was accompanied by a photo of Adele under that famous Titanic clock.
Adele, of course, already has an Oscar. She took one home in 2013 for Best Original Song for "Skyfall," her first nomination and win, which puts her batting a thousand Oscar-wise. (Leo's 0 for 6 so far.) It must feel good to have one of the most award-winning-est women in the world pulling for you — and if somehow Leo doesn't come away with the statuette, maybe she'll let him hold hers.