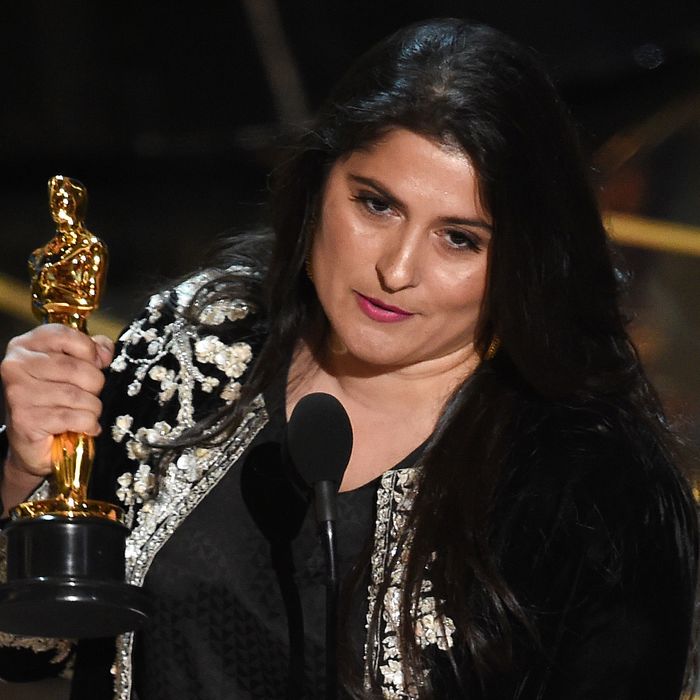 Listen up.
Photo: Kevin Winter/Getty Images
After winning the Oscar for best documentary for her film A Girl in the River: The Price of Forgiveness, two-time Oscar-winning Pakistani journalist and filmmaker Sharmeen Obaid-Chinoy delivered a speech that's worth replaying.
She noted the importance of the story she told about her film's subject, the survivor of an honor killing, and of getting the film made — let alone getting it in front of audiences. After giving a shout-out to HBO president Sheila Nevins, journalist Tina Brown, and "the men who champion women," Obaid-Chinoy made it clear that films like hers are only achieved if women work to make them happen.
"This is what happens when determined women get together," she said as she accepted the award.
The ceremony might have gone on forever, but this speech was not one to fast-forward. As a woman of color, Obaid-Chinoy's words might have carried extra weight this year, as she brings visibility to the stories that often go untold, about people rarely seen onscreen.
The filmmaker added that the Pakistani prime minister said he would change the law on honor killing after watching the film. "That is the power of film," she said. Indeed.