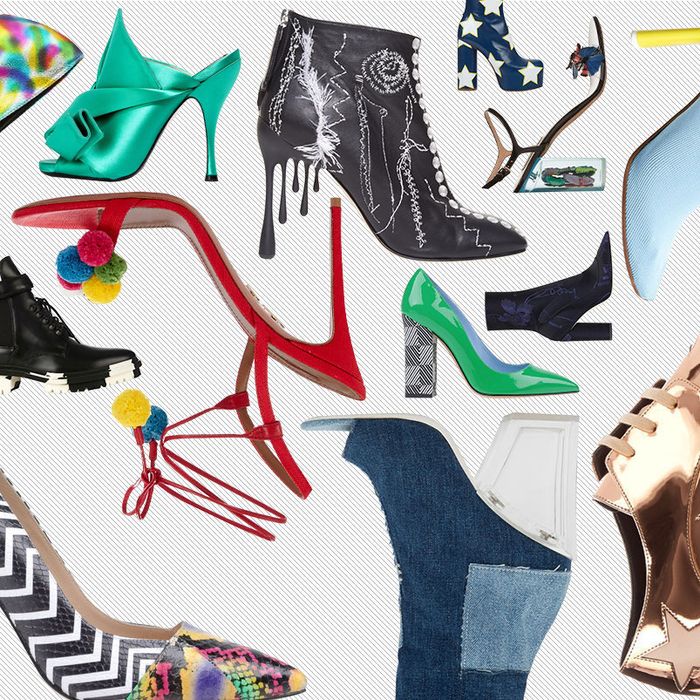 The past month of runway shows confirms it: Maximalism is here and in full effect. But despite certain houses shifting to a see-now-buy-now model, most of the over-the-top accessories we saw on the runway — like Fendi's ruffled booties and Dolce & Gabbana's frenzied mary janes — won't be available for months. Instead, we've rounded up the wildest, most high-drama shoes you can have en route to your mailbox by tomorrow (or today if you're that desperate).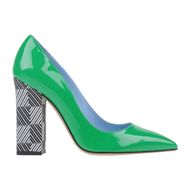 Emerald-green leather is an out-of-the-box way to break up the monotony of neutrals — striking, yet safe for work.
Studio Pollini Pumps, $290 at Shoescribe.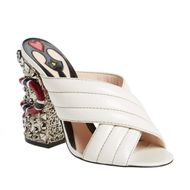 Gucci's Webbys adorned the feet of every blogger in Milan. Now, snakes and studs up the ante.
Gucci Webby Snake-Heel Mules, $990 at Bergdorf Goodman.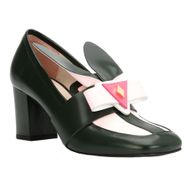 These loafers, by a Korean designer, say it's perfectly okay to admit to your bunny obsession in public. Try them with cropped jeans and a relaxed tee.
Minjukim "Ears" Loafers, $665 at Farfetch.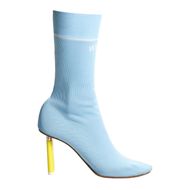 Sock boots have infiltrated the high street market this season, so why not buy the runway original? Baby blue and lemon yellow make for an unlikely yet cool combo.
Vetements Sock Ankle Boots, $1,260 at Matches Fashion.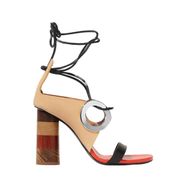 There are no off-the-wall patterns or embellishments here, but sexy ankle straps and big eyelet cut-outs teeter on the line of outrageous without falling over the edge.
Proenza Schouler Embellished Leather Sandals, $1,065 at Net-a-Porter.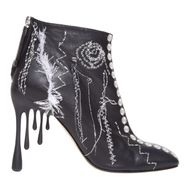 If Jackson Pollock made a shoe, we imagine it'd turn out something like this.
Christopher Kane Irregular-stitching leather ankle boots, $895 at Matches Fashion.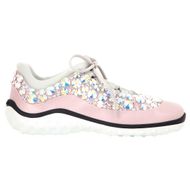 Do sneakers really need Swarovski crystals? Gaze on these for a while and the answer starts to be "yes."

Miu Miu Astro Running Sneakers, $1,570 at MyTheresa.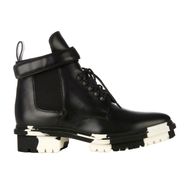 These rugged boots from Balenciaga are equal parts tough, functional, and artistic.

Balenciaga Unit Leather Biker Boots, $1,175 at Matches Fashion.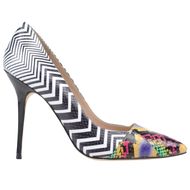 Clashing animal prints can actually look stylish with clothes, so why hold back when it comes to shoes? Pair these with a white shirtdress to balance the contrasting patterns.

Lucy Choi Pumps, $518 at Shoescribe.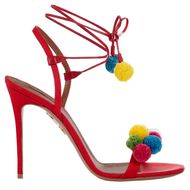 Aquazzura's Wild Thing sandals are constantly sold out. The brand's newest design features statement-making pom poms, and if you love them, we'd advise you buy them now, before everyone else inevitably parades them on their Instagrams come summer.
Aquazzura Raffia Pompom Sandals, $749 at Matches Fashion.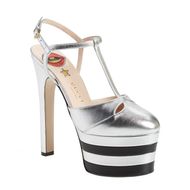 Walking in these Gucci heels might require a steep learning curve, but they're worth it.
Gucci Angel Metallic Platforms, $990 at Neiman Marcus.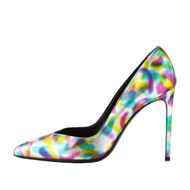 One easy way to try maximalism: Find a classic design in an eccentric print, like these pumps from Saint Laurent. They're rainbow, so virtually any color palette will coordinate nicely.
Saint Laurent Classic Paris V-Vamp Pump, $645 at Bergdorf Goodman.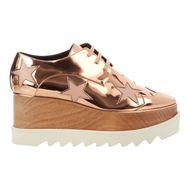 Can three-inch platforms work for every day? Stella McCartney says yes with these shiny copper platforms in a surprisingly practical shape.

Stella McCartney Copper Star Platform Elyse Derbys, $1,100 at Forward.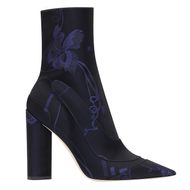 Rihanna debuted these at Dior's Tokyo event back in October, and they've been on global wish lists ever since.
Dior Trianon Canvas Jacquard Ankle Boot, $1,070 at Dior Boutiques.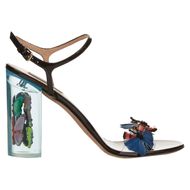 As tempting as it is to display these as a work of art, they're just too pretty (and expensive) not to wear.
Valentino Butterfly Lucite-Heel Sandals, $2,295 at Matches Fashion.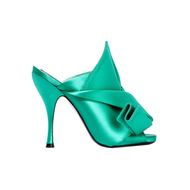 Consider ditching your closed-toe pumps for these elaborate mules. Just balance out the drama with a neutral palette and tailored pieces.
No.21 Knotted Satin Mules, $565 at Net-a-Porter.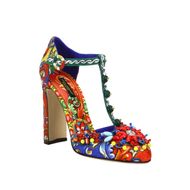 Dolce & Gabbana knows how to create artfully elaborate footwear. These T-strap pumps are a bright dose of color that elicits fantasies of yachting on the Mediterranean.
Dolce & Gabbana Embellished Brocade Pumps, $1395 at Saks Fifth Avenue.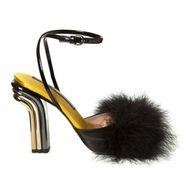 The fresh-faced Italian designer has followed the maximalist wave for several seasons now. Wear these fluffy feathered sandals with a billowy pair of trousers and an off-the shoulder top for a cool party look.

Marco De Vincenzo Feather-Embellished Satin Sandals, $948 at Matches Fashion.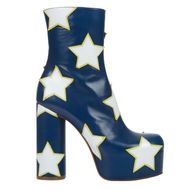 You could own these in black like Taylor Swift, but bright-white stars are just so much better.
Vetements Stars Leather Platform Boots, $2,450 at Matches Fashion.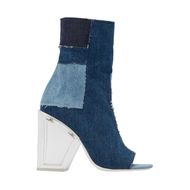 Virgil Abloh's chic downtown brand knows how to make denim footwear look expensive and tasteful.