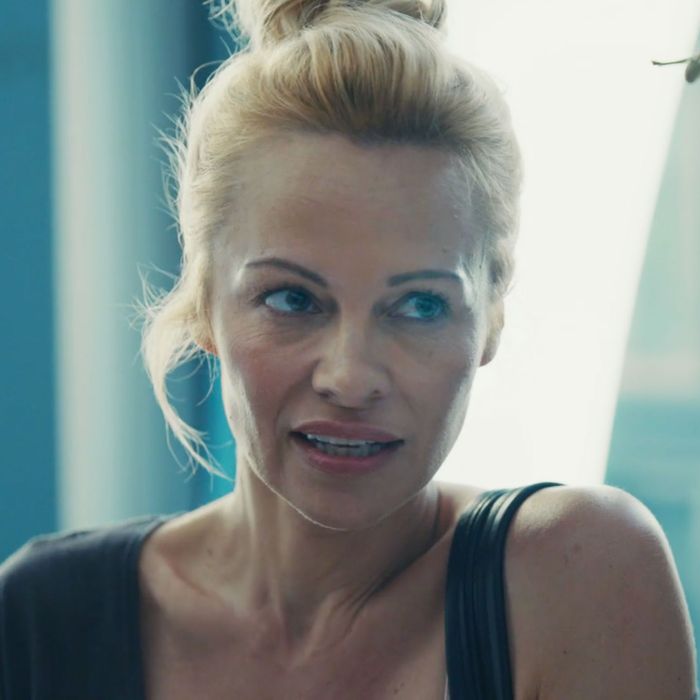 Pam Anderson as "Jackie."
Try as you might, no amount of vigorous SoulCycling or consumption of bajillion-dollar juices can truly keep aging at bay. At best we can slightly delay that inevitable forehead wrinkle or butt dimple; at worst we can permanently injure a groin muscle trying to keep up with the rest of the spin class. But in Connected, a new short film directed by Luke Gilford, Jackie — played by Pam Anderson — shows the dark side of giving up your life to the notion of wellness.
Connected is set in future Los Angeles, but aside from technological innovations like mind Wi-Fi and better touch-screen computers it looks a lot like present-day Los Angeles: There are green juices, weird spa procedures, and all-too-familiar scenes of Jackie anxiously pinching at her skin in the mirror. A failing instructor at "AuraCycle," Jackie decides to go on a wellness retreat in order to revamp her life, better embrace the aging process, and feel more connected to herself. It … does not go well.
Connected is like if you let Hitchcock direct a documentary about Amanda Chantal Bacon. Terrifying stuff.