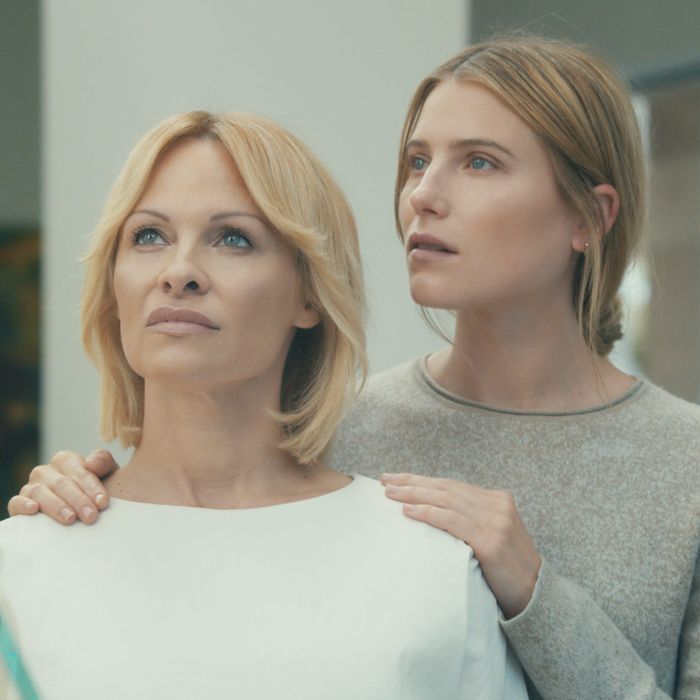 She plays a SoulCycle instructor alongside Dree Hemingway in the art-house film "Connected."
It's been 24 years since Pamela Anderson made her splashy acting debut as the bouncy buxom blonde Baywatch lifeguard C.J. Parker, who at the very least rescued one-piece bathing suits from unsexiness. Since then, Anderson has continued to cavort before the cameras — who can forget Barb Wire? Not to mention that one co-starring her then-husband, Mötley Crüe drummer Tommy Lee (who also, by the way, exposed her to hep C). She did some more TV (VIP, Stacked, the animated series Stripperella). Lately, Anderson has assumed a more discreet profile — even getting a pixie cut — and focused on her activism, speaking out on behalf of organizations such as PETA and the M.A.C Cosmetics M.A.C AIDS Fund. This month, however, Anderson is dipping her toes into new waters, playing Jackie, the lead role in up-and-coming director Luke Gilford's short art-house film "Connected." Starring alongside Dree Hemingway, who plays a self-help guru (with additional narration by Jane Fonda), Anderson plays a SoulCycle instructor, pedaling along on her personal journey.
What about Jackie, your character in "Connected," appealed to you?
Pamela Anderson: I really related to her because I felt like a long time ago, 20 years ago, I had the perfect life. I came to America, I got this job on Baywatch, I was really popular, I was married to someone I was really in love with, I was having children, and you never think that that's going to go away. Even though, of course, I didn't lose my children, as they get older, you realize they don't need you as much anymore, and I'm left asking, What am I doing? Am I going to jump into all these health-food gimmicks and hypobaric chambers and oxygen? Am I going to get into all these things that women of this age seem to do in hopes of trying to find themselves again?
Is this a new, fully grown-up "Pamela Anderson"?
Well, I do feel like this is chapter two, that's kind of what I call it. I have no regrets about chapter one, but this is definitely a different time for me. I don't think I'm reinventing myself on purpose. It's almost like I don't know if I was playing a character up to this point, and now this feels like, there was this perception of me that was almost like a cartoon character at one point, and I just started feeling like I was taking it personally, and you can't take that stuff personally. It has been a hurdle to overcome the perception people have when they think of me or hear my name. They have a lot of opinions or what they think is the truth about me.
For many people, you have this visibility as a sex symbol from a particular place and time. I wonder how the objectification that you experienced, centered so much upon your body, came to bear, not only on your understanding of Jackie, but also just in terms of who you are today. The role you play in "Connected" really pushes to the fore a lot of questions about women in society and the expectations that are placed on them. Do you think you're a feminist icon?
Well, I don't think we should label things like that, as it just becomes another hurdle to overcome. I really believe the way that I came into this Hollywood world, through Playboy, and all the objectification that came with it, I made those choices. I felt the power to be able to use my sensuality and my sexuality. I was very safe. I knew where to draw the line. I feel that I embrace all my feminine qualities and I enjoy them. I think that women are equal to men. We all have our own strengths and roles. And to be honest, I'd rather be a woman than a man!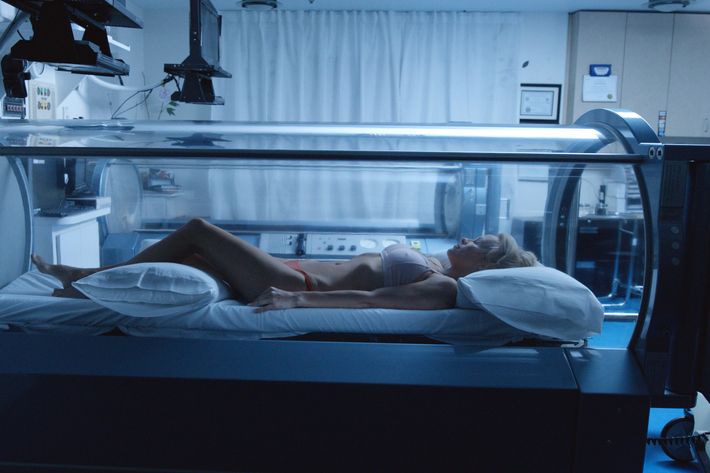 What do you think it means to be "connected" in this digital age?
Funnily enough, a while back, I actually "disconnected." I took my computer and my phone away. You could only reach me through my home phone and fax line. It was a social experiment, and it turned out to be the best time of my life. But to be "connected," it can kind feel like you're being thrown to the monster.
I think the uncertainty for Jackie in "Connected" stems from the question, "Am I going to be alone the rest of my life?" She's faced with this situation where she's thinking, My husband's left me, my children think his wife is cooler than me because she's young, she goes to Coachella, and from out of that loneliness, that desire to be part of something, she finds technology to be a useful tool. So I think that where the movie is interesting is in how it depicts this woman, who was not raised in the digital age, using technology to figure out how to belong.
Do you go to SoulCycle?
You know, I went SoulCycle just for this role? I'd never been to SoulCycle before. And I went and I looked around at the women with the big lips, you know, like on the bicycle, pumping away. And I said to myself, Where are they going? They're going nowhere!
We're on the road to nowhere …
Exactly, On the road to nowhere. They're not going anywhere. Then they pick up their little Gucci bag, and they head out to their Mercedes, and they go home and see their husband, or maybe go home alone, thinking that's their only connection.
And probably staring at their phones.
You know, I don't think we're as connected as we think we are. Maybe, in one way or another, we are all adopting a certain robotic mind-set, and the scary thing is, you don't need to be into sci-fi fantasy to believe that — it's not even futuristic, it's now.