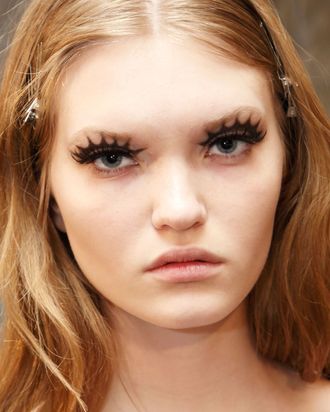 How to fake your lashes like Pat McGrath at Anna Sui.
Photo: Helga Traxler
New York Fashion Week has been a whirlwind of clumpy eyelashes, "dirty" manicures, flower crowns, and "don't mess with me" looks. Here are the final set of useful backstage beauty lessons from the week, including some false-eyelash advice from the one and only Pat McGrath. Find out what orange-red lipstick was used at the Proenza Schouler show, how to get a true black goth lipstick à la Rihanna and Marc Jacobs, and how Freja Beha Erichsen gets her hair styled backstage.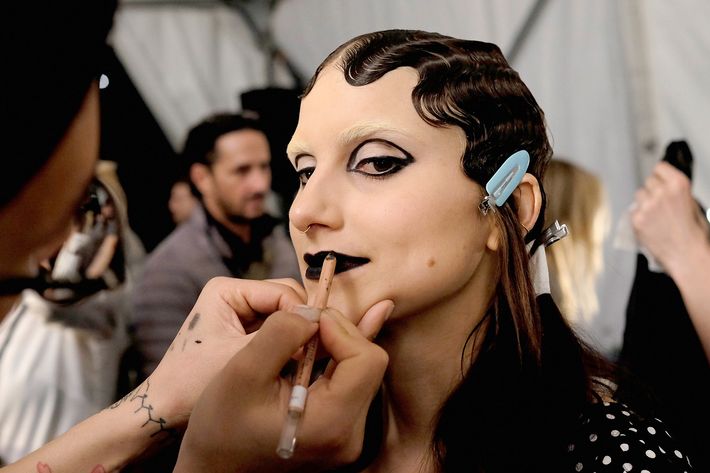 1. Black eyeliner is the new black lipstick. If you want lip color as dark as your mood, use a lip liner. At Fenty x Puma, Pat McGrath and her team used the lip pencil and eye gloss from her Phantom 002 collection to create a slightly glossy lip. Last night at Marc Jacobs, a combination of lip liners and lip gloss was also used to create the "don't mess with me" face.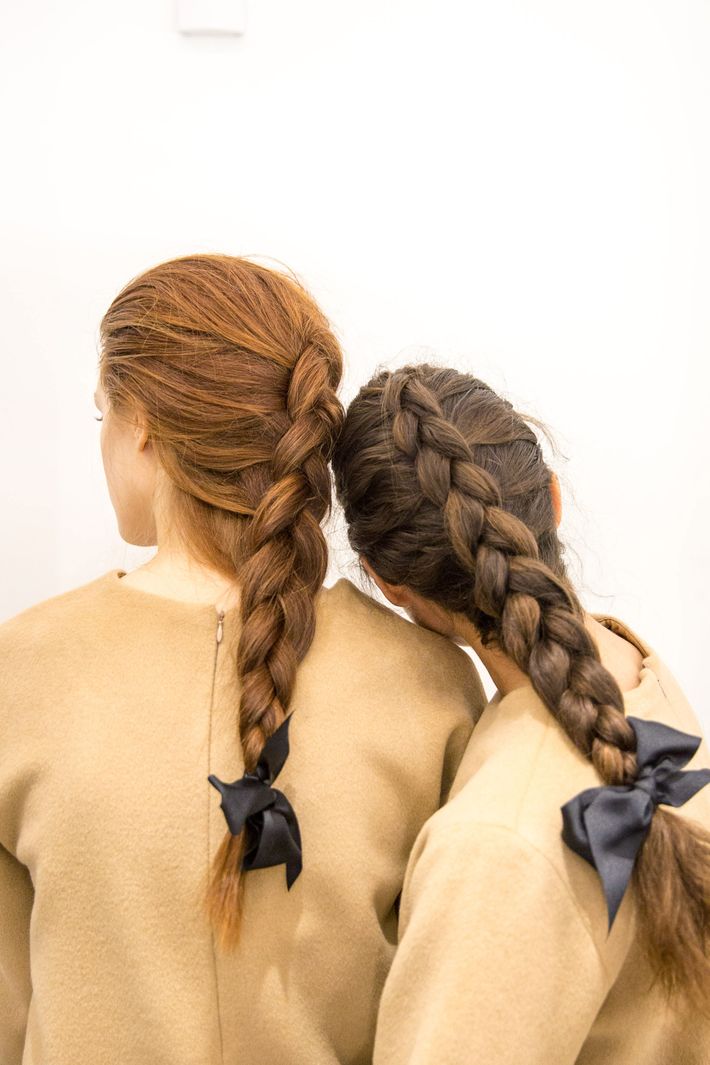 2. How to do friendship braids. At Mansur Gavriel, one of the looks was a sweet, loose Dutch braid, a braiding style popular in African-American culture (not just with Kim Kardashian). To keep the braid loose without actually having to loosen it after braiding, Laurent Phillippon and his team added texture to the hair first, using Bumble & Bumble Surf Spray, Thickening Hairspray, and Cityswept Finish. To do a Dutch braid, divide your hair into three parts and then cross each strand under, rather than over ( as you would with a French braid.) Imagine holding a jump rope — turning your wrists toward each other is a French braid, turning out is a Dutch braid. Once you finish each section, gather a bigger section of hair from the outside for the next, and continue braiding. At Mansur Gavriel, each braid was tied at the end with a sweet grosgrain ribbon from the designers.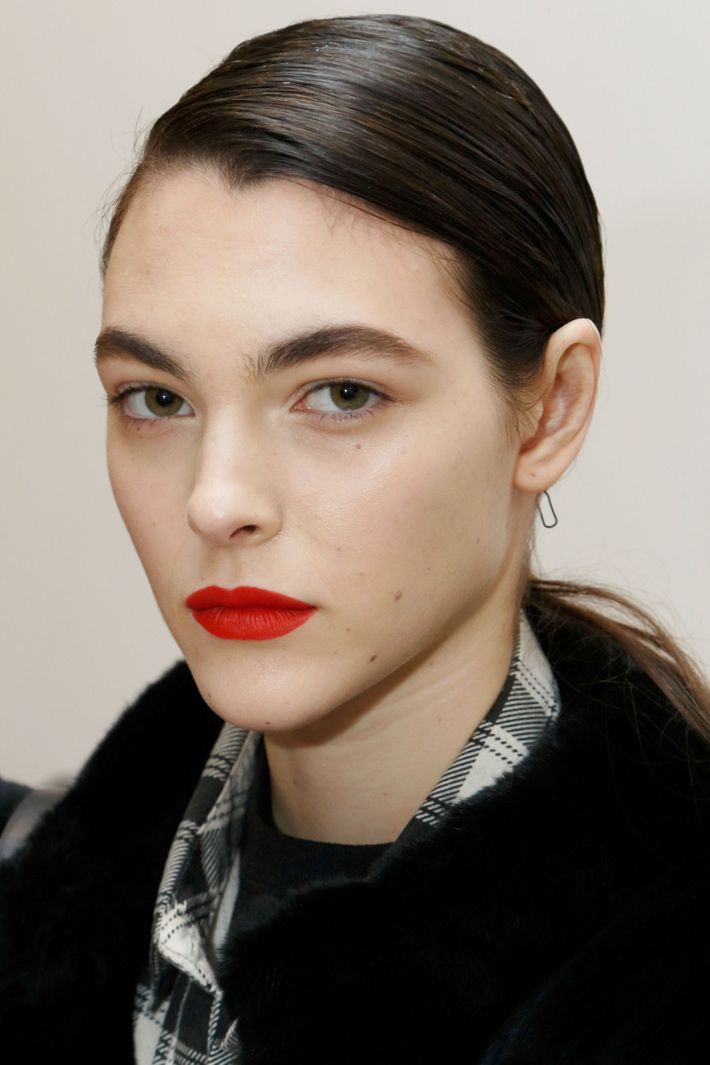 3. How to get the Proenza Schouler lipstick. The perfect, orange-y lip color from the Proenza Schouler show that six lucky girls got to wear is M.A.C Cosmetics's Lady Danger. Yes, you can run and get it now.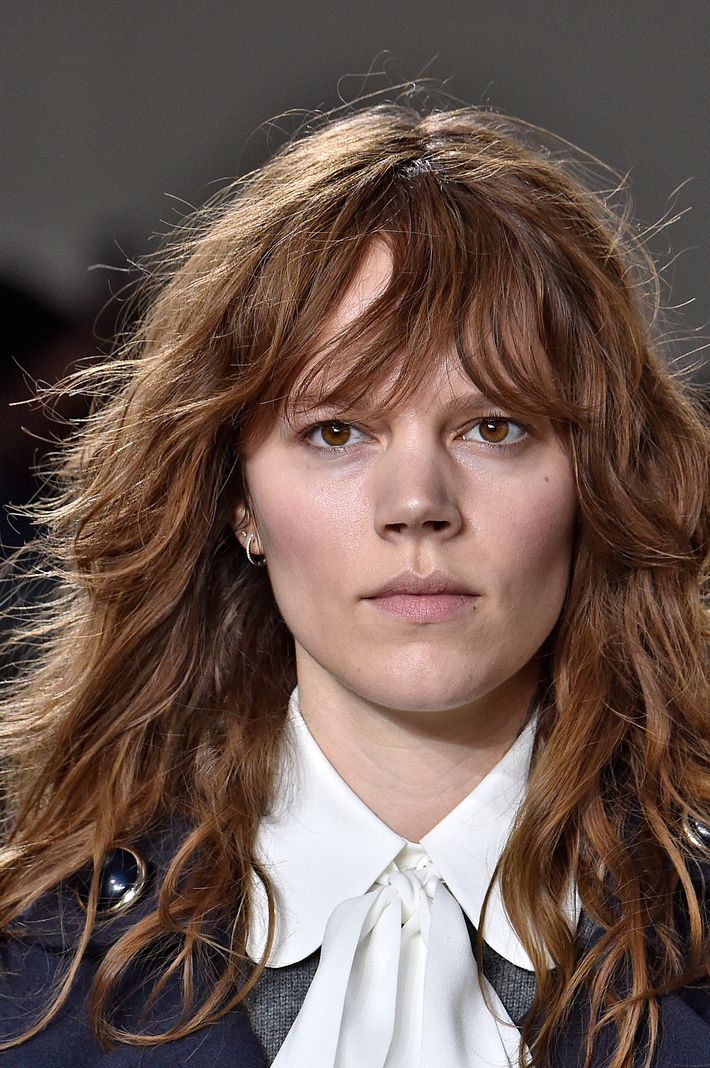 4. Water and a diffuser is your hair-texturizing best friend. Life as Freja Beha Erichsen means a life of steady flashbulbs and never having to wonder, "Should I get bangs?" Backstage at Michael Kors, Erichsen waltzed in with what already looked like her signature, perfect, downtown, slightly grungy hair. But to finesse it and make it a little more smooth, Orlando Pita and his team added a bit of styling cream and sprayed it with water, then diffused it, to take out some of the frizz. At Rodarte, rather than using a curling iron to get perfect waves (an effect Odile Gilbert said would have looked "ridiculous" with the baby orchid crowns), her team used a styling serum (in this case, OSiS+ Flatliner Flattening Iron Serum), sprayed it with water, and then diffused the hair while twirling it around with a finger to give it some slight bend. No curling irons were used, in fact, I didn't even see them backstage.

5. How to do false eyelashes like Pat McGrath. For the pop-psychedelic look at Anna Sui, she and her team layered two to three pairs of lashes on each girl. Even if you're going to do lashes, do an eyeliner first. "If you aren't so good at lashes, it can act as a base," she explained. "And the eyeliner makes it so you don't see gaps between the lashes." She likes using either a clear or black eye-shadow glue (like Duo) so you don't see the band. And mascara first, in this case Cover Girl's Plumpify Mascara in BlastPro. One because Pat says so, and second because your false lashes don't need mascara.