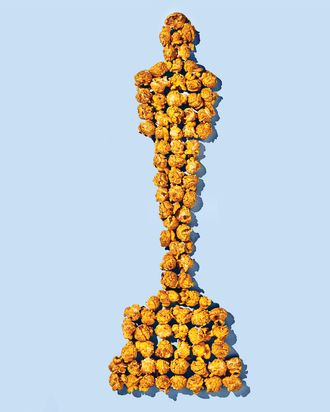 Its flavor profile is reminiscent of artisanal Combos.
Photo: Bobby Doherty/New York Magazine
The Goal: Find a better packaged popcorn in time for the Oscars. Smartfood is fine for binge-watching Making a Murderer, but if there's a small-screen occasion that calls for a snack-food upgrade, it's this one.
The Verdict: Pizza Posto popcorn ($25 per gallon at laboiteny.com) is a collaboration between spice guru Lior Lev Sercarz, custom blender for many of New York's top chefs, and James Wescott, a.k.a. Dr. Popcorn (he has a Ph.D. in chemistry and runs Wisconsin's Minocqua Gourmet Popcorn Company). The result is an expertly popped kernel that's remarkable for its perfectly spherical, uniform shape and an addictive flavor profile that brings to mind artisanal Combos.
*This article appears in the February 22, 2016 issue of New York Magazine.