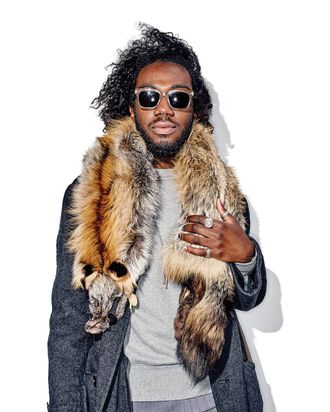 "I like to sit down by the piers in Tribeca and watch the water flow."
Photo: Bobby Doherty/New York Magazine
Khalid Farrell, Vintage-Clothing Buyer
What is that around your neck?
It's a golden cross fox. It was actually my friend's, and she wore it out to a bar one night, and I tried it on and started walking around the bar with it, and she ended up giving it to me! I thought it was kind of gruesome at first, but then I thought, Well, if I'm going to wear an animal, I might as well wear its face. Yeah, give it some dignity. I definitely get dirty looks on the train. I actually don't eat meat — I'm a pescatarian. I'm kind of a health nut; I'm always eating something organic and making sure I'm getting all my green juices. Recently, I've been eating a lot of bananas. My friend read about someone who got all their nutrients from bananas and ate like ten a day. The most I've ever eaten in a day is three.
Did you do anything for Fashion Week?
This sounds so bad, but I kind of hate Fashion Week. I feel like in the past few years, it's gotten so watered down. So many people are there just because they're friends, or friends of friends of friends of somebody, and everybody just wants to be seen. It's like, Is this just what fashion is about? I think Paris Fashion Week is probably a lot cooler.
Lightning Round
Neighborhood: East Flatbush.
Age: 21
Employer: The consignment store INA.
Best vintage find: "A $12 Yves Saint Laurent coat from a thrift store in New Jersey."
Currently reading: A Heartbreaking Work of Staggering Genius.
Favorite pastime: "I like to sit down by the piers in Tribeca and watch the water flow."
*This article appears in the February 22, 2016 issue of New York Magazine.