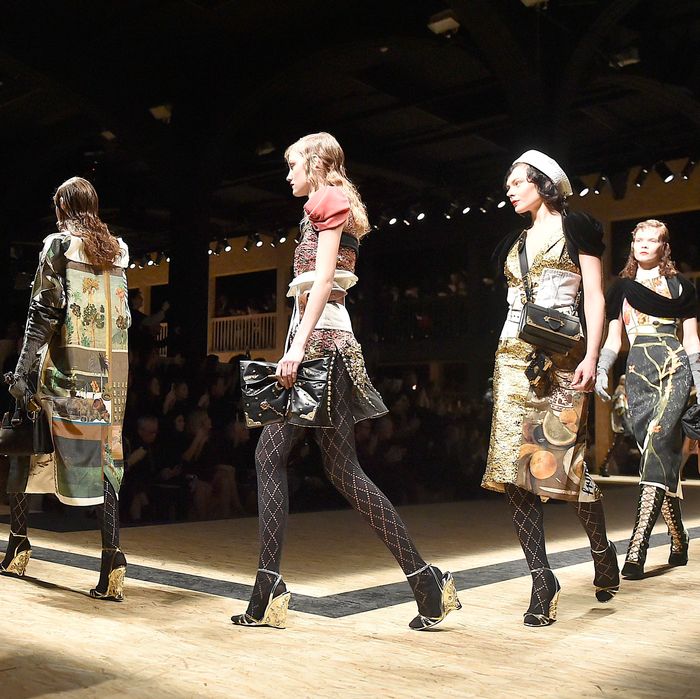 Prada.
Photo: Catwalking/Catwalking
We're recapping our five favorite moments from each day of Milan Fashion Week. Below: the best, prettiest, and weirdest things we saw on Day One.
1. PRADA. Read this in a Stefon voice: Prada. Prada. Praaaaaaaaaaaaada. It. Had. Everything. Denim, sailor hats, brocades mixed with florals, Stella Tennant, music by PJ Harvey and Nico, and the founder of Instagram in the audience. We could probably list about 25 things we loved from this show, but then we'd have to call this feature "25 Things We Loved," and not include anything else. But suffice it to say that this was the kind of show that makes even jaded editors think, Ah, this is why I love fashion.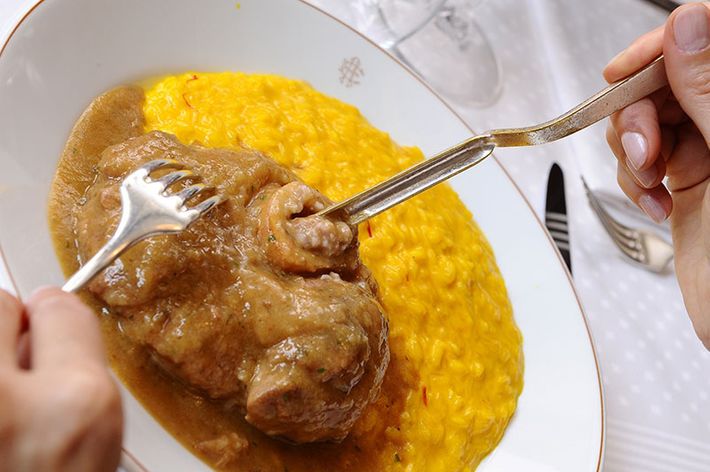 2. Dinner: Antica Trattoria della Pesa. This old-school Italian joint is not a typical fashion spot. While a few savvier foodie editors and retailers may be dining at a corner table, one does not go here to be seen; one goes to eat. Their osso buco is the stuff Milanese drivers gush about: Slathered in a savory gravy over saffron risotto, it's the kind of dish you splurge for, with a hefty glass of Barolo. Clubby dark wood interiors and white tablecloths make the place as authentic as they come, but should you hanker for an artichoke salad Stateside, there is an outpost in Williamsburg.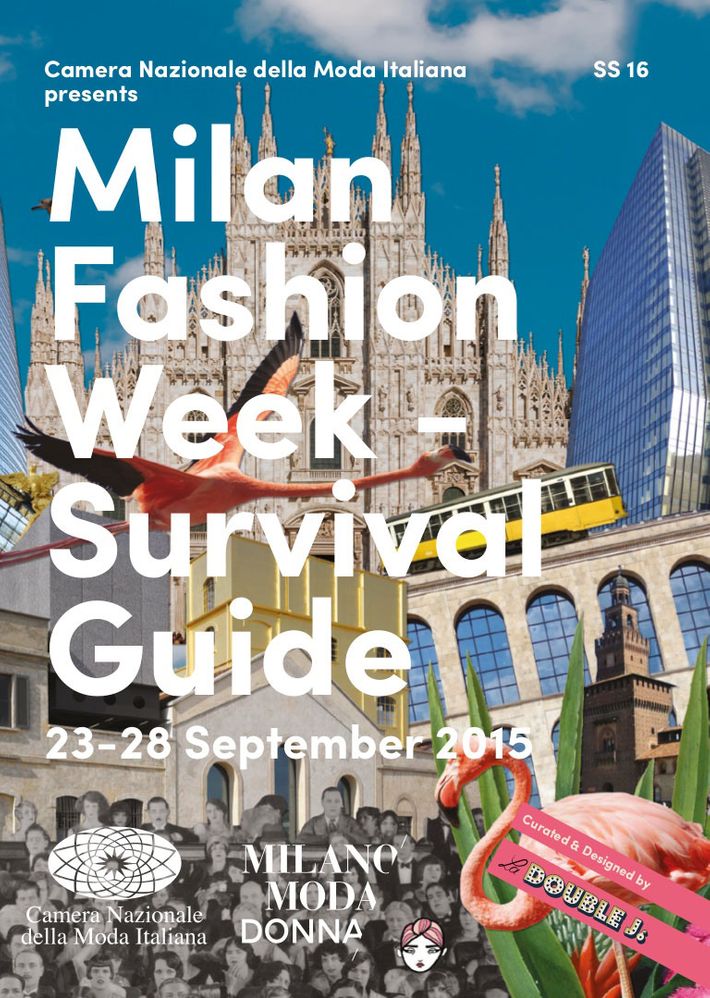 3. Milan Fashion Week Survival Guide. If you're looking for the best way to understand Milan, American-born JJ Martin has put together the ultimate guide. Her years of living as an expat writing for hipster-luxe travel and design magazine Wallpaper have made her an expert on all things chic and patterned and Italian. Highlights include interviews with local fashion stars, like Damir Doma giving tips for cutting a line: "You have to shout and push your way to the front to get what you want." Or the best place to buy white underwear, according to stylist Viviana Volpicella (a street market in Piazza San Marco in Brera). Our favorite tip was Foto Veneta Ottica, the eyeglass store where you can find vintage '60s butterfly frames.
4. Moschino. God bless Jeremy Scott for his literalness. In a world packed with confusing metaphors, Scott just grabs a theme and GOES. It was fun to watch a certain French EIC and her fashion director lose their minds over this show. We even overheard them workshopping possible headlines for their imagined stories. Picture hearing "Burning Mannnnn!" in a thick, giggly French accent. Scott's iPhone cases are always a highlight of the week and this season's pack of cigarettes was no exception. Fashion Kills.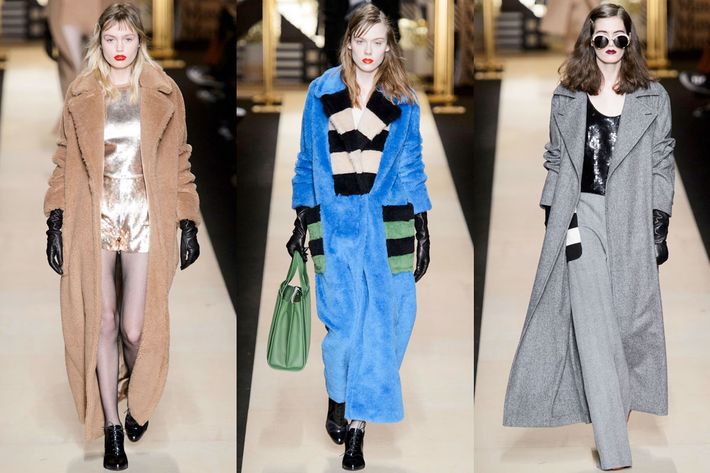 5. The coats at MaxMara. Ruffles and intricately embroidered gowns may be hot topics of Milan fashion (ahem, Gucci), but we got just as excited over a few simple great coats. Case in point, the MaxMara show. Known for camel coats, the brand included options of the staple aimed to please: Nubby toppers and tailored cashmeres walked the runway. For menswear enthusiasts, there were gray checked sweepers. And for street-stylers embracing color, a sky-blue fuzzy coat with panels of graphic stripes.