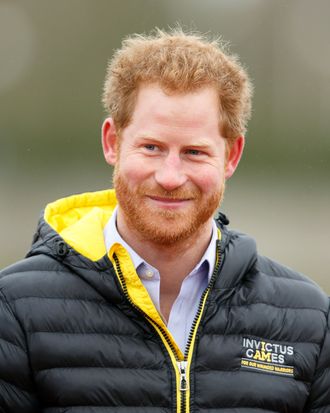 The prince of the basics.
Photo: Max Mumby/Indigo/Getty Images
Prince Harry — younger brother, royal ginger, former Nazi impersonator — may have a famous face, sure. He has a full head of hair, yes. But as the highly unlikely contender for king of England, Harry accepted his lot in life early on. Why should Harry bother with responsibilities and impressing people if all his life he'll be living in the shadow of the future king? Harry, enfant terrible, has embraced his second-tier status.
On a trip to Los Angeles over the winter holiday, Prince Harry made the respectable basic move of finding a perfectly basic paramour in the most basic city on earth. Us Weekly reports that "the 31-year-old British royal hooked up with aspiring actress and former Dior PR assistant Juliette Labelle" while on holiday in the States around New Year's Eve. They have since been "texting and using a lot of emojis." Wow — riveting stuff. Will "aspiring actress and former Dior PR assistant Juliette Labelle" become the first American princess? According to Sky News, signs point to a strong "hey, you never know": "There come times when you think now is the time to settle down, or now is not, whatever way it is, but I don't think you can force these things. It will happen when it's going to happen."
Very decisive. Sounds like we've got a contender for membership in the Pussy Posse. Leo? Hook it up, brother.