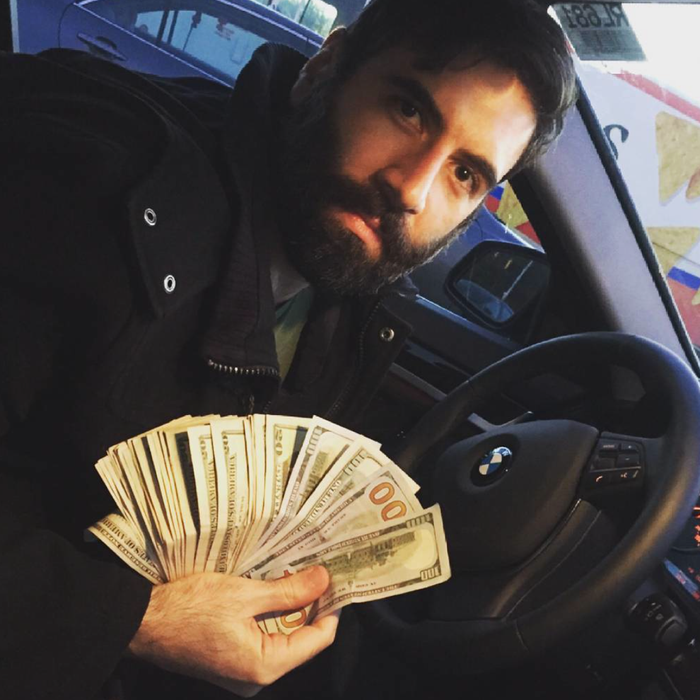 "I always carry huge stacks of money." Oh, Mom gives you a weekly allowance? Roosh V/Instagram
Return of Kings organizer Roosh V., the 36-year-old man promoting a misogynistic agenda on the internet, is currently hiding out at his mother's house.
The Daily Mail found Roosh at his mother's home in Silver Spring, Maryland, and posted a series of sweaty photos of him looking forlorn in the doorway as he spoke with police. Roosh reportedly called 911 after receiving death threats. It seems people weren't cool with the outlandishly offensive ideas he pushes on his website.
Thursday, Roosh canceled an International Meetup Day scheduled for his "tribesmen" to gather in 43 different countries. He put the nix on the meet-ups for "safety concerns." This call was largely influenced by the Toronto Newsgirls, a group of female boxers, who threatened to attend the meet-ups.
Apparently Roosh couldn't quite stomach the idea of a bunch of tough women ruining his International (Douchebag) Day. So, he sought shelter at Mommy's; here's hoping she'll take away his computer privileges.
This post originally stated that Roosh lives in his mother's basement. It has been updated to reflect the lack of certainty on that point.