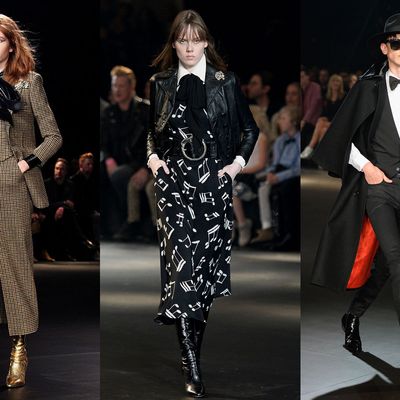 The Me Decade, revived.
Photo: Tommaso Boddi/WireImage, Kevork Djansezian/Getty Images(2)
Ever since Hedi Slimane took up the mantle at Saint Laurent, he's inspired love-it-or-hate-it reactions. Like last year, when Independent critic Alexander Fury accused him of "dishonoring" the house of YSL. It's unclear if the 93-look collection Slimane showed last night at the Palladium in Los Angeles was a response to that chatter — along with the ongoing rumors that he's leaving the fashion house — or simply where Hedi's head is at right now. (And since Slimane isn't the type to gush about his process in the press, we'll likely never know.) However, this year marks the 50th anniversary of Yves Saint Laurent's groundbreaking Rive Gauche collection, which made him the first couture designer to enter the ready-to-wear market — a moment that redefined French fashion, and was referenced in the show's program notes. That seems to be what prompted Slimane's deep dive into the house's past.
Slimane mined the archives, though not in a literal Mondrian-print-and-le-smoking way. A musical-note print from the early '80s got resurrected on a skirt and embellished the back of a jacket. Even the looks that weren't directly inspired by the house's history tapped Yves's most louche, '70s vein — pussy-bow blouses, leather culottes, and Jardin Majorelle–ready caftans fit for Betty Catroux. The male models wore skinny suits that channeled David Bowie, but Slimane also crammed in other references to the time period, like bandleader jackets, Gram Parsons–esque Western embroideries and fringe, and bohemian looks that evoked Graham Nash (like a fur-trimmed tapestry jacket).
The show notes referenced Slimane's own history, as well, casting the show as a kind of personal greatest-hits lineup including the skinny silhouettes he favored in the '90s, and his glam-rock collection for fall 2005 at Dior Homme. There was even a nod to his Psych Rock capsule from 2013, suggesting he has a pretty relaxed approach to what constitutes retro. Apart from his design gestures, though, one moment in particular stood out. The press-shy Slimane uncharacteristically took a bow at the end of the collection (to a standing ovation), which gave the collection a sense of finality. Was it meant to convey anything? We're sure the speculation won't end anytime soon.