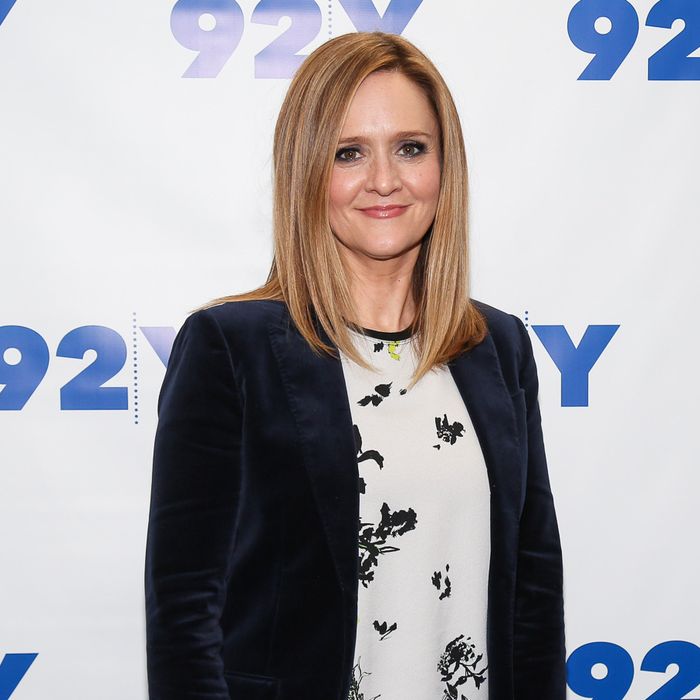 Samantha Bee.
Photo: Laura Massa; Laura Massa/Michael Priest Photography
Last night at Samantha Bee's talk at the 92nd Street Y, she and Ana Gasteyer gave us the perfect name for being a woman in your 40s: the Fuck It Era. Talking about her work on The Daily Show and the upcoming Full Frontal, Bee said that as she got older, she became more and more comfortable being a woman with strong political opinions: "That was a bit of an evolution. Now that I'm 46 …"
Gasteyer cut in, saying, "We're entering the Fuck It Era."
Bee continued: "Isn't it so great to be in our late 40s? Because we just don't give a fuck. Say what you want to say about us, have an opinion, write an article, it doesn't matter. We're just doing what we're doing, and I hope you like it, but if you don't, that's okay, too, because I won't know about it because I don't read anything."
Ana Gasteyer has the Fuck It Era wardrobe all planned out: "We're entering full beach kimono." It sounds like we're not the only ones living the caftan lifestyle.
Bee added: "I'm gonna be like 78 years old in a bikini on the beach … once my kids are in college."
Gasteyer painted the audience a nice picture: "Glaucoma sunglasses, no top, gray pubes a flyin'." Welcome to the Fuck It Era, ladies.