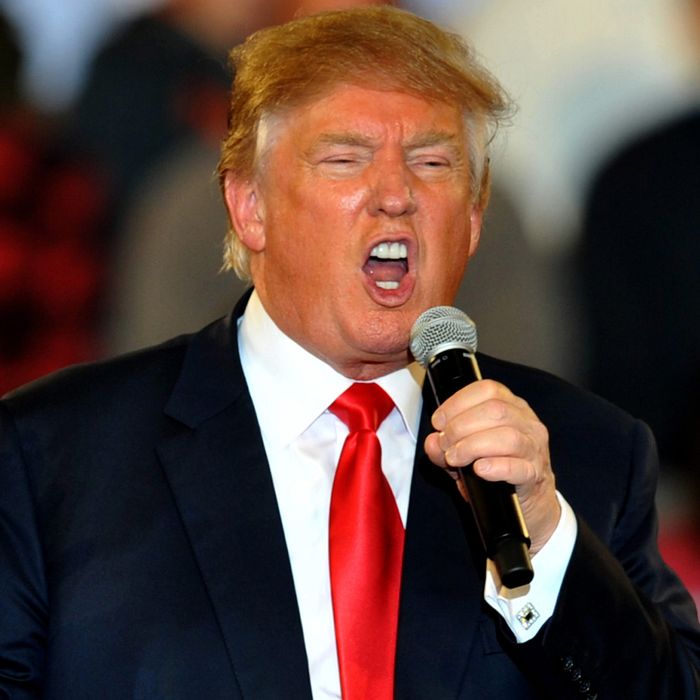 Donald Trump
Photo: Steve Pope/2015 Getty Images
I feel bad for Donald Trump, not because of his dust-up with the pope or his inability to pronounce the consonant "h." I'm sorry about the self-tanner situation. And now Samantha Bee has called him a Creamsicle.
As someone with pasty skin, I know how seductive self-tanner can be. I could fill Trump Tower with photos of my tangerine legs, which I thought were totally Gisele at the time. And no one told me to tone it down, either.
Do you really want to join John Boehner, Lindsay Lohan, and Christina Aguilera in the tanning hall of shame? I didn't think so.
Mr. Trump, since I know you love a deal, I'm offering my tips, free of charge, for a better fake tan:
1. Pick up a tube a self-tanning lotion labeled light or medium, and resist the urge to try darker! Or (not "and") switch to a gradual self-tanner and only use it three days in a row, then lay off for a couple of days. I like St.Tropez Gradual Tan Plus Anti-Ageing Multi-Action Face ($35).
2. Before you even crack open the tube, scrub your face. The Clarisonic Alpha Fit ($189) is made for you, alpha male, and it works in the shower. Use it with a gel cleanser (I'm fond of Tracie Martyn Amla Purifying Cleanser; $65). Rinse. While your face is still damp, rub it vigorously with a dry washcloth. I've tried everything, and this is the best way to remove last week's residue.
3. Now, squeeze out a blob of self-tanner the size of a dime (that's the little silver one with Franklin D. Roosevelt on it).
4. Rub in the self-tanner the way you would a moisturizer, but more carefully. Start with the middle of your face — nose, forehead, chin — and blend outward. The instructions on the tube tell you to do this in circular motions, which sounds ridiculous but actually works. Don't skip your eyelids because, frankly, you look like you're wearing goggles. But don't get it on your eyebrows or they'll turn peach. Actually, they already are peach. Stop applying it to your eyebrows. Blend the tanner up to your hairline — wherever that is — over your ears, and down your neck until there's nothing left on your hands. Now scour your hands with soap and a nail brush.
5. Or (not "and") book a weekly appointment with a professional spray-tanner. I suggest Kristyn Pradas, who does the Victoria Secret angels, and Anna "the Tanner" Stankiewicz, who sprayed Leonardo DiCaprio for The Wolf of Wall Street. They're the best. And they'll come to your yuuuge luxury penthouse.
Oh, and call me about the hair.