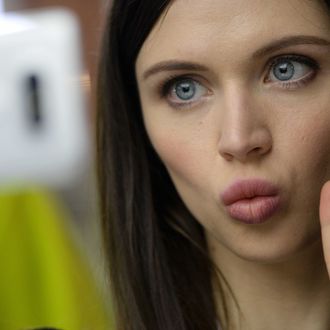 Practice your sexy duckface, New Mexico teens
Photo: JOSEP LAGO/AFP/Getty Images
While smartphones and an all-you-can-download buffet of apps have made it easier than ever for teenagers to send each other naked pictures, the legal system has been slow to catch up. Now New Mexico has made it legal for its teens to consensually Snapchat and Yik Yak each other to their hearts content, free from prosecution as sex offenders.
With this new measure, signed into law Friday, New Mexico joins a small but growing number of states to enact teen-sexting-specific laws. Horny adolescents finding ways to show each their genitals is nothing new, but the access and ease of technology these days means teens can quickly run up against laws about the possession and transmission of child pornography. The seemingly harmless action of sending or receiving a racy photo could potentially lead to teenagers being charged and branded as sex offenders, as in the case of a North Carolina couple (both aged 16) who were prosecuted for exploiting themselves (charges were eventually reduced).
New Mexico's new legislation will allow 14-to-18-year-olds who "knowingly and voluntarily" exchange explicit photos to be exempt from prosecution under child abuse laws. "Kids will be kids, and they're going to make mistakes," the bill's author, state senator George Muñoz, said to the Guardian. "You can't punish them for the rest of their lifetime with a charge of child pornography … if they're consensually sending photos back and forth." You can't stop adolescents from following their hormones, but, concerned New Mexico parents, you can at least start keeping up with sexting app trends.