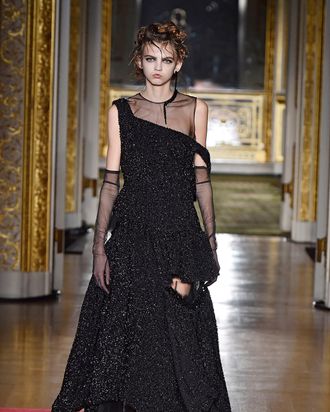 Photo: Catwalking/2016 Catwalking
"Falling apart at the seams" was how Simone Rocha envisioned her woman for fall 2016, which was what made her choice of setting — Lancaster House, London's glittering answer to Versailles — so genius. Down its mirrored halls strode her feral pack of girls, Havishams-in-training belying their posh surroundings, in Rocha's version of dishabille.
As she has in the past, Rocha referred bluntly to historical and religious dress, invoking both baptismal garments and Victorian-era clothing in her show notes. Their influence was clear in ruffled, high-collared, nightgownlike dresses and floating white looks that evoked christening dresses. (In traditional Catholic ceremonies, the baptismal garment's likeness to a shroud is mentioned, and surely Rocha — who often calls out her Irish Catholic roots in her collections — was aware of that birth/death association.)

She also leaned in to the whole "falling apart" thing, whether that meant frayed hems or unexpected thigh cutouts on otherwise demure dresses. Her girls were still clutching totems of ladylike civility — boxy bags and fur wraps — but seemed to be coming undone in every other way.

Rocha subscribes to an almost mystic understanding of color theory — turning to white lace and baby pink to evoke innocence, and red or black lace to signify experience and sexuality. Perhaps most memorable was the way she accentuated the already-heightened atmosphere with earrings and jeweled accents that dripped down like glittering stalactites — the bloodlike embellishments on the neck and wrist of one gown were particularly stunning.

Yes, some of the designers' often-mined motifs were there. But this collection didn't feel like a greatest-hits retrospective. Rather, it was a stunning step forward for a designer who now leads the city's young Establishment.