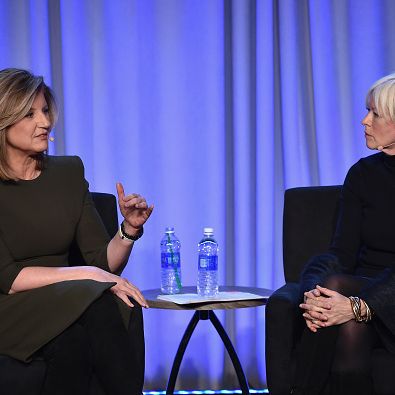 Arianna Huffington talks with Joanna Coles at the American Magazine Media Conference. Photo: Larry Busacca/Getty Images for Time Inc.
It's no secret that erectile dysfunction affects more than just middle-aged and older men. Common excuses guys use for not being able to "get it up": being too drunk, too stressed from work, or simply just not in the mood. But what if there's actually something else going on down there?
At Tuesday's American Magazine Media Conference, Arianna Huffington posed a simple solution to maintaining an active sex life — and it's as easy as shutting your eyes. According to Huffington, sleep deprivation leads to erectile dysfunction and sleep "can actually be an alternative to Viagra." She explores this in her new book, The Sleep Revolution: Transforming Your Life, One Night at a Time, which will be in stores in April.
"We promote just about everything to make us healthier and make us more potent, but it's something in our hands that we are in control of that can do these things. Sex is free, sleep is free," she said.
Huffington might be on to something here. A poor sex drive was listed in the top three "Sleepless Side Effects" included in an article published by Men's Fitness, and with Viagra costing $250 to $275 for ten tablets, trying to take a nap before dishing out some cash couldn't hurt.
So, ladies, make sure your man gets some rest, and fellas, hit the sack.