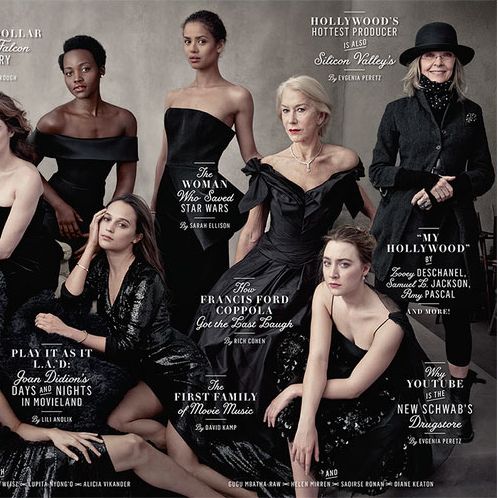 See if you can find Diane Keaton.
Photo: Vanity Fair
Can you spot Diane Keaton on the annual Vanity Fair Hollywood cover? Scan from left to right … look at the pretty dresses … oohh shiny … ooohhh nice hair … very glamorous, yes, yes, expensive makeup, yes, yes. A healthy dose of clavicle to go around. Uh — skkkkrrt — what? Diane … is that you? What are you doing over there by yourself dressed like a steampunk magician?
Was it that Diane Keaton couldn't make it to the cover shoot, so she had to be poorly Photoshopped in? Was it that Diane Keaton prefers to be completely covered head-to-toe in fabric so that no one may lust after her the way she lusts after members of young Hollywood, which also makes her harder to find? What movie was Diane Keaton in this year that warranted her placement on the annual VF Hollywood issue? Does it matter? Did she just show up anyway and everyone said, Yeah, sure, let's get Diane in there, too? But then she got camera shy?
Needless to say, she is a hero to all. Keep up the good work, DK.