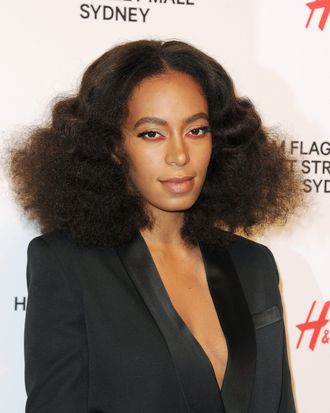 Solange.
Photo: Mark Sullivan/Getty Images
Solange Knowles's music website, Saint Heron, just published an interview and photo shoot with R&B singer Brandy. Brandy looks great and speaks very candidly; the interview, which is worth a read, discuses how innovative and experimental Brandy's music is (something she doesn't often get credit for).
And Solange remembers exactly what happened the last time she defended Brandy as an artist and an innovator: It was in 2013, when Brandy released Two Eleven, an album some people didn't get; Solange took music blogs to task on Twitter, saying music writers had missed the importance of Brandy's contributions to R&B. She recommended that people "should really know about deep Brandy album cuts before you are giving a 'grade' or a 'score.'"
Because I guess "deep cuts" is a phrase reserved for white male rockers, indie-music writers made fun of Solange, a burn she remembers well enough to bring up again in 2016 when discussing this new interview with Brandy.

Now, there might be people out there who want to come for Solange again — it baffles me why they did in the first place (also, as far as indie cred goes, she once covered the Dirty Projectors and is friends with Grizzly Bear, so she could basically work at Pitchfork) — but just in case you are about to do it again, she has some tweets for you:
That's all, thank you. As a reminder: Don't call for Solange unless she calls. And it won't be until after Mardi Gras.