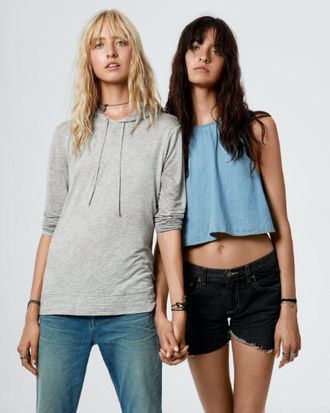 Kelsey and Baylee Soles finish each other's sentences.
Photo: CK2
If unisex, CK One, and Kate Moss were the adjective, scent, and face of the '90s, then genderless, CK2, and Kelsey and Baylee Soles are the Generation Z update. The Soles sisters, fraternal twins, are sort of like what would have happened if Mary-Kate and Ashley had grown up to become models instead of fashion designers and CEOs. Ever since Baylee crashed her sister's Saint Laurent casting, the two have been inseparable both professionally and personally. The Cut talked to them about working with Ryan McGinley, that mystical twin connection, and why baking soda is their secret beauty weapon.
What did Ryan McGinley tell you about the concept for your CK2 ads?
Kelsey Soles: We were two troublemakers who were trying to have a good time and "be free." It was really fun. He definitely wanted a lot of interaction and to show that we have a bond that two random people wouldn't have. We were in Puerto Rico for two days, but only shot for five hours.
Baylee Soles: He gave us the concept and then we were just playing around and climbing, jumping, and flashing. We ran across that bridge a number of times. It was a workout.
It's interesting that CK2 is described as a gender-free fragrance. 
K.S.: I like it because today, gender's not really black or white. It's more gray. This perfume is showing gray. It's filling all the gray area where traditionally it's masculine or it's feminine.
B.S.: It's not like putting a label on anything, which I like.
What was your first scent memory?
K.S.: I would have to say fresh air and pine. We live in the woods in South Carolina with tons of pine trees.
B.S.: Fresh-cut grass. Maybe that's why I like this one so much. Because it has tons of fresh scents in it, like sandalwood. And herbs.
K.S.: It's like a spicy sandalwood. It kind of reminds me of my dad; for some reason, he always smells spicy and almost tobacco-y. It's a spice, that is kind of like a cigar. And the sandalwood just reminds me of the South. All in all, it smells kind of like home to me.
It's really interesting you guys kind of have similar scent memories.
K.S.: That twin life.
You two are fraternal twins. Apart from your hair color, what type of physical differences do you notice in each other?
K.S.: She's a centimeter taller. And then we have different face shapes, I think.
B.S.: Yeah, like bone structure right here [motioning to jaw]. I think that's the main one.
K.S.: We used to keep track of our freckles and stuff on our faces.
B.S.: But now they've moved! When I was born I used to have a red dot on my nose. I was born like that. I thought it would be there forever but it faded over time. But it was really helpful for our parents.
And you grew up with the same hair color?
K.S.: Yeah, blonde hair.
B.S.: And then we used to, like, bleach it because we were really Avril Lavigne-y.
K.S.: But then when we were like 18, I think, we dyed it separately.
What if one of you had wanted the other's hair color, or to switch?
K.S.: I don't know!
B.S.: Some days I'm like, "Yeah, I want to go blonde!" because with some outfits, I think blonde goes better. But brown hair has become like a part of me. It would be weird to be the same color for a long time because I like having my own identity.
Why do you think the modeling world is so interested in sisters right now?
K.S.: In pictures, you can feel the energy and feel the bonds that we have. Two strangers can't make a picture the way that two sisters who spend every moment together [can].
B.S.: Especially twins. Because twins are born with that natural connection. You've shared so much throughout your lives, so you know so much about each other — I think we can feed off of each other very well. And it's way more fun!
K.S.: We don't really have to speak when we're moving. Like normally if we're with a stranger we're like, "Oh, do you mind if I put my hand here? Do you mind if I put my arm around you?" But with sisters it's like, "Come here!"
B.S.: Just throw her around!
What about when it comes to your beauty routines? Do you find that you guys have different skin types?
K.S.: We do have similar skin types. But if one of us has a blemish, it's not like the other one does, too. We've been together so much that we've molded into doing many things alike. We work out together and we eat a lot of the same foods because we cook together.
B.S.: Like, everything together.
K.S.: We do a really natural skin routine now. Just baking soda and water, I read about it on the internet. It works so well. Mix a tablespoon of baking soda with a tablespoon of water. It makes a paste and you can lightly exfoliate your face.
B.S.: It's amazing.
K.S.: It clears your skin so much. I used to get random blemishes all the time but now my skin is like so much better ever since I switched to that. I guess it's more natural?
Also, when you get a zit, you're always like, "Hey, the zit's gone but now I have a scar." If you put the baking soda with a little bit of lemon juice, it makes a reaction and once you let it settle a little bit, you can massage it onto your skin and leave it for five minutes so that it will dry. Do that like three times a week maybe? Over time it will really lighten it.
B.S.: Like make it disappear, yeah.
K.S.: And I use coconut oil for everything.
B.S.: Yeah. When in doubt, put coconut oil on.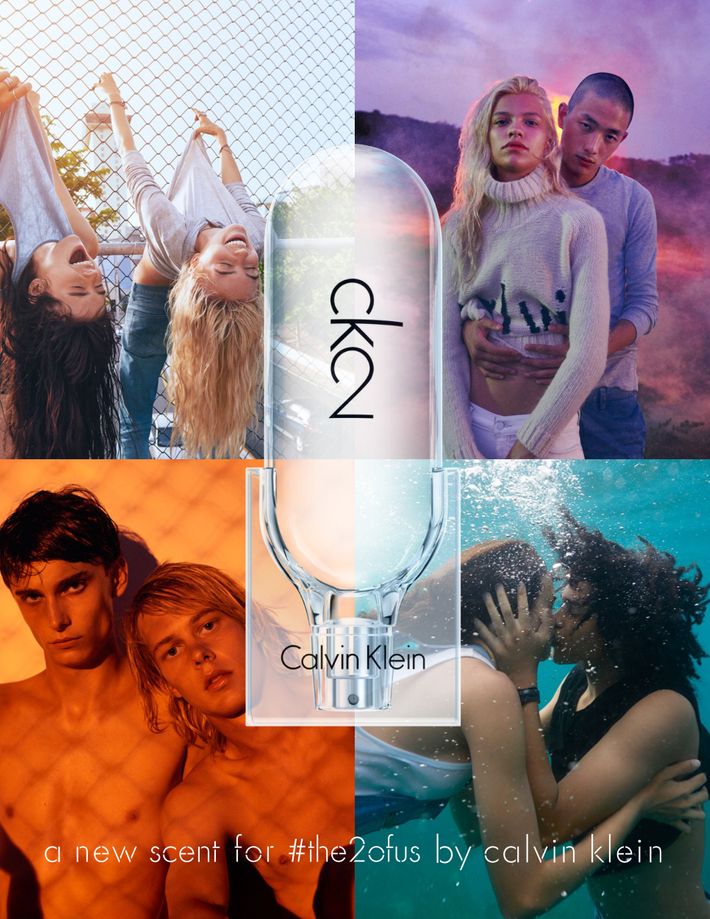 What do you do for your hair?
K.S.: I go to Hair Story and use their all-natural products in my hair. It's amazing!
B.S.: It really is! Makes your hair feel so light and voluminous. I've never seen such a difference.
K.S.: And their New Wash, it's changed my hair. It's amazing.
B.S.: One of the stylists really taught me that if you leave the wash on for like ten minutes before you wash it out, then it's kind of like this little mask for your hair. It's really good.
Do you guys find it challenging to maintain separate identities?
K.S.: No, not at all. I feel like —
B.S.: We balance each other out.
K.S.: Yeah.
B.S.: I feel like I'm really assertive and sometimes Kelsey puts me in check. You know?
K.S.:  Sometimes she comes on too strong with new people and so sometimes I have to balance it out and kind of make good connections with people and then bring Baylee in. We're really like yin and yang.
This interview has been condensed and edited.