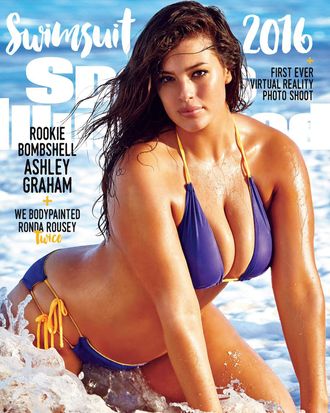 Ashley Graham on the cover of Sports Illustrated.
Photo: Sports Illustrated
In only a year, model Ashley Graham jumped from the ad pages of Sports Illustrated's swimsuit edition to its cover. She shares the honor with model Hailey Clauson and UFC fighter Ronda Rousey, but she's the first model larger than a sample size to occupy that space. Speaking to the Cut at an event during Fashion Week, Graham explained why she does't like the term "plus-size," how she's healthier than a size 2 model, and why the Ashley Graham TV show should be arriving to a station soon.
What a week! What does landing the cover of the swimsuit edition mean to you?
I am speechless. I am honored. At the end of the day, I know that I'm changing so many different women's lives by proving that curves come in all different shapes and sizes. Covers are huge, especially for girls like me because we've always been told, "You can't be on the cover, you'll never be on the cover." And now, Sports Illustrated, a magazine that has had the likes of women who are considered "the bodies" like Elle Macpherson, has someone like me. I have cellulite. I have back fat. My thighs jiggle. My arms jiggle, I have cellulite on my arms, but they're saying "Oh my God, you are beautiful" and that is letting other women know that they are beautiful, too.
What are some of the reactions you're receiving?
I'm getting a lot of women saying thank you for standing up for curves and thank you for believing in something that is so revolutionary. Also I'm getting a lot of men saying "finally" as well, which is really important, that feels really good. 
Some models, like Robyn Lawley, don't like being labeled "plus-size." How do you feel about the term?
I don't like being called plus-size, but I know why women want to be called plus-size. There's a community, there is a belonging that happens with that word. It's not something that I consider myself, but I'm not down on those women who want to be called that. I just don't like the label. I label me. I'm a model. I just want to be called a model.
How do you respond to people who think you don't work out?
Go to my segment on Good Morning America where they take my blood, they take my blood pressure. They tested me against a size 2 model and we were running together, we were working out together, and I kept up. My blood pressure was actually better than hers. My sugar levels in my blood were better than hers. And at the end of the day, you can't look at somebody and determine if they're healthy or not. You can only hear it from their doctor. I promote healthy at every size, as long as you're getting off the couch and moving your body.
Speaking of fitness, how do you work out?
I hate going to the gym, honestly, but I do it because I have to keep this full body right and tight. The only things that jiggle on my body are the things that are supposed to jiggle. I don't do crazy, intense cardio but I do light cardio and I do a lot of weight-lifting. I do different classes like barre, spin class, and boxing, I love shadowboxing. I've been boxing for probably the last year, and I've been doing spin on and off for about five years. I also have a personal trainer. Mixing it up for my body is the best thing. If I worked out every day I wouldn't be curvy and sex-a-licious. I probably work out maybe two to three times a week. It's not my end-all be-all. At the end of the day, my body is 80/20: 80 percent food, 20 percent gym.
What's a day in the life of your diet?
I really try to eat clean and healthy. I like to have a fruit shake in the morning. I have a Power Bar after that because it keeps my energy level up and I'm not OD'ing on food and feeling exhausted by lunchtime. For lunch I like to have a big salad with salmon and avocado and maybe my vice is to have a Coke to go with it. I'll probably have some almonds in the afternoon or some dark chocolate. Of course I'll binge on some fries every once in a while and have a burger. I'm a sucker for dark chocolate. My favorite is peanut M&M's. It might be the processed sugar, but I could eat like a whole family-size peanut M&M's. And they're not that bad for you, at least that's what I tell myself. At dinner I kind of do the same thing. I'll indulge with a glass or two or a bottle of red wine.
What does wellness mean to you?
Wellness means being a person who is confident, sure of herself, and who feels like she can conquer the world no matter her experience. 
What's next for you?
The Ashley Graham show! I have a lingerie line. I have a swimwear line that's being launched in May and I have another apparel line that's coming out in March. I want to be the first "considered plus-size," curvy, sex-a-licious model to get a hair and or makeup campaign, and I think the Ashley Graham TV series needs to happen. 
What would you want other women who look like you to know now?
I have never fit into a mold that I was supposed to. I was told "No, no, no" to all my hopes and dreams. I never forgot them. I never let anybody beat me down with them, and you shouldn't either. At the end of the day you can do whatever you want. Don't let your body hold you back.
This interview has been edited and condensed.