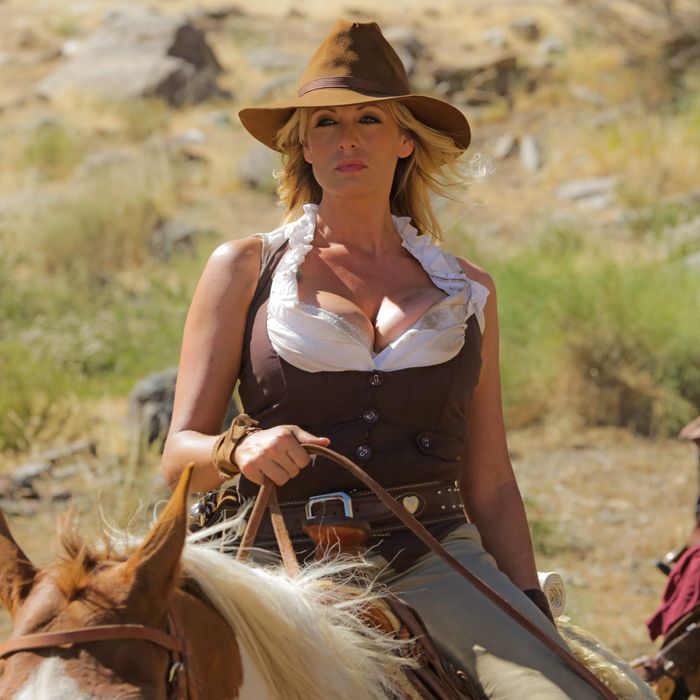 Stormy Daniels in a scene from her movie Wanted.
Even as Hollywood remains a bastion of white male power, the adult film industry's most honored director this year is a woman, Stormy Daniels. She won Best Picture and Best Director at the XBIZ Awards on January 15, as well as Best Drama at the AVN Awards on the 22nd, for her three-hour Western epic, Wanted, which she stars in and also wrote.
Oh, and Daniels has already directed 70 films. But that doesn't mean it's been an easy ride. "For years everyone was like, 'Stormy Daniels, she's the best female director.' That's always bugged me. What does my vagina have to do with directing?" she says. She's all tousled blonde hair and a canyon of cleavage, curled up on a purple plush sofa 18 stories up at Las Vegas's Hard Rock Hotel with Sin City splayed out behind her. "Why do I have to be the best female director? Why can't I just be one of the best directors?"
As a director, she has ambitions beyond the usual vignettes of seemingly random strangers banging each other in half-furnished condos. Her films have character, dialogue, plot, and setting — Wanted's desert shoot was as arduous as any classic Western's.
"It was the hardest thing I've ever done by far. There's no running water, no electricity, it's 115 degrees," she says. "There was fire, a flash flood, grip truck broke down, prop truck broke down, camera truck got stuck in the sand, the cameras went down, I was robbed, 16 people cried."
Not only did she have to manage disasters, she had to deliver on-camera, too: "It's hard to be sexy when covered in sweat and horsehair and wearing the same outfit without being able to wash it for 20 days."
Don't worry, it's still easier to take than The Revenant. Wanted has horses, gunfights, property deeds, and period costumes, as well as a smutty sheriff, a horny bounty hunter, and, of course, a hooker with a heart of gold.
In 2009, Daniels, who named herself after Nikki Sixx's son Storm and the whiskey, made some news for contemplating a run against Louisiana's escort-loving U.S. senator David Vitter. (Among her qualifications: "In one movie, I did play a Secret Service agent marooned on an island controlled by North Korea. I butt heads with dictator Kim Jong-il and come out on top.") She's also a mother, and she's praised her studio, Wicked Pictures, for helping to make that possible. ("I had to work really hard and prepare a lot to have a baby because I'm not like a normal mom. I can't work while I'm pregnant. I did two years of work in one year," she told the Daily Beast.) They gave her extended time off for maternity leave and allow her a flexible work schedule. Who knew porn was so progressive? She makes the industry sound like Sweden.
Daniels learned how to be a better director playing roles in non-porn films like Knocked Up, The 40-Year-Old Virgin, and Pineapple Express. "During Pineapple Express, one of the scenes I watched them film was a fight scene," she recalls. "I learned how to make furniture break on camera. I was interested in how they shot the fight because they're not actually punching each other, it's all about placement of the camera. I think a direct result of that is how awesome the fight scene is in Wanted."
"I know there are people out there who won't watch one of my movies because it has a script," she says. "Then there's other people out there who will only watch my movies. I've had a lot of male fans come up to me and be like, 'Thank you — your movies are the only ones my wife will watch.'"
And it's not just for the story and the costumes. "I take the guilt out for them. They've always thought these girls are being forced by some dirty old man in these movies. Well, I'm not taking advantage of myself, so that's immediately off the table. They can just enjoy the movie."