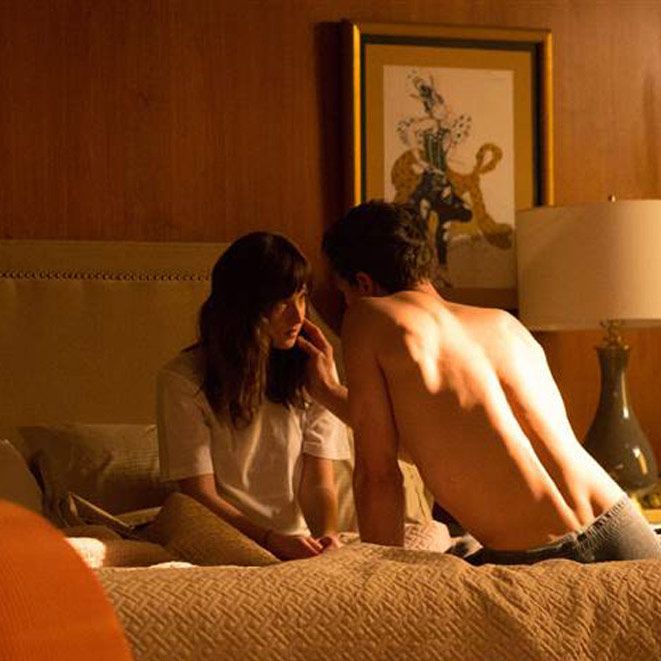 Dakota Johnson and Jamie Dornan in "50 Shades of Grey."
Photo: Chuck Zlotnick/Universal Pictures
It might be hard to remember that just a few short years ago the Ethernet-only world of online dating was considered the exclusive domain of weirdos who couldn't meet people IRL. Now dating apps are arguably the new meet-cute. Some things change fast — others, not so much.
OKCupid has been around since 2004, when it launched as one of those humble desktop dating sites. This week the company released data on how the perspectives of its growing user base on dating and sex have shifted (or not) in the last ten years. They surveyed about 1 million users who answered OKC's match questions in 2015 and compared those responses to results from 2010 and 2005. (For the uninitiated, these are the queries like "Would you consider sleeping with someone on the first date?" that the company uses to determine compatibility.)
Many attitudes have thankfully gotten more progressive, like the fact that 48 percent of people say there's no such thing as having too many sex partners (up from 30 percent in 2005) and 86 percent say it's okay for a woman to talk about her sexual exploits compared to 71 percent ten years prior.
Some views are more staid, even during this alleged era of hookup culture: Fewer people would consider sleeping with someone on the first date (50 percent versus 69 percent) and fewer people would date someone just for the sex (41 percent versus 49 percent).
And traditional gender norms when it comes to the act of getting it on seem be more entrenched than ever. Take, for example, this question: "In your ideal sexual encounter, do you take control, or do they?" The number of straight men who answered "me" was up 25 percent since 2005, while the number of straight women who said the same dropped three points to 11 percent — the lowest number of all groups surveyed.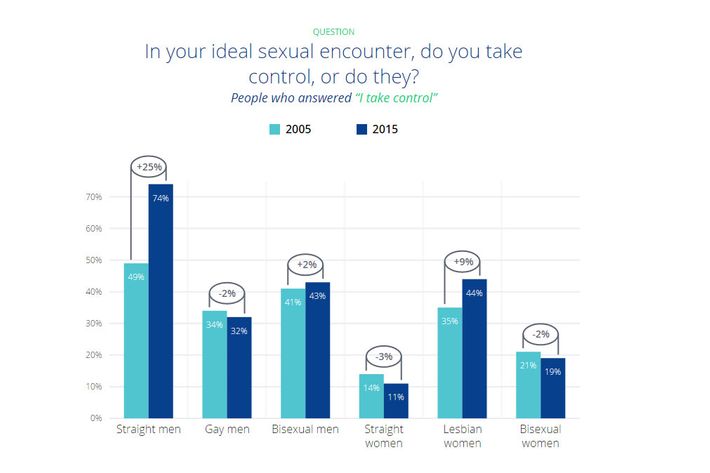 OKC asks in its report, "Are straight people really settling into a sexual dynamic?" Maybe its users are, but at 80 percent white and 85 percent college-educated, they're not exactly a nationally representative sample. The Atlantic posits theories about undue influence from Fifty Shades of Grey and also the simple fact that as OKC has grown, its user base has gotten more conservative overall.
Certainly, there are lots of straight women who really do prefer to let men direct the action, but 89 percent? I seriously doubt it. Ovary up and make your wishes known, lest they not come true. You can start by answering that question honestly in your profile.