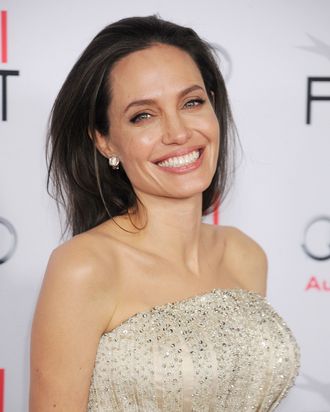 Super mom and actress Angelina Jolie.
Photo: Gregg DeGuire/Getty Images
Angelina Jolie, mother of six, recently talked to the AP about her life-changing trip to Cambodia when she was in her 20s: "It's strange, I never wanted to have a baby. I never wanted to be pregnant. I never babysat. I never thought of myself as a mother."
But all that changed in the year 2000 when, at the advanced age of 25, she went to Cambodia to shoot Tomb Raider, a film about a beautiful adult woman who raids tombs. Visiting schoolchildren, she had a revelation: It "suddenly became very clear to me that my son was in the country, somewhere." Jolie adopted her son, Maddox, from Cambodia less than two years later. (Jolie's partner and later husband Brad Pitt, also an actor, adopted Maddox in 2005). Maddox is now almost 15 years old, and is working with his mother on First They Killed My Father, a film about the Cambodian genocide in the '70s.
See, stars are just like us: Sometimes, they start out swearing up and down they never want children, then end up with nearly a half a dozen a few years later.