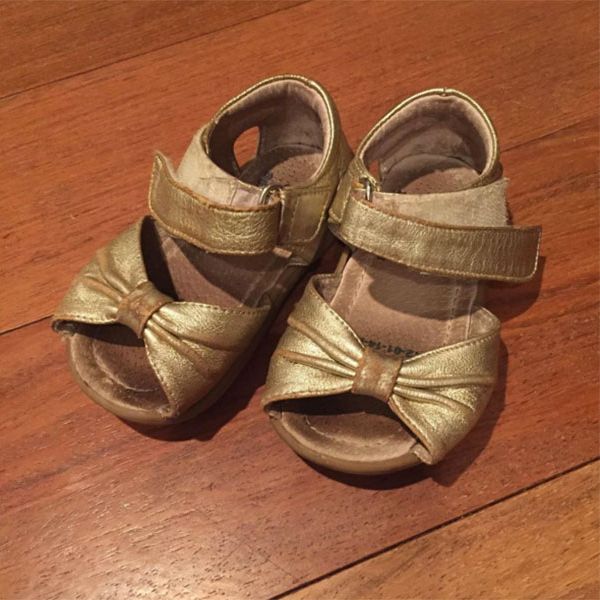 Photo: Lauraxjune/Instagram
When I was 17 years old, my house burned down. I was at school when it happened. No one was injured, but we were left with almost no possessions, and I was at the height of my teenage years — an impressionable age. I learned a lot of things in those few weeks, and one of them was that I didn't care about possessions. Ever since, I've been a uniform dresser — I rarely wear patterns or florals, and there's almost no color in my wardrobe. I wear jeans nearly every single day.
While pregnant, I stuck with my spartan commitment to nonsentimental basics. I bought or registered for an almost fully white or off-white wardrobe for my daughter-to-be. It didn't even occur to me that there was another option. And like any New Yorker, I was wary of cluttering up our limited home space.
But one afternoon, when I was about six months pregnant, everything changed. I wasn't feeling well — my feet were woefully swollen, an early sign of my impending diagnosis of preeclampsia. I sat at my kitchen table with my laptop, combing Giggle and Amazon, trying desperately to find the right stroller. Somehow, I clicked over to J.Crew. "They just started making baby clothes," I texted my husband. "And they're good," I said to myself, looking at a tiny white onesie with turquoise hearts on it.
Hearts! Over the next few days, my sense of who I was as a shopper broke apart, first online, then in brick-and-mortar stores. Tiny jeans, sailor shirts, patent-leather crib slippers, a corduroy dress — I couldn't stop myself. I broke rules left and right: No newborn would ever need that many kimonos. As my pregnant body grew unhappily out of proportion (I ended up with a weight gain far exceeding the recommended) and shopping for myself became a nightmare (scouring Zappos late at night for size nine-and-a-half wide New Balance sneakers; I'm usually an 8), I relished my new role as provider of threads for my daughter.
Apparently I had always had an avid shopper inside of me, and she had just been waiting for the opportunity to dress any body other than my own. After all, it's easy, even as a conscientious spender, to justify purchases on behalf of someone else. In fact, pregnancy is a near-constant state of joyful gift-buying, with the added truth that the person you're buying for is, at least temporarily, an extension of yourself. My pleasure in shopping for her didn't drop off once she was born. I still look forward to new seasons and sales, each weather change a chance to clothe this little body that refuses to stay the same. Just last week I bought a rain slicker and galoshes in excited anticipation of spring, and I'm currently scoping out saddle shoes and Saltwater sandals to match my own. I have found true sartorial pleasure in motherhood.
I've also found a deep reluctance to throw anything away. For over a year and a half, I conducted a monthly assault on Zelda's wardrobe the same way I attack my own: with large cardboard boxes, a pen, and a notebook. I would go drawer by drawer, then attack the closet. Finally, I'd peer at the closet floor, gazing down at my worst enemy, her shoes. It's so hard to dispose of baby shoes.
But the truth is, I wasn't disposing of anything. I was just making more and more boxes, stowed away in closets and marked simply "Zelda." When we moved, they moved. I didn't know what to do with the clothes, so I simply shoved the problem out of sight. It was easy to ignore: We have a baby and jobs and lives. We're busy! But eventually, especially as I started to think that I didn't want to have more children, all those clothes started to weigh me down.
So two months ago, I faced the truth: I hadn't rid us of a single stitch of my daughter's clothing since she was born, and she was now nearing 2 years old. I dragged the boxes — six of them — into the bedroom to sort, thinking I'd give some things to a friend who was about to have a baby.
I picked up each tiny thing in my hand and allowed myself the rare pleasure of remembering fully the most recent past. Here was her hospital hat, her jumper with lemons. Here was the blue plaid dress she wore for her first Passover in Pittsburgh, which was also the first night she ever slept through the night on her own, alone in a strange room in a strange house, just 10 weeks old in a travel crib. I will never forget these moments, some of them made more vivid in my mind by the clothes, some even more so by the photographs, the Instagrams. Here is the one-piece short set she did yoga poses in on my bed one afternoon. Her bathing suits. I kept the things that gave me joy, and there are a lot of them. And of course I cried. These moments just happened, and now they're over. She isn't a baby anymore.
I got rid of one giant garbage bag full of clothes, but I couldn't bring myself to let go of any shoes. Her tiny gold sandals, her purple sparkly TOMs, her navy Saltwaters from last year, all are shelved in her closet, waiting for I-don't-know-what. I am hanging on to them for dear life, and only in my weirdest moments of Oh, God, I'm a Mom do I flip open the door, reach up, and randomly pull down a pair. I used to count her life in days, but sometimes, now, I think we must count in miles.