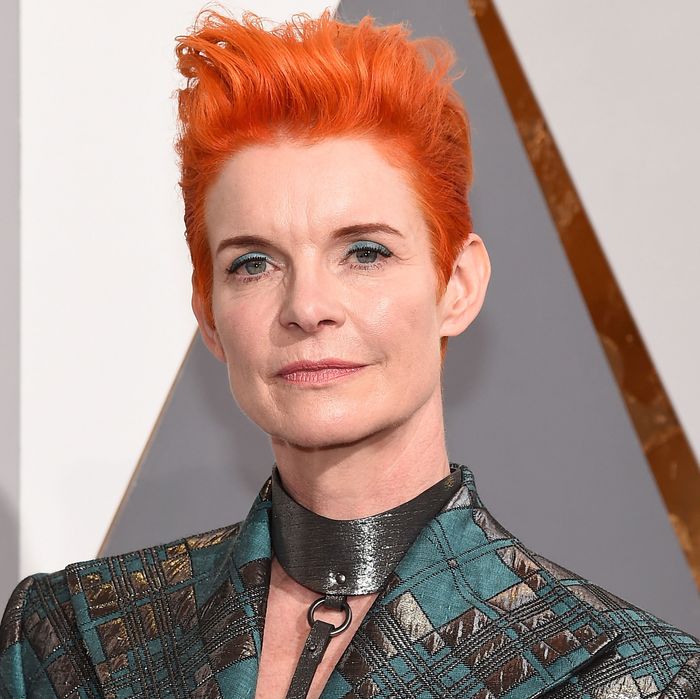 Not Tilda Swinton. Photo: Valierie Macon/AFP/Getty Images
Photo: Kevork Djansezian/Getty Images
It's not hard to believe that Tilda Swinton would be an Oscars red-carpet focal point. So when E! commentators credited Swinton with a sleek Oscars red-carpet look, it didn't seem like the statement would need to be fact-checked. But hold it — that's not Tilda Swinton.
Designer Sandy Powell showed up at this year's red carpet in a Bowie-like sparkling suit and sleek orange hairstyle. As she was walking through, E! commentators went on and on about Tilda's mesmerizing look. Well, look again, Guiliana Rancic.
Although the fashion voices misidentified the Carol and Cinderella costume designer as Tilda, Twitter was quick to correct:
Powell has serious Oscar cred, including three wins for Shakespeare in Love (1998), The Aviator (2004), and The Young Victoria (2009). It seems she's been around the Oscars block enough to get a nod from fashion critics.
Nevertheless, whether sported by Tilda or Sandy, let's just be thankful that this suit made it to the Oscars.