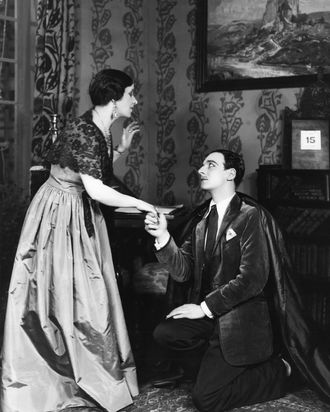 When did they stop wearing capes to propose?
Photo: Sasha/Getty Images
I had a feeling that my boyfriend was going to propose — mostly because we discussed it in advance, and I picked out the ring.
I know that disappoints people. I watch their faces drop after they ask for the story. "Oh, you knew?" they say, and it's not so much a question as a statement of their sudden lack of interest. Even some of my most feminist friends find my situation strange. "Was it weird?" a brilliant and decidedly progressive editor asked once. "Was it weird telling him exactly what you wanted?"
It wasn't weird. Engagement is weird. The inescapable fact is that straight engagements are a minefield of inherently anti-feminist rituals meticulously tended by marketers. Putting feminist principles into practice amid such a mess of sexist prescriptions gets complicated the second you decide to mark your partnership by any means other than burning your bra at Tiffany. Rejecting tradition quickly becomes a game of logistical whack-a-mole: Does my personal interpretation of feminism accept a diamond ring? Is it offended by a Valentine's Day proposal? Can I still post a picture of my hand? Since it's nearly impossible to jettison the set of customs entirely, getting engaged becomes about maneuvering through lesser evils, figuring out step by step what makes you the least uncomfortable.
Even in more progressive, egalitarian heteronormative relationships, there remains a strange emphasis on how things "ought to be done." It can be surprisingly difficult to outrun expectations around the cost of the ring, getting Dad's permission, or ensuring it's a surprise. So much about the world has changed since women were first marked as their future husband's property-to-be, yet engagement has done little to catch up.
The most obvious anti-feminist aspect of getting engaged is the ring itself. More than 80 percent of engagements include a diamond, though more and more women are coming out as opposed to everything it symbolizes.
I didn't see the rush in getting married at all. I already felt like Kris was my partner and knew I wanted to spend my life with him. I needed a reason beyond "We love each other, so why not?" Last February, I got one. I realized from our daily phone calls that my grandma wasn't quite as sharp as she once had been. I knew something was off, and I wanted her to experience my engagement while she was her fullest possible self.
I knew I wanted a ring, but it seemed weird for Kris to pick it out without me. We had discussed our engagement at length, so sending my best friend out with style, size, and cut specifications seemed like a lot of unnecessary pageantry. So Kris and I planned a trip to the Catbird Wedding Annex. We looked at rings together, and I agreed he could plan the actual proposal part. He asked me to marry him a few days later, and it was almost too perfect. (We were watching the sunset, and he got down on one knee, but I was also wearing leggings as pants.)
We waited a few days before making the clarion call for "likes" that is the Facebook engagement post. We told our parents and my grandma, to a flurry of excitement and happy tears that made me realize what a massive deal this was. Kris was my partner before, but this was an important, official, performative step. And it made a big difference.
The fact that I picked out the ring and let Kris plan the asking part as a surprise made for its own mixed bag of irrational chivalry-evasion tactics. But what else was I supposed to do? Shake hands after we paid for the thing?
"What else was I supposed to do?" is the response to a wide spectrum of possible tradition-evading options. There are few ways to get engaged that aren't offensive to somebody. And 99 percent of grooms still propose, so there's not exactly a rush to burn down the entire engagement institution.
During our trip to Catbird, the saleswoman told us that about 50 percent of straight couples come in together to pick out the ring, while the other half of men arrive alone and plan the entire thing as a surprise. "Most women are definitely part of the process," Catbird manager Jess Miller told the Cut via email, "whether it's a joint consult with both parties or having their friends tag him in an Instagram post of 'the ring.' Lots of couples come in together and look at rings before they are even engaged. I think it's important to get the opinion of the person who is going to be wearing it every day forever."
So why is it that selection continues to be shrouded in secrecy? Even for the happiest, most feminist couples, heteronormative relationships are bogged down with prefab expectations about engagement. When I asked for engagement stories, I heard about so many nonsensical deliberations about the ring. There were boyfriends emailing moms and sisters for information, hosts of friends armed with specifications, should he happen to ask. But even when the element of surprise is dropped, a veil of absurdity remains.
One woman picked out her own ring, found it hiding in the apartment, discovered the jeweler had gotten things wrong, and was too scared to ask her significant other to change things. She was the first to admit there was no rational reason she would pick her own ring, yet refuse to ensure it was what she actually wanted. But maybe that strange in-between is an awkward step forward. It still seems impossible to eschew the prescriptions of engagement altogether, so we've settled for illogically navigating grander compromises.
Consider the cost of the ring, which is only now beginning to shift. According to a Harris poll conducted this past June, 66 percent of Americans are opposed to spending on an expensive ring (the average one cost about $4,000 in 2012, down from $5,300 six years earlier). The idea that the ring should cost two months' salary was fabricated by a De Beers ad campaign in the 1930s. As the company's CEO, Nicky Oppenheimer, told the New York Times in 1999, "diamonds are intrinsically worthless 'except for the deep psychological need they fill.'"
My friend EJ, 26, initially didn't want a ring but never really considered another option. After a series of conversations about getting married, eventually mixed with mounting pressure from her mother, her now-fiancé, Alex, proposed with his grandmother's ring in a paddleboat in the same camp in the Catskills where her own grandparents got married. "It's gorgeous, and I'm obsessed with it," she told me, but the engagement made her feel like a bad feminist. "I didn't want a ring at first, you know; I didn't want to be marked as chattel, but I never really thought about what the alternative would have been."
"This is such shitty advice," she added, "but you just kind of have to get over it and be happy."
My friend Claire, 27, had a very different experience, though it still hinged on her boyfriend popping the question. She carefully chose her ring from an ethical Chicago jeweler, informed her then-boyfriend Greg what she wanted, and said no grand proposal was needed. A few discussions and six months later, he met her at their apartment with a card, a speech, and the diamond she had selected. That's exactly what Claire wanted, and yet she feels like something is missing when she tells people how it happened.

"It's normal to want a big, romantic gesture, because that's the way we're taught to be valued," she told me. "Greg is always very affectionate, but we don't really have big romantic gestures in our relationship, so this felt right to us. But sometimes I feel like I need to apologize that it's missing."
As for my own engagement story, I've gotten used to the raised eyebrows. We worked together to figure out the right amount of romantic artifice for us, but the symbolism was mostly for my grandma.
Less than a week after we got engaged, I learned that she wasn't just less "with it" than before: She had brain cancer and about two months to live. I rushed to the hospital, where she insisted I tell her the story again in person. "Do you want us to get married right away? I don't even care about the ceremony that much," I babbled, fighting the urge to cry. "All I want is for you to be there." She was a rare divorcée of the early '60s, so while the institution wasn't so important to her, I knew that seeing her only granddaughter walk down the aisle might mean everything.
"Oh, honey, no," she said, squeezing my hand so I knew she meant it. She wiped away my stray tears and smiled. "I knew he made a commitment to you a long time ago. Anyway, marriage is bullshit."