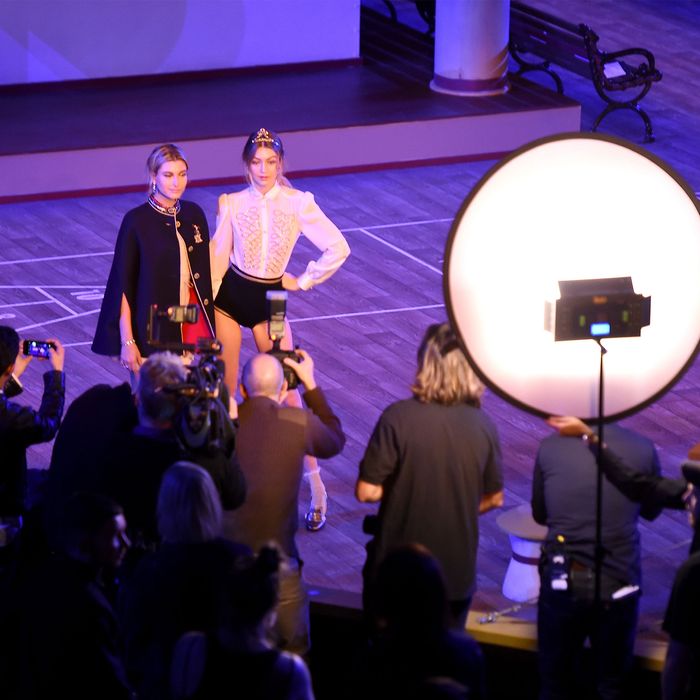 The view from the Instapit.
Photo: Nicholas Hunt/Getty Images
When Tommy Hilfiger let the Cut know that this season his show would have a section of seating called the "Instapit," we immediately imagined a plucky section of dutiful FIT students waiting in the rain just to get standing room, or the obsessive fashion fans who aren't invited to shows but still diligently blog about their favorite looks. Perhaps this was the brand's chance to engage the scrappy, upstart, organic spirit of social media, an egalitarian gesture like the Givenchy ticket giveaway last season?
However, upon arriving at Tommy Hilfiger's spring-summer showing on Monday, it became clear that the Instapit was a set of risers in Section P. Sure, it had a prime view of Tommy Hilfiger's insane, highly 'grammable lido-deck set (picture the Titanic, minus the iceberg and tragedy). But this was not some fun fashion mosh pit. Several chic, unrecognizable people sat there calmly, checking their phones with the indifference of practiced insiders. As it turns out, they were the 14 VIP "influencers" that were hand-selected to cover the show from the 'pit.
"Oh I'm sorry, are you an influencer?" a woman with a clipboard and a headset asked as I tried to gain entrance to the area. "I'm a reporter," I clarified. "But I have been invited to be here." The influencers turned their influential heads to watch me try to defend my relevance. They included @CaroDaur, @StephanieGiesinger, and @CelineAagaard — Instagrammers with a minimum of 100,000 followers. Some of the influencers had 1.2 million.
So it's clear now: Unless you can sell a handbag with your 1.2 million followers, take a seat with no view. Better yet, stand. Actually, maybe just watch the livestream from your desk, you worthless human being who merely knows how to use words. Words are so last season.
Below, behold your Tommy Hilfiger fashion show coverage: