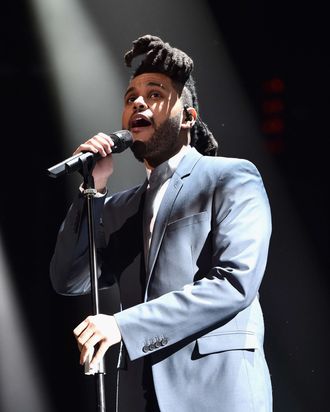 The Weeknd.
Photo: Alberto E. Rodriguez/Getty Images
The summer after grade nine, my friends and I received free tickets to the Glam Slam Metal Jam, featuring Enuff Z'Nuff, Quiet Riot, Warrant, and Poison. I wore a tiny skirt with a kid's tank top — around 14 you start to recognize a certain power in the appearance of powerlessness — and wrote the words "butt rock" on my knuckles as a joke. My friends and I sat by the beer tent, watching a woman in stilettos and a bodysuit deep-throat a hot dog, then gargle her pilsner, before a splotch of flashbulbs. A pair of men in their early 30s, sunburned raw past the lines of their wraparound shades, cocked their heads at me. "Butt rock," said one. "So you like gettin' yer butt rocked, eh?" Poison's pyro sprayed the sky, as guitarist C.C. DeVille croaked the lyrics to "I Hate Every Bone in Your Body But Mine."
"If you're looking for sexual tidbits as a female child," Maggie Nelson writes in The Argonauts, "and the only ones that present themselves depict child rape or other violations … then your sexuality will form around that fact. There is no control group. I don't even want to talk about 'female sexuality' until there is a control group. And there never will be."
Nelson's examples come from literature and film, but the same goes especially for popular music, which has a twist: It's narrated by the aggressor and addressed to "you." Sexual aggression is ubiquitous across genres, even though rock and other white-coded genres have tended to get a pass for it, while nonwhite forms and artists have borne the brunt of scrutiny (compare, of course, the discourse around misogyny in rap music to the discourse around misogyny in metal, in which vileness is often excused as theater). Sex is something men do to women, whether they like it ("Whole Lotta Love," "Kiss") or not ("Face Down Ass Up," "Kill You," "Fucked With a Knife"). It makes women crazy (Mick Jagger wrote "19th Nervous Breakdown" about the women in whom he induced them) or worse (Elvis Presley, John Lennon: "I'd rather see you dead, little girl, than to be with another man"). When I was 11, my best guy friend played me the Misfits' "Last Caress" over the phone, followed by the old clip of Donald Duck getting a blow job.
The current poster boy for sexual cruelty is arguably the Weeknd, a.k.a. Abel Tesfaye. His music is not exceptionally sexist or cruel relative to all other music, but it contains rare admissions, and offers exceptional insight into bad intentions. Plenty of male musicians make a show of both their appetites and their uncaring, but Tesfaye's nastiest songs aren't just about fucking you, and fuck the consequences; they're as much about the consequences. Selfishness is rational, callousness is an unmade effort, but cruelty, like joy, is more human because it's unnecessary. It's the vice no one has to admit to — it doesn't make sense, and yet it makes sense of a lot — which has left Tesfaye open to harsher criticism while making his work more essential.
Tesfaye's critics sometimes claim to love his music despite his lyrics. People who love him understand what those lyrics' content has to do with his success. From his earliest releases, a trilogy of mixtapes released from his hometown of Toronto, Tesfaye's mystique has come from a mix of candor and vulnerability: He sings about drugs and hate-fucking and hopelessness, letting his high, tender melisma do the emotional shading and complicate his bravado. His most recent album, Beauty Behind the Madness — which is up for Album of the Year at tonight's Grammys; Tesfaye is nominated for seven in total — is a deliberate appeal to stadium audiences, vaulting the old sense of menace to a Twilight fantasy. Last November, I watched as he played the first of two shows at Barclays Center following a sold-out appearance at Madison Square Garden. The crowd sang along at a children's-choir hum: Trust me girl / That you want to be high for this! To our left, a dude in his early 20s, with a ball cap and a drizzle of acne, nodded emphatically to the power ballad "Shameless" — I don't want to hurt you but you live for the pain — while to our right, a man in wire-rim glasses cuddled his girlfriend, kissing her gently on the forehead.
Sex is bundled with violence and humiliation as often as pleasure; one way of coping, as Nelson writes, is to find the torque that turns dreadful things into fetish, or offers pleasure in the dirty work of exercising power. Tesfaye's best songs describe cruelty with an exactness and emotional heft that confirms the worst about sexual power dynamics while making some sense of them. There's cruel music, and there's music that's aware of its cruelty: Cruel music makes me uncomfortable when I love it (and I love the work of too many confirmed goblins to count, including some listed above); music that knows its own cruelty makes me uncomfortable, but I love it. Music is a form of confession without accountability, or an especially intimate fiction.
Miguel's pet subject is love in its various diffusions, but his insights into sex and sexuality sometimes include pain and its uses, because they'd fall short otherwise. "I break horses, I don't tend to them," sings Bill Callahan, a singer-songwriter whose catalogue — about a dozen albums as Smog, with many more under his real name — is full of casually harsh remarks. "They seem to come to me, asking to be broken." ("I wrote that song to help a friend try to understand how a guy she had a one-night stand with could possibly not return her phone calls the next day or ever again," he told Pitchfork.) Tricky's music sublimates cruelty to an atmosphere, beyond divisions between the dominant and the dominated: "I fuck you in the ass, just for a laugh," he sang in unison with Martina Topley-Bird, his then-partner, on Maxinquaye. Scott Walker, too, writes cruelty beyond identification — in character, for example, as a torturer getting off on his work.
Tesfaye sings about sex, but at his most explicit he's barely carnal. The pleasure — and it's a conflicted pleasure, when it sounds like pleasure at all — comes from the dynamic, about which he's more fatalistic than nihilistic. He sings in statements, but not necessarily as himself. (He's discussed the appeal of the self-examining villain.) Tesfaye debuted anonymously, a great marketing strategy, but the question of his identification, if not his identity, still haunts his work. There's a pathetic gap between what he sings and how he sings it, and he leaves some doubt as to whether he means it or not, which says as much about his affinity with the Fifty Shades of Grey franchise ("Earned It," written for the soundtrack, is up for three Grammys) as the suggestion of malice in his work.
Tesfaye's music is a study of the scenes, and the roles, he may or may not have found himself in. His best work tells a story in details rather than a moral arc, and feels startlingly close. He's often singing to someone specific — considering their motivations, or working in a form of emotional cubism. "You always go to the parties / To pluck the feathers off all the birds," goes the Beach House sample used in "The Party & the Afterparty," off House of Balloons. "Outside," from 2011's Echoes of Silence, is brutal and vague, written in the pulped-up gibberish you think before you come ("baby when I'm finished with ya you won't wanna go outside"), but it congeals in longing: "All the pain that you feel you can tell that we ain't making no love / But I'll pretend, oh girl, I'll pretend."
Cruelty is intimate, and can feel, perversely, like a form of care: You have to know someone to know how to hurt them, and to want to hurt someone demonstrates interest. This is a hazardous line of thought. At worst, it rationalizes abuse; at best, it's complicated. Lana Del Rey's lyrics have been called out as worse than regressive — "I can hear sirens, sirens / He hit me and it felt like a kiss," she sings on "Ultraviolence," channeling the Crystals — but, as with Tesfaye's, they wouldn't resonate so deeply if they didn't convey something true: an emotional idea that looks hideous in reality, but can sound beautiful in the liminal spot music occupies. "She is the girl in my music," Tesfaye told Anupa Mistry, in an interview for Pitchfork, "and I am the guy in her music."
"It's just me documenting what's around me," he told Rolling Stone, whose Josh Eells had asked about the climate of predation in his lyrics, singling out "Initiation" from Echoes of Silence. "Whether it is something that happened to me or something I see." He doesn't sentimentalize, and like the movie Kids, which gave me the same sense of inside-out revulsion, his work is useful because it shows something that is — difficult because this something is sick in a way we mute with daily language, and difficult for the pleasure it gives. "It's consent, all of it," Tesfaye continued, pressed about the scenes he describes, but consent is not the only issue. Part of his appeal is the fact that his meanest lyrics are also great dirty talk.
"Pleasure" is an oversimplification. It's not necessarily wrong to depict malice uncritically in art, or to enjoy works that do, but when I fall into a long loop with "Initiation" it feels more like a compulsion than an urge. At the same time it's exhausting to pretend this compulsion doesn't exist, and it's a cold, but welcome relief to hear your suspicions confirmed in good music. "With ethics, as with psychology, you cannot just lop off the negative or contradictory impulses and hope for the best," Nelson writes in The Art of Cruelty, in which she tries to "differentiate between works of art whose employment of cruelty seems to me worthwhile (for lack of a better word), and those that strike me as redundant, in bad faith, or simply despicable …  sometimes it's as simple as the difference between a piece of good art and a piece of bad art." (I found the movie Irréversible despicable, as I do Eric Clapton.)
It's strange, but not surprising, to see an audience of thousands bliss out to a song about hurting someone on purpose. The Weeknd's success, like that of Fifty Shades, feels both unlikely and inevitable: He taps a vein of cartoon sadomasochism in pop culture, a bobble-headed likeness of something real and menacing, sweetened by the fact that he's a good lover to his audience: generous, appreciative, and considerate to the point of camp. (I see in your eyes you wanna go again­ — well, guess what, Brooklyn! — girl, I'll go again …)
At this leg of his career, listeners can ignore the ugly parts if they want to — in Tesfaye's work, squalor is a structure for passion, which is the source of his magnetism — or enjoy them through the gauze of fantasy. This doesn't affect the raw power of his early releases, or ease the discomfort of loving them, which might be productive. It can be therapeutic, or at least interesting, to confront the motivations of those who might hurt you, or to examine your own. Music is intimacy abstracted, and it lets you imagine a dialogue much harder to achieve in conversation. In writing, it's galling; in music, understood.