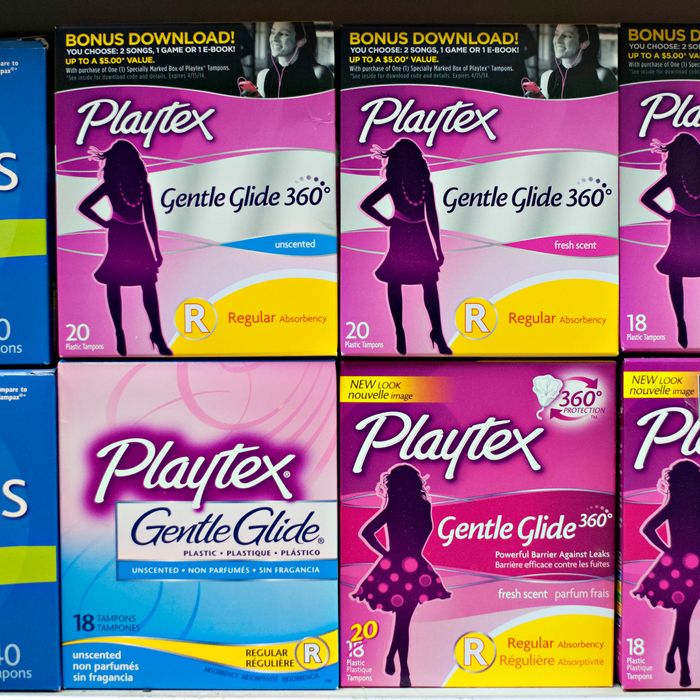 Taxed as a luxury item. Nope.
The patriarchy has spoken in Utah. A group of male lawmakers have voted to keep the tampon tax in the state, reported the Associated Press.
The "tampon bill," presented by Rep. Susan Duckworth, proposed that the extra tax placed on feminine hygiene products, adult incontinence products and children's diapers be removed — but was shut down by a bunch of dudes debating issues that don't affect them.
"Personal hygiene is a right," Duckworth told the committee.
The tampon tax is anything but a well-kept secret. When President Obama learned of it last month (apparently Michelle hadn't filled him in), he was shocked that tampons should be taxed as luxury items.
"I suspect it's because men were making the laws when those taxes were passed," he said in an effort to explain the concept. Not much seems to have changed.
Maryland, Massachusetts, Pennsylvania, Minnesota, and New Jersey are the only five states that have officially eliminated the sales tax, according to Fusion. Colorado doesn't tax for pregnancy tests. North Dakota and Connecticut don't tax for incontinence pads. But not many states have succeeded in efforts to shut down the patriarchy in drugstore aisles.
And if there was ever something to shut down and hard, it would be a bunch of dudes making decisions on behalf of women. Ever.