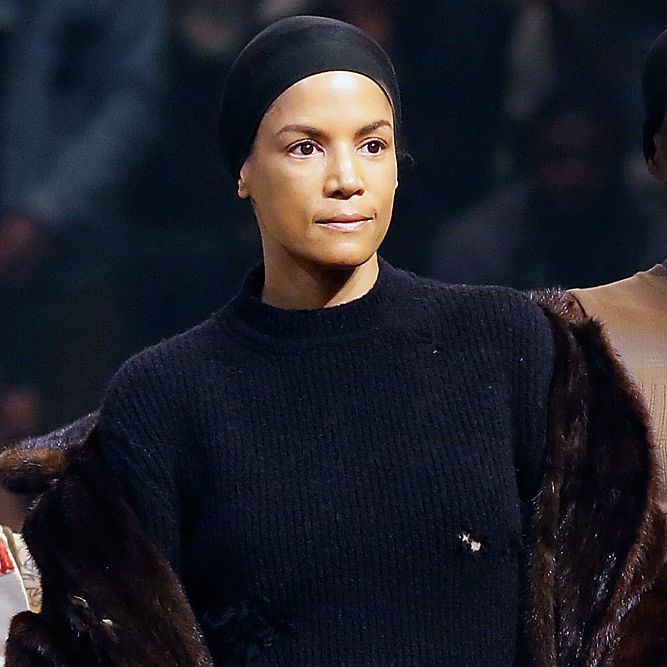 Veronica Webb does Yeezy Season.
Photo: JP Yim/Getty Images
If Yeezy Season was Fuccboi Heaven and Kanye was God, consider Veronica Webb one of his angels. She and Naomi Campbell made a surprise appearance at last week's show-meets-listening-session, and shortly afterward, she gave the Cut an insider's perspective on the experience. Read on to hear Webb on Kanye, how she realized her lifelong dream of launching a business, and how to fix the diversity problem in fashion, once and for all.
How did you come to participate in Yeezy Season 3?
Kanye's people called and I found out I'd be in it on Wednesday [the show was Friday]. The fitting was very high security. Everyone had to sign an NDA. The designers and the whole ground crew and everyone who put the show together was so polite, so nice, so excited, and so professional.
What was the vibe like at the show?
Believe it or not, it was extremely calm because there was so much organization. I think this was also because Vanessa Beecroft did the staging. It took it more into the realm of the art world, so it was less like a hyped hip-hop show and more like a cerebral fashion presentation.
There was a little confusion over whether the fur coat that you were wearing was a Yeezy design or not.
As far as I know, the fur coat was Yeezy Season 3. It was a one-of-a-kind vintage piece that was reworked. I think that piece goes more into the couture category. There's only four of them. I'm sure that there are the lucky few out there with the cash and the connections to be able to procure one.
In terms of designers, models, and the way consumers respond to shows, how do you think the industry has changed over the years?
It's very smart for designers now to be presenting their clothes when they are ready to go to market, and not six to eight months before. That is really going to help protect the intellectual property of a lot of talented people who see all their hard work and investments basically get colonized because it's immediately copied and sold on the market for pennies on the dollar. That's great for designers, and I think it's great for consumers. I also think it's great for magazines because it makes the conversation a lot more open and a lot more dynamic.
What do you think of the diversity landscape in fashion today?
You're beginning to see a lot more diversity. Think about Sophie Theallet's fashion show last year — which I'm about to leave and go do — and how it was cited from all the newspapers in the fashion capitals as being a wake-up call for the industry in terms of casting. The whole reason that the internet is a success is because people want to see and hear their own voices and see their own faces. People want to see themselves reflected.

So, the other thing that I love about it, too, is that what Kanye did was so incredibly forward-thinking, to be able to harbor all the technology and have that much of an audience at one time, and I hope that every designer gets the chance to be seen like that.
What are your thoughts on solving fashion's diversity problem?
I think that people are seeing that power is in their hands. If people get on the internet and comment and recommend and support designers who they feel show women who are diverse in every way, from age, size, race, and height, then that's what is going to move the industry forward faster than anything else.
You recently mentioned that you wanted to start your own business.
And I did. I started a Rodan + Fields skin business, because I spend all day every day recommending things to people like food, restaurants, haircuts, skin care, schools, doctors — and originally discovered Rodan because someone suggested it to me. I get sent grab bags at least three times a week full of goodies, sometimes full of great stuff, sometimes full of terrible stuff. But the point is that I have a huge array of things presented to me all the time and I started to use the Rodan stuff and I liked it. I thought, Hmm, you know, I could become a consultant.
What are some of the top products that you recommend?
My secret weapon is something called the Amp tool. It's like if you imagine a tiny paint roller but on the barrel of the roll there are little spikes. It's a very mild form of micro-needling, which creates a controlled wounding. The body gets a sense that there's a mild injury happening like a scrape or bee sting. It makes the skin stimulate its collagen response so your face looks plumper and your complexion a lot brighter. Because I have melasma I also use Reverse. If I was going to recommend anything it would be Soothe. I use it on me and my kids and it's great because it's so emollient and immediately my skin bounces back from being cleaned two to three times a day because I've been working so much during Fashion Week. It really helps skin come right back from being chapped.
What's the best tried-and-true beauty secret that you have discovered over the years?
Use clip-in extensions so that you don't go bald. The other thing is just try to break a sweat every day. That will change your mental and physical health. I do barre fitness at Exhale. Or I ice skate with my coach Wendy Welky. Or I run. And you know what, if I can't do anything, then at least I'll run to get the bus or the train.
This interview has been edited and condensed.