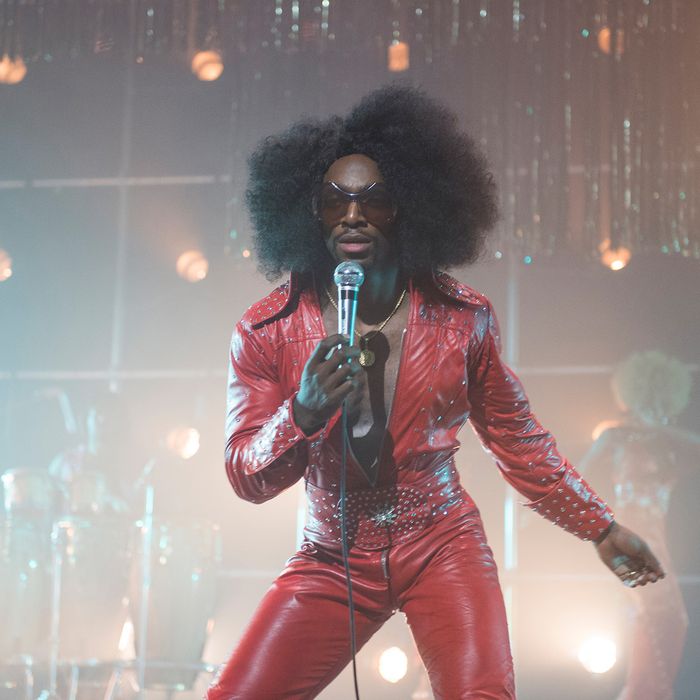 Daniel J. Watts as Hannibal.
Photo: Macall B. Polay/HBO
"Everyone thinks they moved to New York five years too late," says John Dunn, series costume designer for the HBO show Vinyl, which debuts February 14 (Mark Bridges designed the costumes for the pilot). The series portrays the 1973 New York record industry in all its glory: underground music clubs, ample cocaine, big hair. Dunn himself arrived in the city in 1976. He only kept a few relics for his own closet: some huckapoo shirts. Yet, he says the music from that time is "tattooed on his brain and soul."
As he designed the wardrobe, platform shoes provided a unique challenge. "We were filming this scene in a record company office with a large staff," he says. "A number of men were wearing platform shoes. This new character (I wouldn't say height-challenged, but he wasn't tall) walks in, and everyone else just towers over him. We had to get him into a colossal pair of platform boots, and suddenly he was the man in the room." Dunn isn't sure why platform shoes disappeared from men's fashion. "They give this sense of power. And they're not uncomfortable."
The show's two female leads presented a different challenge. Devon Finestra (played by Olivia Wilde), is the wife of American Century Records founder and president Richie Finestra, while Jamie Vine (played by Juno Temple) is an ambitious young assistant at Finestra's office.
"When we meet Devon, she's the wife of a successful record exec," says Dunn. "She would have had access to Bendel's and Bergdorf's, Yves Saint Laurent and Stephen Burrows. When we flash back to 1966, she presents a different persona. She wears the sexy boots and minis of the '60s. Devon, who was coming into her own in the age of the Chelsea Hotel and loft parties, had the potential to become the next Edie Sedgwick."
Jamie Vine, however, is just coming of age as the show begins. "We wanted her to represent the new, the future of music. Her clothing reflects that she's engaged with the prototypes of punk and hip-hop," says Dunn. About Temple, he adds, "she's so easy to put clothes on. She wears them with real confidence, which is half the battle."
Below, John discusses his five favorite looks from the first season.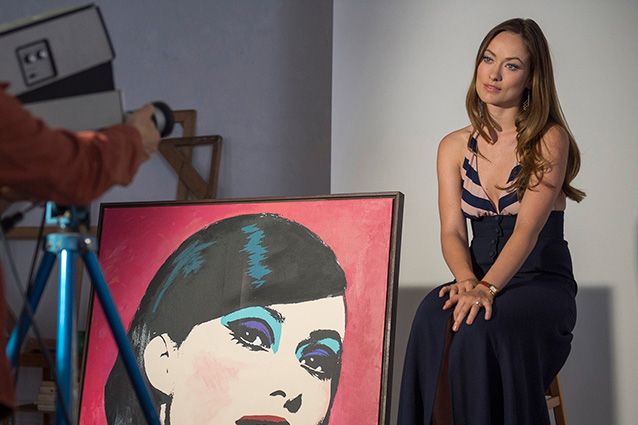 "Here, Devon's trying to revive her connection with Andy Warhol and the downtown New York scene. We found a simple '30s-inspired Ossie Clark halter dress that felt right for the moment. Designers in the late '60s and early '70s riffed a lot on 1920s, '30s, and '40s fashion, and this dress is very much inspired by 1930s silhouettes. The sample we had needed a lot of work, so we decided to make our own. We ended up silk-screening our own fabric. When we finished, the dresses were identical."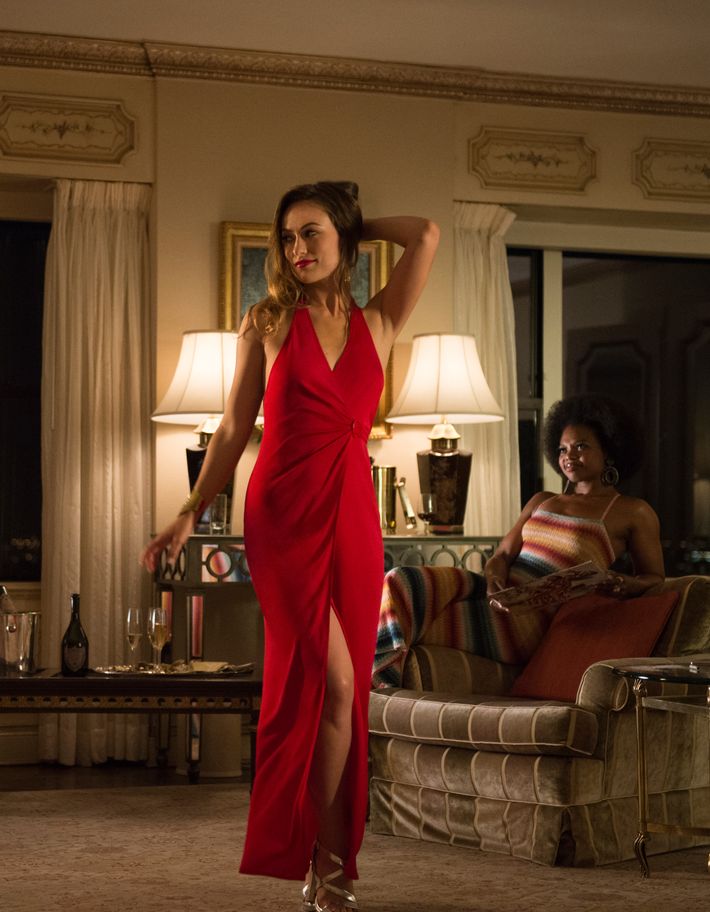 "Finding the right vintage dress in the necessary color, size, and condition is always a challenge. We wanted a killer dress for Devon's night on the town with Richie and funk superstar Hannibal. She wears the dress for a long sequence, so it needed to work in various locations. In this case, we were inspired by Halston's early 1970s designs. His cunningly cut dresses and vivid colors in this period were so simple, yet so perfect. He pared away anything unnecessary, distracting, or frivolous. This simplicity required great self-confidence from the woman wearing them. It was totally empowering when pulled off successfully."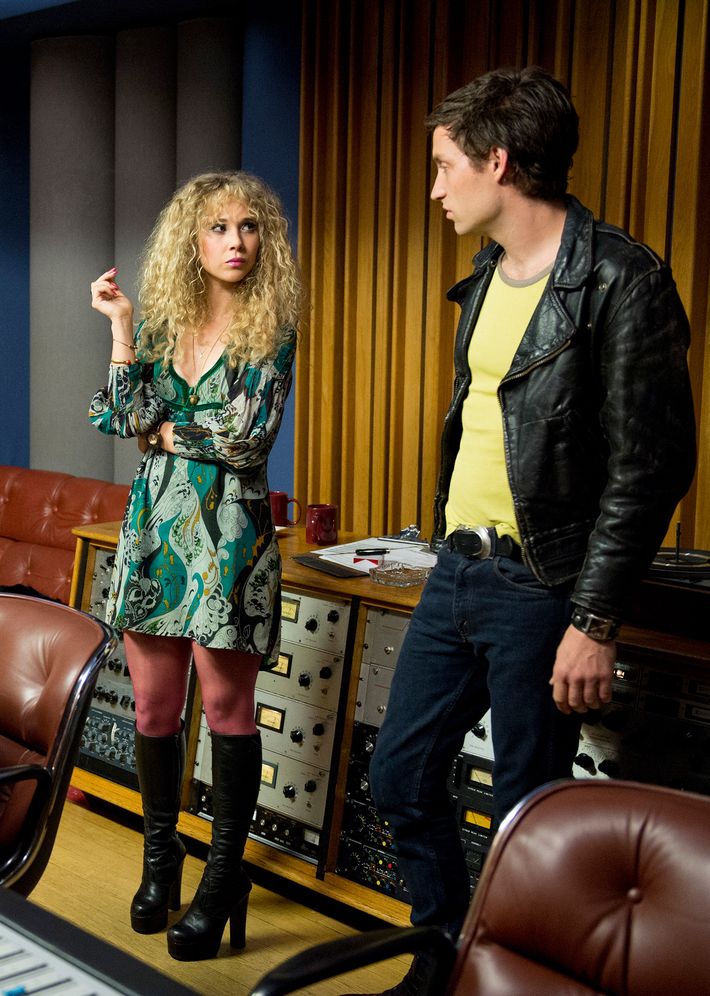 "Jamie dresses for her dream position at the record company, not her low-level assistant role. We wanted to reflect her innate ability and eye for the new and interesting. We used a totally cool (and hot) Thea Porter silk georgette dress. It's a vintage piece. We suspect it was originally maxi-length, but it was cut to a mini when we got it. We combined it with her signature platform black leather boots — her go-to footwear for going toe-to-toe with the office big boys."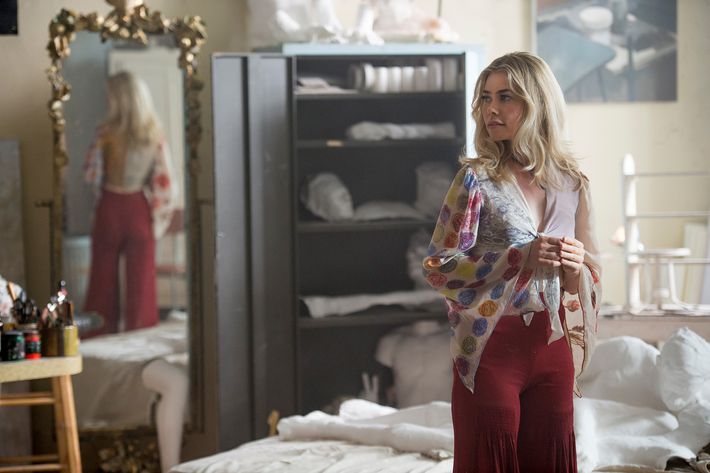 "Ingrid is Devon's friend from her days as a promising artist in the downtown scene. Ingrid now lives in the Chelsea Hotel of the early 1970s, the epicenter of cool at that time. Artists, musicians, and arbiters of style (Charles James, Patti Smith, Robert Mapplethorpe, etc.) called it home. Here, Ingrid is in a Chelsea Hotel art studio wearing Biba: a cropped silk top made of four different scarves and crepe trousers with knife pleating down the front that create an amazing flow. Ingrid has the coolest clothes, but living in a very Bohemian world makes her style looks effortless."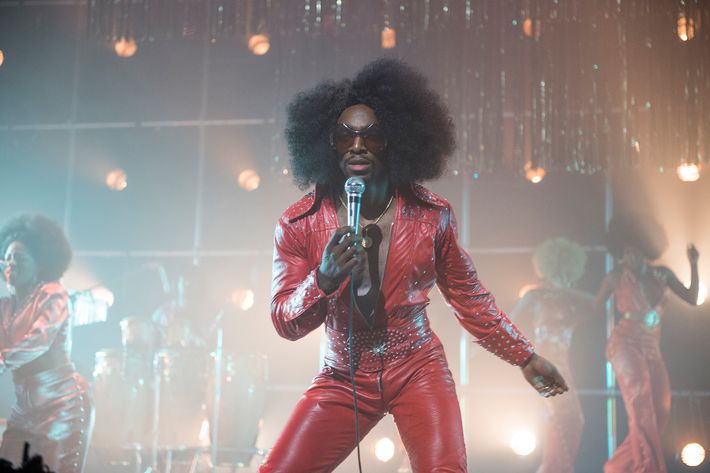 "For our fictional funk superstar, Hannibal, played by Daniel J. Watts, we channeled the look of Sly Stone from Sly and the Family Stone, circa 1973. Their stage shows were always sexy and visually mad. As the center of attention, Hannibal had to be 100 percent riveting. We choose to custom-make a skintight red leather zippered jumpsuit and matching belt, all studded with rhinestones. He has towering platforms with black pythons appliquéd down the side. The actor was so inspired by the costume that his dance moves started to compromise the seams. Somehow, the outfit made it through the day."