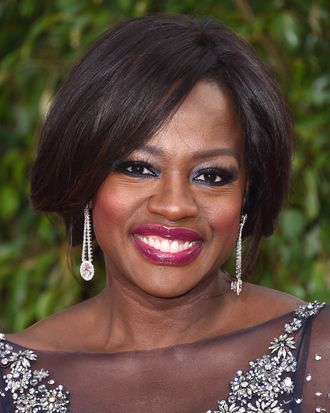 The always amazing Viola Davis.
Photo: Steve Granitz/Getty Images
Powerful, cool, smart, and relatable: that's the Viola Davis brand. Not long after becoming a spokesperson for the Vaseline Healing Project, the How to Get Away With Murder star spoke with the Cut about how she does wellness — a conversation that ranged from her love of spas to the "shroud of silence" over mental-health issues for black women.
How I start my day: Between 4 a.m. and 5 a.m. is the usual time that I get up. I always work out right away. I just bought a treadmill for my gym in my house. I don't want people to think I have a gym. It's a nice space in my garage that my husband put together with a rubber floor. Then I get my paleo meals that are on my front stoop. I then take a shower and I'm into washing my face. I'm addicted to products. Addicted. My favorite today is LifeCell because it's got antioxidants and green tea. I literally scrub my face for 30 seconds to a minute, I count it. I feel fantastic. I then put moisturizer in my hair and put my hat on because I'm going to work. A friend of mine said of my wardrobe: "Viola, it's functional." So I put on my functional wardrobe, which is Nike sneakers, my Nike pants, my Nike shirt, and a sweatshirt.
What wellness means to me: Wellness is anything that's good for my mind, body, and spirit.
How I like to sweat: At first I did [interval training] because of my husband. I only did it for about a couple of weeks and I got bored with it. I was doing two-minute intervals of sprinting and then running, because he said if you do 30 minutes of sprinting and running it's like an hour on the treadmill. Now I run for 40 to 50 minutes. I sweat. I'm not great with weights. But if I do, I do kettleballs. My husband kind of is my trainer but I also do great with professional trainers because I'm very competitive. When I work out, most of the time I watch CNN. My guilty pleasure is watching anything on Bravo. Any of the Real Housewives because it's mindless. Or HGTV's Fixer Upper. That's my favorite. But when I get to the set it's Snapped and ID Discovery, it's not good.
And sometimes I meditate. When I meditate it's really great, but I have problems with my head — it will not click off. I have been very unsuccessful at meditation. At one point I said to my husband, "Julius, I'm going to meditate! That's going to change my life! 15 minutes! I don't want you messing with me for 15 minutes." I went into my closet, I closed the door, and then I heard my daughter Genesis saying, "Mommy!" I cannot turn my head off. I'm a bad L.A. girl.
On hair: It's very difficult. People just don't understand our hair because they're not with us on a day-to-day basis, it's almost as if they need to be educated. I can't tell you how many shows I've done where I've reluctantly said, "Okay, that's not going to work on my hair, I'm telling you that we're going to have to do this over again." They'll be offended because you're trying to say that you're different from us. I am different, but I'm not saying that in a way that's offensive, I actually am very different from you with my hair.
Lighting is a big issue, too. It changes depending on how dark or light you are. That can be frustrating just on a physical and on a mental level because you're constantly having to explain yourself. Also it's a huge issue because sometimes it's not even about that. There's sometimes very little exploration into the specificity of the character. You'll see a Caucasian woman walking into a scene with mussed-up hair, after coming out of the shower with no makeup and it's not a big deal. But there's a feeling like we're not even allowed to do that. There are just so many restrictions.
How I find happiness: I love spas. I'm addicted to them. I've been to every kind of spa you could possibly imagine. If my husband and I go on vacation to a hotel that has a spa, we are there every single day, twice a day, for hours. I try to have a spalike experience in my house, too. I'll spray the damn walls with lavender, bergamot, all of that. Beverly Hot Springs, oh my God. It has alkaline water and a mineral bath.
My biggest wellness struggle is: Anxiety. I struggle with relaxing and being completely in the moment. I have a huge problem with that one.
My wellness shortcut is: The spa. Massages, and being in a quiet zone because in Burke Williams you're not allowed to use your cell phone, you're not allowed to speak above a whisper, and it's in a soothing environment with music. The smells are aromatherapy and that really does do it for me. I think that's why I'm addicted to it.
My wellness advice is: At one point my hair fell out. I mean, like this whole side of my hair fell out and then I had a big patch on top of my head. It fell out because of stress and alopecia areata. Try and relieve yourself of that [stress]. You sleep better. There are times when I can't sleep, and during those times, it decreases the quality of my life. I usually can't sleep because of anxiety. Just being anxious for tomorrow, anxious about my schedule, anxious about my daughter, and just anxious in general.
On mental health and strength: One of the things that happens with narratives with black people is that the image and the message becomes more important than the truth and the artistry. That carries on in our lives. We are not given permission to address the things that hurt us. We cover it up with great weaves and talking about all of our accomplishments and if we had something that happened in the past, we overcame it.
It's that strong black woman disease and I would like to redefine strength as saying that there are times when we are afraid, there are times when we feel vulnerable, there are times that you can hurt us, and that in and of itself is very powerful. In the future one of the things I encourage Pete Norwalk to do with Annalise in How to Get Away With Murder is to show that as strong as she can be and how vulnerable she can be, I really love when you see her pain. I see that in my mother, in myself, my sisters, and nobody ever talks about it. There's a shroud of silence, and I wonder where they think all of that pains goes.
On redefining beauty: Just like we have to redefine strength, we have to redefine beauty. It's not even about beautiful, it's about being who you are. It's about being honest. It's about stepping into This is how I am in private, this is how I look, this is how I act, this is my mess, this is my strength, this is my beauty, this is my intelligence, and then putting it out there that this is who I am. You cannot be allowed into my life if the only thing that I am asked to do is play a filtered-down version of a human being. A filtered-down version is someone who has spent two hours in a damn makeup chair to play someone who's getting out of bed in the morning.
You can't keep complaining about not seeing varied roles for black women if you are not the change you want to see. I'm sorry, it's like if I'm in the bathtub, then I'm going to be in it with no lashes and with my wig off. If you're watching, you have to come into my world. But I'm not going to make it comfortable for you to come into my world. That's my job as an artist. I feel it's very liberating for black women. Domestic violence is one of the No. 1 killers of black women. We suffer from huge anxiety issues. I think it's because we have to be so strong all the time. We carry it all on our backs. All women do. I think we need to be allowed to say that sometimes we get tired.
This interview has been edited and condensed.