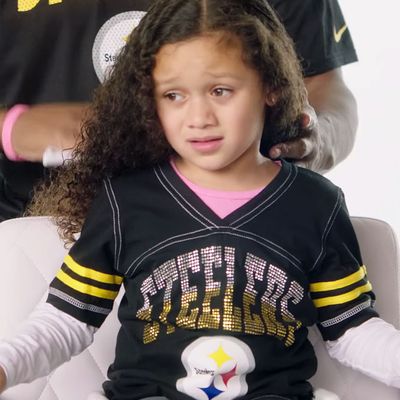 Pittsburgh Steeler DeAngelo Williams and his daughter, the master of side-eye.
Hey there, tough stuff. Thanks to Pantene, that weird moment when you finally cave into cheesy viral marketing is happening right now. The brand released four videos it's pegged as the #DadDo that show three players fumble along in earnest attempts to style their daughters' hair.
First up is DeAngelo Williams from the Pittsburgh Steelers, who is unmarried (wow, score) but in a long-term relationship (dammit). His daughter is only in kindergarten but somehow already earned a Ph.D. in side-eye. He gives her twisted pigtails and secures them with a bow.
Next up is Saints tight-end Benjamin Watson (married), who nimbly delivers braided pigtails to his daughter, Grace. He masters them and is indeed a pro.
Following Watson is Jason Witten from the Cowboys (again, taken), who gave his adorable daughter the most basic pigtails but calls them "magnificent" without a hint of sarcasm.
Finally, Williams comes back with his younger daughter, Reyna, and completes her tiny "Samurai" pony puff with a tiara. Okay, viral ad campaign — you win this round.