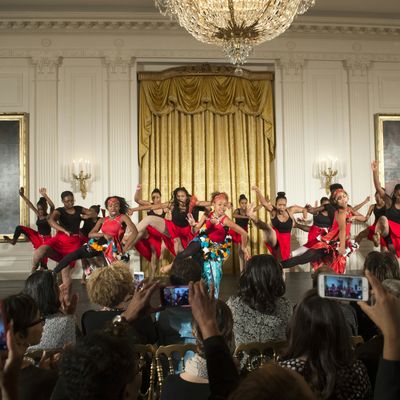 Bring it. Photo: Saul Loeb/AFP/Getty Images)
It's not a secret that Michelle Obama knows how to bust a move. Cue the scene of her breaking it down at the White House Easter Egg Roll and another of her showing Ellen how to groove to "Uptown Funk."
So, on Monday, it seemed only right that she open her home for a day of dance. In celebration of Black History Month, the White House invited 51 local students to showcase their talent, and yes, to shake it all over the Blue Room.
Debbie Allen, the Alvin Ailey Dance Theater's Judith Jamison, and hip-hop choreographer Fatima Robinson were there for a day of classes from ballet to hip-hop to African dance.
Allen posted a photo of the girls moving in perfect fast-paced formation, in preparation for a presentation for Mobama. "Honey!!!!! Things are heating up at the @WhiteHouse!!!" Allen captioned an Instagram video.
Not many can say they left it all out on the dance floor in front of full-length portraits of George Washington and the rest of the presidential boys' club. Show 'em who's boss, ladies.
To see more of the day, watch the video below: