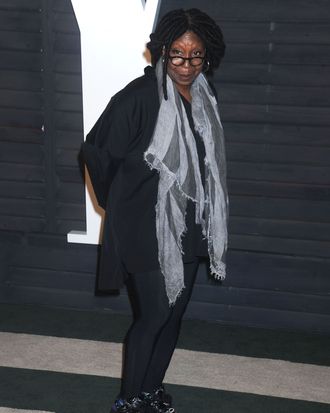 Whoopi Goldberg, post-Oscars.
Photo: Splash News
Whoopi Goldberg wore cool athleisure to Vanity Fair's Oscars after-party last night, showing Hollywood how to party: in whatever's comfortable. On a night when most women wore heels and skintight columns (including Chrissy Teigen, who is, you know, pregnant), Whoopi gave the overdressed extravaganza a bemused look and kicked her way into the party in metallic sneakers.
This was after she wore a regal gown on the red carpet, showed off her even cooler dragon tattoo, and was mistaken for Oprah Winfrey by Total Beauty's Twitter account (they wound up offering $10,000 to the charity of her choice to apologize for the hideous error). We assume she awoke blissfully this morning without sore feet. All hail Queen Whoopi.