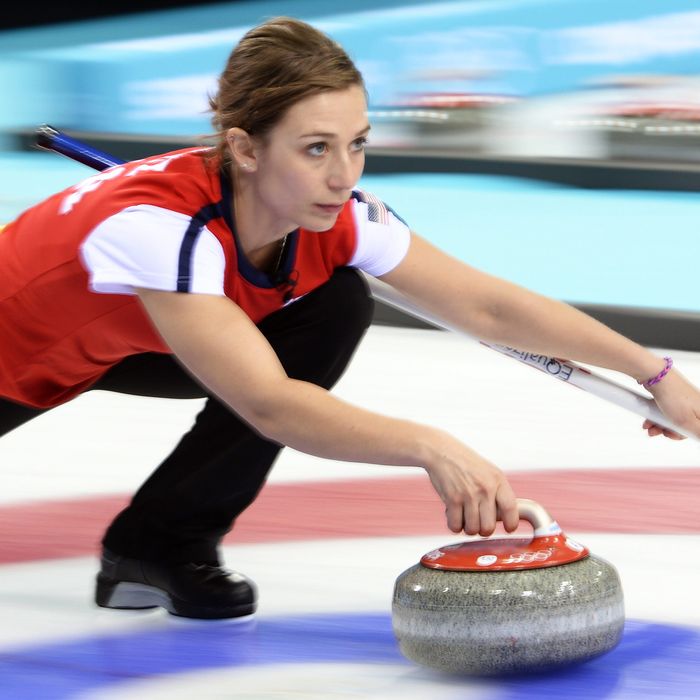 A woman curling.
Photo: AFP/Getty Images
The prevailing image that Americans have of Canada consists of things like: aw, nice, huh, free health care, Justin Bieber, curling, and empathetic emoji with rosy cheeks. Injustice? That's a thing best saved for us Americans to wrangle with, not Canadians. Right? Right??
Don't be so loony. Where there are women, there are injustices, and it's possible that women's curling (and more specifically the Scotties Tournament of Hearts — only in Canada, amirite?) has experienced its first-ever light scandal. The women athletes competing in the curling competition, which began last Saturday and will run until Sunday, have been barred from bringing their children backstage at the Revolution Place. An email that was sent out to competitors on Tuesday reminded competitors in the national women's curling championship that children are not permitted backstage "at any time," a rule that includes babies.
A report in the Winnipeg Free Press reveals that this ruling has caused many curling competitors who are also mothers to take their babies a block away or to a nearby parking lot in order to breast-feed. Bliss Joyce, curler and mother to a 9-month-old-son, told the Winnipeg Free Press, "It would be nice to have it closer. Just less trucking them around. With the time between games, it's tight. It just adds another layer of rushing." The report says that if athletes "are playing in back-to-back round-robin draws, that can leave teams with as little as an hour to rest" in between, which is often not enough time for new mothers to nurse, as well as get ready for their next competition.
Event manager Terry Morris explained that prohibiting children backstage is not a new rule, but the arena has no other available areas for breast-feeding mothers. Jennifer Jones, a member of Team Canada, told the Winnipeg Free Press, "There should be a place in this arena where moms can nurse their babies. We're women curling, we're female athletes, and this is something that's important." Where's Justin Trudeau when we so sorely need him, eh?