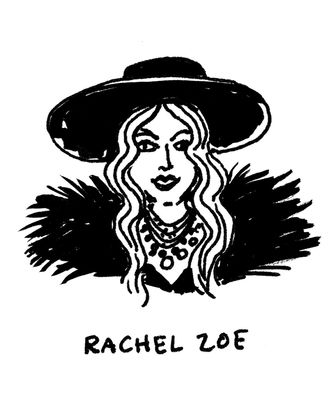 Illustration: Joana Avillez
In Fashion Feelings, we'll be talking to notable people about how fashion changed their lives. Here, stylist Rachel Zoe talks about how her musical icons shaped her personal style.
I started styling when I was 8 years old. I styled my friends. If I didn't love the way people were dressing but I knew they had great clothes, I would go over to their house and lay out their clothes for them. I always liked to make people look and feel better. I wanted to build people's confidence, without knowing that that's what I was doing because I was very young.
Once I became a teenager, I really started to do that with all my friends. I would do everyone's makeup and hair and pick out everyone's clothes if we were going out, set everyone's looks for them. At that time, I had no idea what a stylist was or that I could ever make a career out of doing that, ever. It was just about style for me, it wasn't about Dolce & Gabbana or Gucci. It was about, That woman is magnificent, what is she wearing and how can I look like that? Or how to look like my idols, the Go-Go's or Madonna. Madonna was my fashion idol around eighth grade. I was fully dressing like her at all times. That was the "Lucky Star" era — rubber bracelets up to my elbows and fishnets, the whole thing.
In high school we were definitely still into Madonna, but also a little bit of Duran Duran and Sting, that whole thing. I was listening to U2 and a lot of classic rock, the Beatles, Led Zeppelin, and Rolling Stones. But I didn't feel the confidence to go the '60s route until I got into college.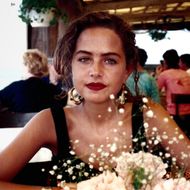 I definitely did not dress like everyone else, that wasn't my thing. I was always going the other way. But I wasn't the black sheep, I wasn't dyeing my hair hot-pink and piercing everything. I was a little bit more glamorous — and not always in the best way. But what's the worst-case scenario, I'm the most overdressed at the party? That's just how I was raised. My mom was always the most dressed-up anywhere.
In my 20s, I think I started to get way more refined, toned everything down. I started to wear a ton of black, and my hair was straight. Much less makeup, maybe a red lip and mascara. Stevie Nicks was a huge influence for me. Then we got the Tom Ford era, which changed my whole world. I don't think that has ever changed. Wearing flares and button-ups with a blazer, and some sort of velvet suit with a big gold piece on my neck. I don't think I've really veered that much from that.