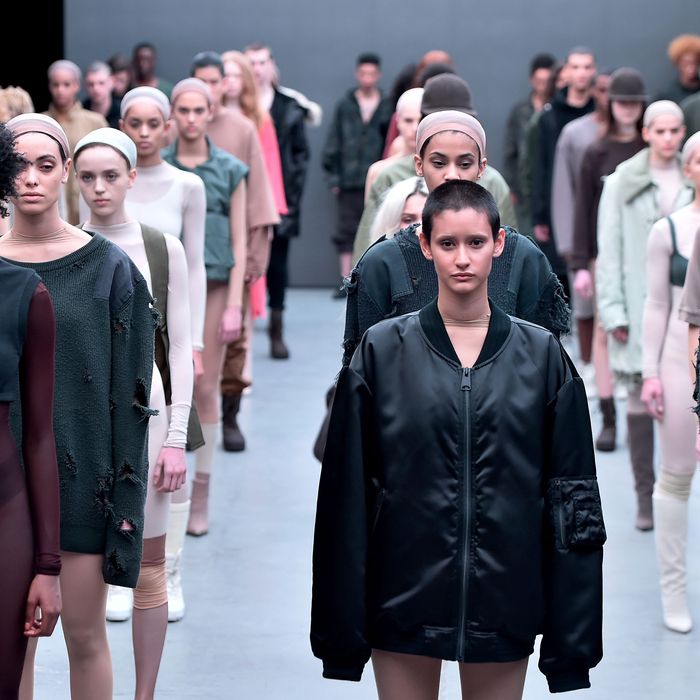 Photo: Theo Wargo/Getty Images
When Kanye West debuted his first Yeezy Season at New York Fashion Week one year ago, he gave the world $2,600 hoodies and unflattering nude bodysuits. More notable than Ye's taste in beige underwear, however, were the models he chose to wear the clothes. Standing mesmerizingly still in nine rows, they were male and female, black, white, Asian, of varying heights and sizes. They looked more like a snapshot of young America than any other show that season, and they were cast in an open call in Soho.
As the Fashion Spot noted, 77.4 percent of the models cast in New York that season were white. Not only did Kanye buck the trend, but he seems to have created a minor ripple effect — plenty of his muses from the show have gone on to other big modeling jobs.
With Yeezy Season 3 and Kanye's new album both debuting at Madison Square Garden today, the Cut took an Instagram dive to find out what all 49 of last year's models are doing now. Guided by the show's casting sheet — courtesy of AM Casting director Noah Shelley — we discovered nearly all of the models living fabulous post-Yeezy lives. They are Victoria's Secret models and bodysuit aficionados, creative directors and clothing line designers, identical twins, amateur boxers, yogis, and friends of Lucky Blue. Together, they're followed by over 52 million people. See all of them here, from Kylie Jenner to Ian Connor to Amina Blue.
Kylie Jenner
49.7 million followers
Ye's sister-in-law has a recent aversion to pants. She also just named a tube of lipstick after her grandma.
Ian Connor
423K followers
Behold the résumé of a true wunderkind: A$AP Rocky's creative director, Kylie Jenner and Wiz Khalifa's stylist, A$AP Mob member, model, Instagram celeb. "I'm trying to die like the young legends," he told Racked. "I want to be young forever."
Braina Laviena
12.7K followers
Known as Kanye's favorite muse, the Puerto Rican model started as his PA before becoming the face of his first Adidas Originals collection. She's now the in-house fit model.
SueLyn Medeiros
1 million followers
Bodysuit aficionado SueLyn wanted to be a doctor, not a model. But "the charming magical world of fashion" intrigued her, she says on Facebook, leading her from the sterile land of operating rooms to lingerie catalogs and a L'Oréal ad. This girl: big dreams.
Luka Sabbat
161K followers
Maybe your best friend is Virgil Abloh, who got you cast in the first Yeezy show. Or your mom was a stylist for John Galliano and Dior, and your dad was a clothing designer in Paris. And you like to chill with Zöe Kravitz. You're Luka Sabbat, "the Internet's Coolest Teenager."
Amina Blue
202K followers
She wore a beige thong for Kanye in Yeezy Season 1, became famous, and continues her conquests as an animal-rights and pro-vegan activist. She's also a prolific author of Instagram mantras of which Kanye would surely approve, such as: "Not everyone is going to love you. Most people don't even love themselves."
Hafiia Mira
84.6K followers
"Tempting but dangerous," and a designer from Kosovo. How many abs are too many abs? There are too many in this picture.
Dudley O'Shaughnessy
35.8K followers
English amateur boxer at the age of 9, now an actor and a model.
Jessica Strother
51.3K followers
Surely Jessica was the only human on earth who wore a bikini in Superstorm Jonas?
Leomie Anderson
41.5K followers
Look at Leomie on the Victoria's Secret runway! She's also a beauty and lifestyle vlogger who readily speaks up about racism in the modeling industry.
Neelam Gill
64.9K followers
Burberry's first Indian ad campaign model, and more recently the new face of Abercrombie & Fitch, is rumored to have hooked up with One Direction's Zayn Malik. The Brit also has a well-received vlog where she rants about bullying, depression, and body image.
Rachel Mortenson
38.4K followers
Here is impeccable Rachel, and her splendid taste in dessert. Recent work: She starred in a Motives Cosmetics campaign, saddled up for a cowgirl calendar, and covered Playboy in 2014.
Pauline Hoarau
49.4K followers
There is a video from before Pauline was a Victoria's Secret model, in which she adorably can't believe she's actually going to be a Victoria's Secret model. She's walked in more than 200 shows, including Chanel couture and Dolce & Gabbana's Alta Moda collection last fall.
Vittoria Ceretti
25.4K followers
The Italian model loves croissants and still wears her Yeezus T-shirt. Recently, she walked in Dior's haute couture show and played with Fendi bags in a commercial.
Khorey and Torey McDonald
787 followers
Important: Jamaican-British twins and models Khorey and Torey have a thirst-trap website with sexy sounds.
Hana Nitsche
43.5K followers
The Czech model's career took off after she appeared on Germany's Next Top Model, and for a time she dated Russell Simmons. Now she appears to adore an amazingly ripped personal trainer who likes to send her flowers, and who also happens to be a private chef. Meanwhile, she's campaigned for Pantene, covered magazines, and apparently has a soul/pop album in the works. This girl's life: Sign us up.
Monic Pérez
30.7K followers
Actual photo caption: "#iwokeuplikethis literally." Other news: She rolls in a lot of sand in Yandel's "Encantadora" music video. Previous highlights: Miss Puerto Rico title, Miss Universe semi-finalist.
Grace Bol
28.2K followers
"Walking the runway of life with boldness." —the Facebook bio of a goddess. She's from South Sudan, grew up in Kansas City, and currently lives in New York with admirably grounded values: "traveling, working out, clothing, spending time with family and friends." Recent fashion stints: Marc Jacobs's spring-summer 2016 ad campaign, Jean Paul Gaultier haute couture show.
Spencer Lee
29.1K followers
On arriving for his Yeezy casting and keeping his cool around Ye: "I got to small talk with Ye a little bit, of course he's a person I look up to. I was in rehearsal and he was like, 'Can you sag your pants a little bit?' … I felt really blessed to have the opportunity. I was the only Asian kid in the show, so it was even more lit."
Dalianah Arekion
14.3K followers
This is what Dalianah wears to a family dinner in Barcelona.
Michael Lockley
18.5K followers
Michael has amazing hair and is friends with Lucky Blue. These are two components for a happy life.
Marina Nery
30.7K followers
Ask this girl anything on Tumblr: How is her skin perfect? "WATEEEER !!!" What about racism in the fashion industry? She says it's "rare to see a casting where more than 5% of the models are of color." What's that in your ear? "A couple of ear piercings."
Tsanna Latouche
14.1K followers
Lingerie model. Recently appeared in Sports Illustrated's swimsuit casting call.
Luz Pavon
11.1K followers
The Mexican model has taken after Kanye and started her own clothing brand, PAVON NYC.
Devan Mayfield
7,468 followers
What was it really like to walk Yeezy Season 1? "I was a part of Kanye's army," she told Business Insider after the show. "The nude body suit [sic] felt like another layer of skin the way it was hugging my body … You could see our souls on our faces."
Aubé Linda
6,904 followers
Four Brooklyn manservants, a fairy-tale dress.
Dasha Gold
9,576 followers
How to run stylishly in the rain, courtesy of a Russian redhead.
Joline Braun
5,507 followers
Joline is a model, boxer, and yogi — oh yeah, and she can do the splits. She walked in the Milly and Creatures of Comfort spring 2016 shows.
Maitlyn Simmons
5,186 followers
Did Maitlyn NOT HEAR about the cryotherapy death?? She is forgiven because of her love for macaroni and cheese and possession of two chihuahuas wearing pink rhinestone collars.
Ashley Turner
5,975 followers
Master of smoky eyes and arched brows: MAYBE IT'S MAYBELLINE?
Yancarlos Jimenez
2,546 followers
"You are allowed to be both a masterpiece and a work in progress, simultaneously." —Yancarlos's Instagram bio, and maybe a good description of his abs.
Jackson Hale
7,898 followers
"words r tasty bby get 2 know them" —Jackson's instructive Instagram bio. Possible redeeming fact: He walked in Burberry's David Bowie tribute during the men's shows in London.
Esmeralda Seay-Reynolds
4,951 followers
"At night, when I close my eyes, I swim naked in a sea of stars, and in the morning, when I wake, I walk through the streets with invisible wings." —Esmeralda's Instagram bio. If you grew up in rural Pennsylvania and then walked runways for Chanel, Marc Jacobs, and Louis Vuitton, maybe you'd feel the same way.
Elias Montalvo
2,656 followers
Caption: "Just home. Holding ma chin up lmao. #BoringSaturdayNight #FuckingBored." Okay, maybe Kanye didn't change his life.
Dorota Kullova
2,409 followers
This Slovakian has a blessedly relatable Instagram bio: "traveling, food, and sleep." Except you probably didn't wear watches for Chanel Singapore.
Yuri Pleskun
4,631 followers
Yuri was in Abu Dhabi. What's up?
Anastasia Zhidkikh
2,801 followers
Blonde, Russian, not into shirts.
Micky Ayoub
1,214 followers
Probably the only person on this list whose Instagram features Great War novel The Good Soldier by Ford Madox Ford. He also likes poetry.
Luca Bertea
2,286 followers
"my mind spray." —Luca's Instagram bio. Hair spray?
Malou Høgenhaven
917 followers
"1997's kid born on earth." And a mirror magician!
Liam Daniels
416 followers
Yeezy model ready for soccer in Soho.
Nick Sugihara
238 followers
Looks good in stripes, walked in Gypsy Sport's spring-summer 2016 show.
There are also six models who (smartly?) cannot be found on Instagram: Jay Colbert, Mio, Erin Mommsen, Denis Nikolajev, Varya Shutova, and Sionna. Let us still recognize them and hope they're doing well, in the name of Yeezus.