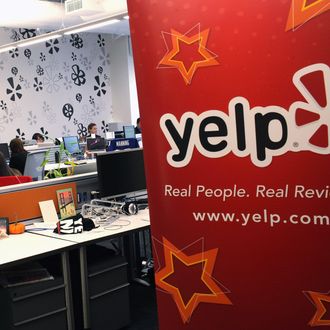 Yelp's not thrilled with reviews of its workplace.
Photo: Spencer Platt/ Getty Images
It's a tale as old as time. A 25-year-old woman, swimming in debt, works a low-paying entry-level job in hopes of advancing in her company, all while living in a city where the cost of living has skyrocketed. She writes an essay about her job and is promptly fired.
On Friday, Talia Jane published an open letter on Medium addressed to Yelp and Eat24 CEO Jeremy Stoppelman. Her essay touched on a range of frustrations with the company, but hinged on the vast chasm between her biweekly paycheck ($733.24) and the basic expenses of living and working in the San Francisco area, which for Jane included $1245 in rent, $226 monthly to commute, and $120 for utilities (if she uses her heat).
While Yelp touts the value of their restaurant reviews, they're apparently not so thrilled when they're the one being scrutinized. Within hours of posting, Jane was let go from Eat24 and informed that her essay was the cause (an outcome she had, if not expected, at least foreseen). She continued to post updates on Twitter throughout Saturday.
And of course, where a woman or a Millennial (or double bonus, both!) expresses an opinion on the Internet, there will be someone ready to be outraged at their "entitlement." Jane also tweeted her responses to that line of argument.
Stoppelman responded to the letter via his Twitter, asserting he was not involved in Jane's firing, and attempted to refocus the conversation on the spiraling cost of housing in the Bay Area.