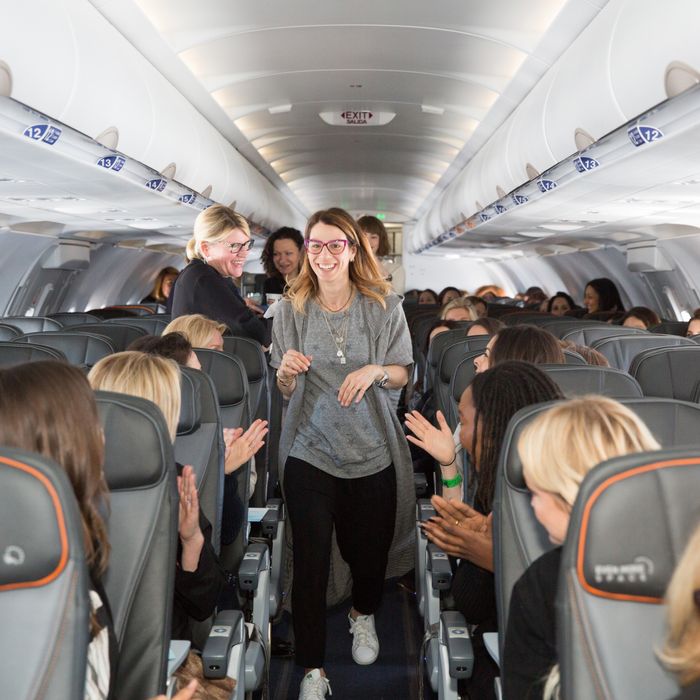 Over a loudspeaker on a flight to San Francisco, a member of an all-female flight crew announced that we were about to touch down. "Ladies and gentlemen," she began before laughing and stopping herself. "Sorry! Force of habit." She meant to stop at just "ladies." From the pilots to the passengers, there was not a single gentleman on the flight.
I spent a large portion of the six-hour plane ride — a plane chartered by JetBlue and Marie Claire magazine for a two-day conference on women and power — trying to reconcile the early aughts' pop-culture depiction of the misunderstood female boss with 100 real career women I was surrounded by in the aisles, by the bathroom doors, chatting heartily in first class. There was no Jennifer Garner in 13 Going on 30 after becoming "30, flirty, and thriving," no overworked Miranda of Sex and the City, no ball-busting Sandra Bullock in name-literally-any-movie to be found. According to the canon, these women were supposed to be soulless man eaters, hell-bent on ambition, dismissive of their children, and deeply lonely. But not one woman I talked to embodied that narrow '00s stereotype. In fact, all of them were blissfully normal — like my mother, my friends, my colleagues.
The so-called Power Trip was a first-time experiment for Marie Claire, in which 100 women from the East Coast and 100 from the West Coast met at the W Hotel in San Francisco to discuss female entrepreneurship, network with one another, and hopefully have a good time. I went into the event with some cynicism, perhaps driven by the past generation's depictions of the humorless powerful woman. Would spending 36 solid hours with 200 business owners, CEOs, "disrupters," and women at the top of their fields feel forced and hollow, a pat on the back to show that women can come together and disprove the cliché that they are out to get each other? But I came away with more than I expected — great conversation, a thicker list of contacts, even some inspiring, motivating ideas. With these women — everyone from the founder of FEED to executives at Google to Gwyneth Paltrow to YouTube sensation Bethany Mota — there was something of an inexhaustible, untainted realness. There was power, too, but power that didn't overcrowd. I found the trip invigorating, confirming that women need not abide by a predetermined set of rules in order to make it to the top. Here is what I found:
We may not live in an all-women utopia, but we can always keep men off the invite list. Though it was one of the most advertised and celebrated aspects of the event, it quickly slipped my mind that there was not a single man on the trip. When we touched down at JFK after a day and a half, I realized the significance: the plane's two pilots were both women, the on-flight and ground crew were all women, the entire group of people we were surrounded by were women. When I spoke to Marie Claire editor-in-chief Anne Fulenwider about this man-free heaven, she said that was the reason the Power Trip came about in the first place. "There just aren't as many cultural norms in place for women with high level of success across fields to get together and hang out," she said. "Men have had their golf trips, their men's clubs, dinners. It's been part of the culture across countries for many many years. I think women need to establish more of those. Any industry you're in, you're sort of siloed. I don't think women give themselves permission to relax or to socialize."
Powerful women can — and do — have kids. And sometimes they do it alone. Along with the persistent myth that women must be lonely harpies in order to be successful, there's the hand-wringing about how a woman might lose her career should she decide to have children. On the Power Trip, I met several women with very young children, many of them single mothers. Jill Furman, producer of Broadway darling Hamilton and a single mother, told me, "2015 was the year of the two greatest productions of my life: one obviously a little more important than the other." (She had had her son just a month prior to Hamilton's previews at the Public Theater in January of 2015.) "It was exhausting. Frankly, I'm still exhausted all the time. But it's so exciting. I brought my son to tech when we were teching in the theater, and I felt so proud to think, 'I'm going to bring you to this show in five years, and I'm going to say you were here, you were part of history.'" Sarah Lacy, CEO and founder of tech news site Pando, echoed the same sentiment. "Certainly when I was coming into the industry, I always got the impression that the second I had kids, I was going to become so weak and my career was going to be over. I'm not going to be able to work as hard as I could before, and I'm not going to be as ambitious because I'll be really into my kids." Instead, she said she found the exact opposite. "I've found so much strength and focus and determination from becoming a mother. I knew that if I was going to work this hard and spend this much time away from my kids, I had to make it be really meaningful. I feel like it made me take more risks. You kind of get away from the bullshit and get really focused. I gained a lot of strength from both of my kids."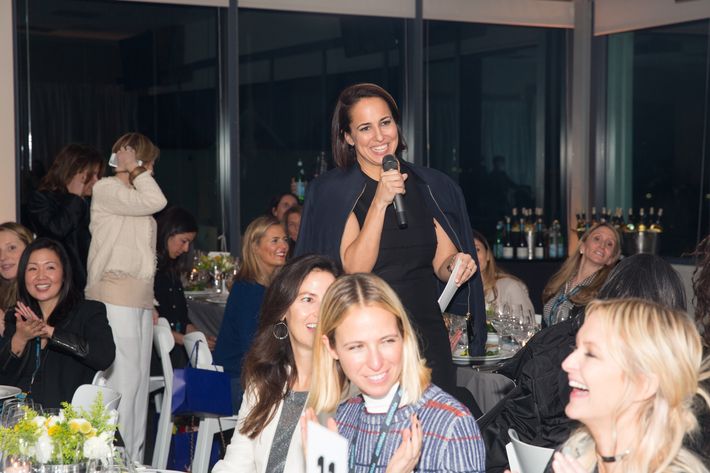 Representation — and acceptance of the different ways women can be — is important. The last panel on the Power Trip featured Black-ish star (and perennial Cut favorite) Tracee Ellis Ross. In a one-shoulder sparkly dress and silver platform brogues, Ross explained that one of the most important responsibilities she shoulders in her job is to make sure that she (and her character) is being represented exactly how she wants to be. This is what drives Ross to think intensely about the tiniest of moments: If the script calls for her character to be holding a laundry basket, she'll insist to the directors that she holds an iPad instead. "Isn't art supposed to reflect life?" she asked on the panel. "Women have had jobs and kids for a long time. We can be smart and be sexy and wear lipstick, too. We want television to look like the world we live in." This means demanding that things be the way we want them to be, appear the way we want them to appear, and to make sure that we are representing our truest selves. "All these different ways we're 'apparently' supposed to be? It's different for everybody. It might feel strong and loud for one person, it might be soft and delicate for another. You might have larger hips or different hair and all of it is gorgeous. How do we take who we are in this world and figure out how to not be operating the way we're supposedly supposed to be?" Ross has at least part of the answer: "Being in community and conversation with other women is part of what helps me with that."
Everyday sexism does not just evaporate when you are the boss. (Even if you're Gwyneth Paltrow.) "I was being asked for a quote in Time magazine for this really insulting piece, ultimately, about actresses becoming entrepreneurs," Paltrow said during her conversation onstage with Fulenwider. "There's so much attention around it — what do I think about what Reese Witherspoon is doing? I wonder if George Clooney's being asked if he feels threatened by Justin Timberlake's ancillary whatever line, or Puff Daddy's ancillary liquor line. It just seems like a question that men are not asked." How does someone like Paltrow, who is still asked to pit herself against other women, even at the very pinnacle of her career, handle such a slight? "I think we're in a really interesting time as women, where we are finally able to give ourselves and our friends the permission to be intelligent, powerful, maternal, and sexual, all these things that aren't supposed to go together. I think we're all trying to figure it out. I think we have a lot of energy to do things that, I think, it's beautiful to watch a woman decide to foray off into a new venture. I find it so inspiring." Drew Barrymore, recent founder of Barrymore Wines and Flower Beauty, expressed the same sentiment about everyday sexism. At dinner on Monday night, she told of men turning their noses up at her business. "Women of New York," she warned. "Just know that your male compatriots in the wine business, they're a rough crowd." Only the wine business?
Call it what you want, but self-care isn't some new-age bullshit idea. It works. Taking care of oneself is actually one of the best ways to grow your business. Opal Tometi, one of the three female co-founders of the Black Lives Matter movement, told me the biggest thing she's sacrificed during her career has been time. "I know for myself that I've neglected my body quite a bit," she said. "I have some chronic health issues that I really haven't paid much attention to because so much of my passion is much more external. I've had to, in recent months, actually address it. My body is speaking to me." She continued: "Don't sacrifice your body for the sake of everyone else's body. I've been having a lot more compassion about myself and my presence and attendance at different conferences. I've been giving myself a lot more grace. My body needs something else at this point and it's not going to be fulfilled by attending one more meeting or one more conference call or one more late-night writing session or proposal or so on. I'm way more focused in things I say yes to. If you have me, you have me and I'm joyful, as opposed to side-eying. It makes a big difference."
At the Power Trip dinner on Monday night, Drew Barrymore — wearing a draped open sheath as ruffled as a crushed stack of tissue paper — gave an enthusiastic sermon about wine. "Pinot grigio was my first crush — no pun intended," she said, smiling the closed-mouth smirk you'd recognize anywhere. She explained that "her storytelling background in film" has led her to love the wine business, one that is also centered in histories and stories. She seemed elated to have found something she loved. "We're all just trying to do our best out there." A group of hundreds of women gleefully whooped and hollered. To my surprise, I was among them.