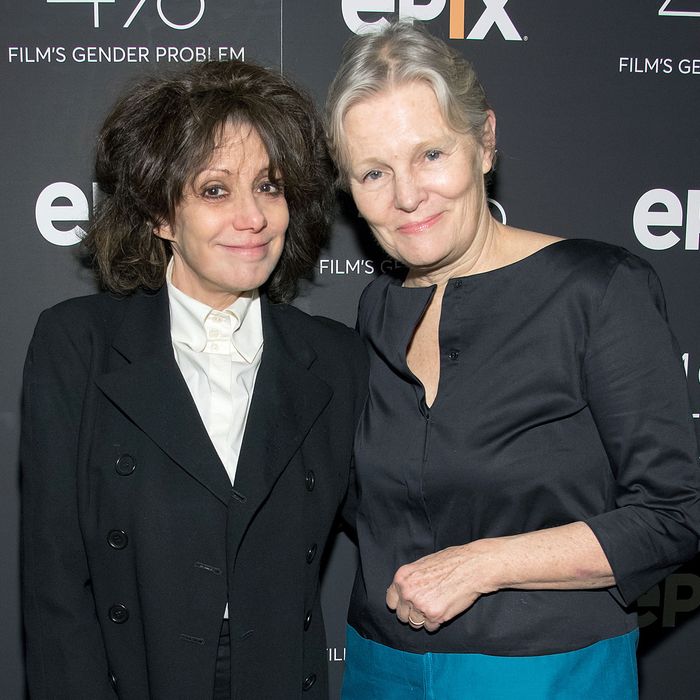 Amy Heckerling and Mary Harron at the premiere of The 4%: Film's Gender Problem.
Photo: Mike Pont/WireImage
Unfair hiring practices is a hot topic in Hollywood, and the latest data, from a study conducted by Dr. Stacy L. Smith, indicates that across 1,300 top-grossing films from 2002 to 2014, only 4.1 percent of all directors were women. A new documentary series, The 4%: Film's Gender Problem, which debuted on Epix last night, looks at this bias in Hollywood. The six-part series tackles the subject of gender bias from multiple angles through a series of interviews with producers, executives, and stars ranging from Judd Apatow to Anjelica Huston.
At a screening last night hosted by the Peggy Siegal Company, directors Mary Harron (American Psycho) and Amy Heckerling (Clueless, Fast Times at Ridgemont High) discussed their own experiences with gender bias in Hollywood. "If men fail, they will get two or three more films but it's not even a failure if you just do a film that doesn't make a lot of money — it is very, very hard to get the next one made," Harron said. "A woman can do very low-budget but it's very hard to do anything that's in the studio."
Harron thinks if a man made a film like her Fast Times at Ridgemont High, or Clueless, he would be revered, and treated as a legend. "Same thing for me," Harron said. "If a man had made American Psycho he would have automatically been given a big-budget movie, because it made a lot of money."
Instead, Harron said she was sent a bunch of bad serial-killer scripts. After Ridgemont High, which famously features Jennifer Jason Leigh's character Stacy Hamilton losing her virginity in a softball field, she got calls for girl-loses-virginity movies. "That was one character among six main characters, and one scene, that was not going to be my niche," she said. "We always thought that if a woman did something successful it would cause change, and yet that has happened repeatedly without causing any change."
The director of The 4%: Film's Gender Problem, Caroline Suh, said she hopes the film helps unpack the issue, and like many before her, blames those at the top. "Agents, directors, the heads of Hollywood studios, have to think outside of their habits and look to women they might not normally look to," she said. "If [as an agent] it is much easier for you to have a client hired that is a male, you are going to push for that person. Whereas if you have to make three different calls for a female director you aren't going to do that."