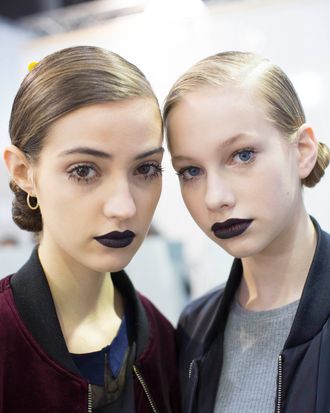 Daring, dark, Dior Fall 2016.
Photo: Lauren Fleishman
Here comes the Paris version of the "don't mess with me" face and lip. Yesterday at Dior, Peter Philips created a "strong and glamorous " dark lip look with slightly clumpy lashes. It's not too pretty nor too gothic, he stressed of the look, while Guido Palau, creative director of Redken, stressed that the twin hair knobs, nestled low at the base of model's necks, were definitely not Princess Leia–inspired. They weren't even buns, he said: "I hate that! Please don't write that!" Here's how to make your dark lip budge-proof, sophisticated, rich, daring, strong, and not too pretty — all at the same time.
1. Start with great skin. If you want your lip to look luxurious, your skin needs to look polished, like you've spent months coddling it with fancy French facials. This means you need real coverage in the form of foundation. Although many Paris shows like Vetements have been showing a more raw look to the skin, achieved with mostly concealer, Philips and his team gave Dior's models a healthy layer ofDiorStar foundation so that the lip really stood out.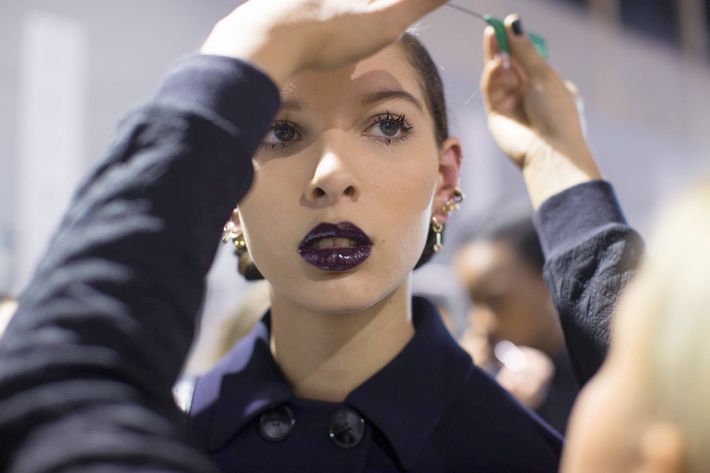 2. Accept that your lips won't feel great. Moisturized, dark rich color that lasts a long time is the unicorn of lipsticks: It's nice to imagine, but it doesn't exist. Accept that it doesn't exist in real life. Philips used a special trick to give the lipstick longevity, lining the lips with a black eyeliner base for the new purple-black Rouge Dior Poison 962 lipstick shade (not yet available). It intensifies the color, he explained, and gives the lipstick some grip, although he admitted "It doesn't really feel too comfortable. But if you are the type of girl who wears that kind of lipstick, you don't mind." Another tip: Wooden liner pencils, those that require sharpening, whether they be lipliners or eyeliners, tend to not last as long as synthetic ones that come with a plasticky base. Use a synthetic liner pencil to make your lip really last.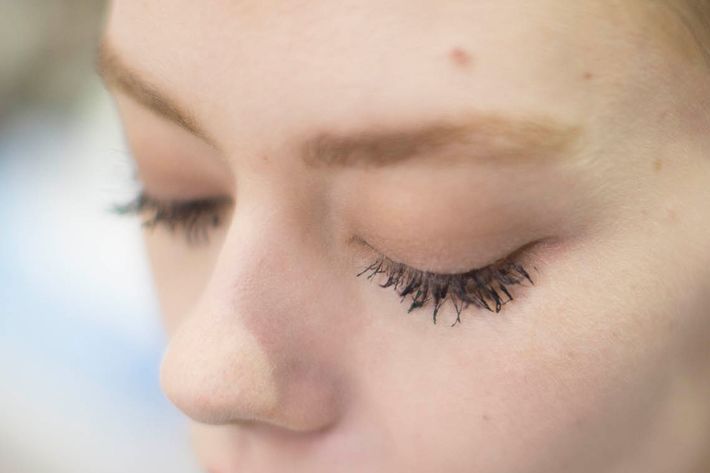 3. Decide how pretty you want to be. Sometimes in life, moreso if you are a model, you are faced with strange, tough beauty choices, like "How pretty do I want to look today?" The answer backstage at Dior was "Not too much," which is why Philips decided to create a purposely clumpy or spidery lash look, much like we saw in New York at Jason Wu. It turns out everyone's favorite mascara, Dior Show, can work too well. "When we tested the lip out with the mascara, the lashes looked almost too fake — like too showgirl," Philips said. So Philips and his team did everything the DiorShow Iconic Overcurl mascara is engineered against, creating a clumpy, "punky" lash look. On days when you don't want to look too pretty (like, say, your sister's wedding?), point the wand vertically towards your lashes and pinch clumps together with tweezers.
4. Get glossy at your own risk. "Gloss has a mind of its own," Philips shrugged apologetically when asked how you make a dark, glossy lip last. Although the shine of the dark lip (achieved with Dior Addict Ultra-Gloss Bulle 001 — not yet available) gave the look a hi-def, luxurious sheen, it also made the lip color less stable than American healthcare. Philips and his team waited until just before showtime to apply the gloss.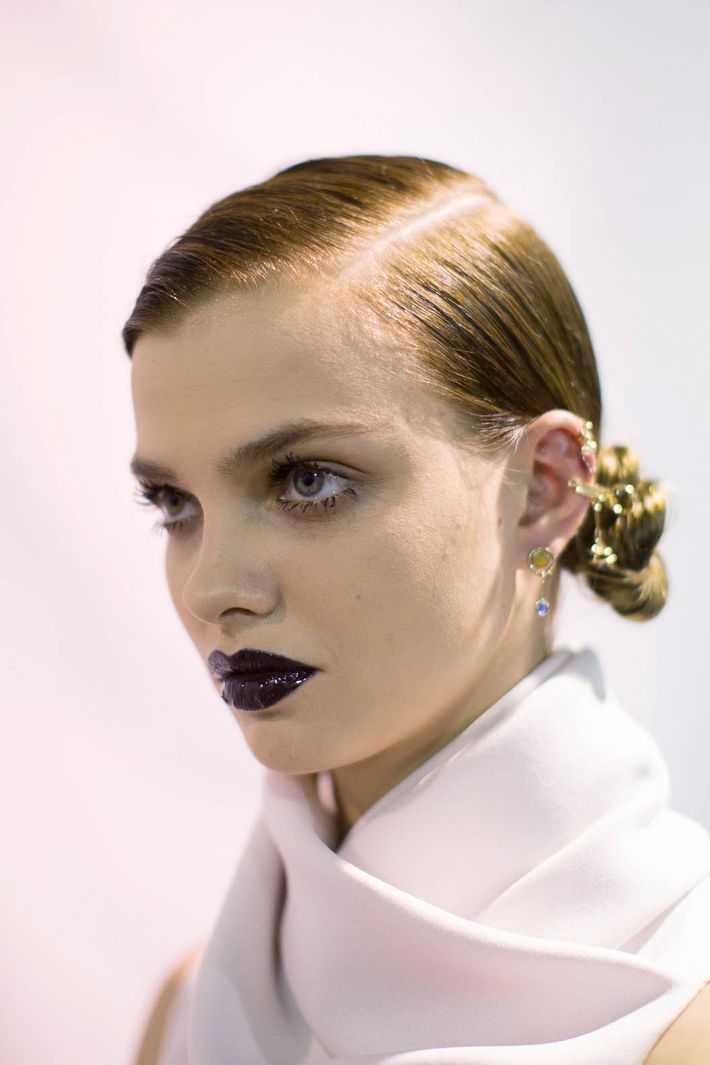 5. Double up on hair. For a whimsical style inspired by '20s twists, Palau and his team created two hair "knobs" at the base of the neck that were in no way influenced by Rey's aunt. (Seriously, Palau stressed several times that we please not mention the Storm Trooper movie that shall not be named.) This created a more charming, quirky vibe than, for example, the pretty princess hair at Rodarte. "Two twists makes it look more youthful," Palau explained. The twists, rather than buns, also kept the look from feeling matronly. He used Redken Satinwear 02 to get the hair very flat and close to the head, with Redken Wax Blast 10 for a little shine, and liberal amounts of Redken Forecful 23 Hairspray.
Click through the slideshow for more beauty mages from Dior and Paris Fashion Week.