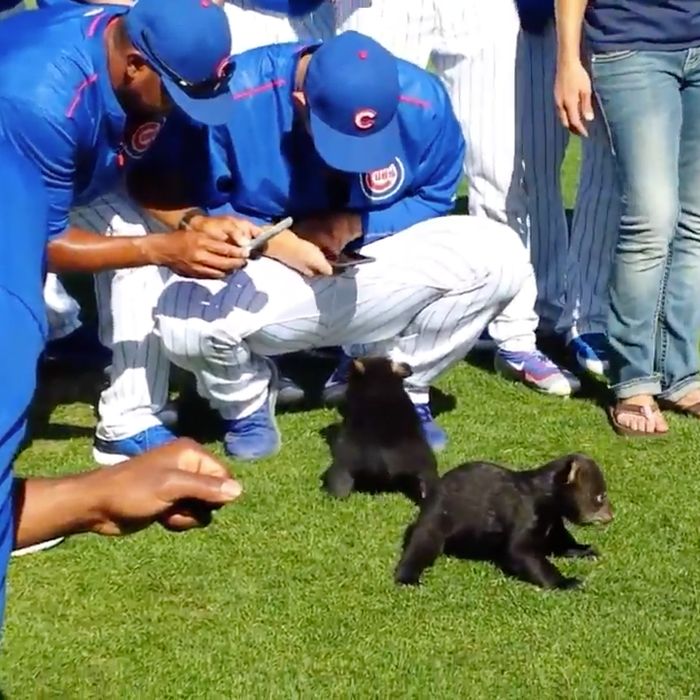 Photo: Carrie Muskat/Twitter
Feeling a little bummed that Easter isn't on 4/20 this year? Still a little hurt by the death of comedy legend Garry Shandling? It's not all bad: Here are some actually good things that happened this week.
1. Beverly Cleary is turning 100 soon, and she thought she'd only make it to 80. Cleary was on the Today show to talk about her upcoming April 12 birthday. When she was asked about the exciting milestone, she responded with, "Well, I didn't do it on purpose!"
2. This baby taught us some moves to take to all our upcoming summer weddings.
3. A dog at a Brazilian soccer game got a free ride from a player. Some days you're the soccer player, and some days you're the dog.
4. The Chicago Cubs got to hang out with actual bear cubs. Let's make this more of a thing: Let the Red Sox play with socks, the Marlins play with marlins, etc.
5. A friendly dog became surrogate dad to a bunch of baby cheetahs. Blakely did a better job than us all when he came to the rescue of several motherless cheetah babies at the Cincinnati Zoo. The cheetahs just climb all over him and he loves it.
6. Kim Kardashian released her legendary pre-jail selfies. For years, hawk-eyed Kardashian fans have been waiting for the day when Kim would release the selfies she was taking right before her sister Khloe went to jail. One year shy of the pictures' tenth anniversary, those pictures live to see the light of day.
7. Another tiny friend showed us that nerds have more fun. I mean, they do.