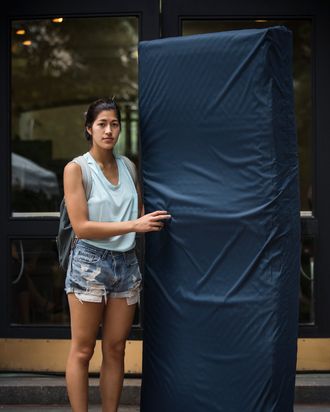 Emma Sulkowicz, "Mattress Girl."
Photo: Andrew Burton/Getty Images
On Friday, Paul Nungesser, the alleged rapist of "Mattress Girl" Emma Sulkowicz, had his discrimination lawsuit against Columbia University dismissed.
In 2014, Emma Sulkowicz launched her art-protest piece "Carry That Weight," in which she carried her mattress with her everywhere (including to commencement), as a condemnation of Columbia's handling of her rape complaint. Though the University cleared him of wrongdoing and allowed him to continue with school, Nungesser's name was eventually made public.
Last year, he filed a discrimination suit against the school under Title IX (the statute under which victims of sexual assault often bring their claims). In the suit, Nungesser asserted that Columbia denied him opportunities it gave to Sulkowicz, and allowed gender-based harassment of him by letting her use "Carry That Weight" as her senior thesis. Judge Gregory Woods was having none of it, dismissing the suit in a 26-page decision that underlines how weak Nungesser's Title IX case is. "Nungesser's argument rests on a logical fallacy. He assumes that because the allegations against him concerned a sexual act that everything that follows from it is 'sex-based' within the meaning of Title IX. He is wrong," wrote Woods. "Taken to its logical extreme, Nungesser's position would lead to the conclusion that those who commit, or are accused of committing, sexual assault are a protected class under Title IX."
Columbia, meanwhile, just wants to see the whole thing be over. A spokesperson for the school told the university's paper, "We are encouraged that today's ruling brings us closer to the point that this litigation, addressing issues understandably difficult for many, can be concluded." However, it may be a bit yet before that conclusion is reached. Nungesser's lawyers have already announced plans to file an amended complaint.