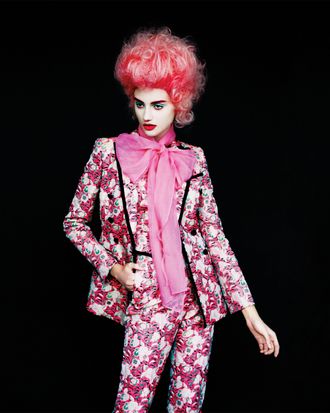 Gucci embraced the color pink on the runway this season.
Photo: Erik Madigan Heck
In 2012, at an auction of items from Liberace's estate, I found a stack of custom stationery. It was on paper the color of poached prawns with the owner's villa rendered in magenta ink. Pink on pink — nuclear in its kitschiness. I bought 50 sheets.
My pink thing started with a vintage Formica table, the shade of expired Pepto-Bismol, ordered on Etsy. I ate breakfast from it and read books at it. A few weeks later, I abandoned my desk and began working at it too. I didn't know it was possible for a wipe-clean laminate surface to make me so happy.
Once you become associated with a color — in my case, Pantone 1905C — people start to bring you objects in that color, like offerings to a fickle god. Friends heaped pink treasures upon me: fine-tipped Japanese pens, frosted cookies, a teapot with a lid shaped like Shrek's ear. When I spotted a co-worker at the office emptying a sack of stale pink jelly beans into the trash bin, I lunged to intercept her. At home I decanted the beans into a bowl on my pink table and Instagrammed them.
When it comes to clothing, pink requires you to make choices. The distance between Elsa Schiaparelli's signature shocking hue (very Upper East Side) and Kim Kardashian's dusty-rose latex (very Snapchatty) is vast. Other iterations of pink range from repulsive (motel duvet) to postmodern (Ettore Sottsass) to problematic (Barbie) to literally divine (Fra Angelico's Annunciation — arguably the best pink of the 15th century).
No wonder, then, that designers like Nicolas Ghesquière at Louis Vuitton and Alessandro Michele at Gucci spiked the runway with heavy pours of the color this season. Ghesquière paired cotton-candy jackets with black leather gauntlets; at Gucci, models wore wickedly transparent coral blouses. This was not the sort of pink you wear to a tea party.
At Fendi, meanwhile, Karl Lagerfeld dropped jaws with a puff-sleeved salmon-hued leather romper. It had a high neck, short shorts, and a cinched waist — less a garment than a dare. There is no situation on Earth in which this would be an appropriate thing to wear. And if that's not fashion, what is?  —Molly Young
Photographs by Erik Madigan Heck. Styling by Rebecca Ramsey. Hair by Amy Farid at Kate Ryan Inc using Oribe. Makeup by Aya Komatsu at BRIDGE using Tom Ford Beauty. Set design by Andréa Huelse for Art Department.
*A version of this article appears in the April 4, 2016 issue of New York Magazine.