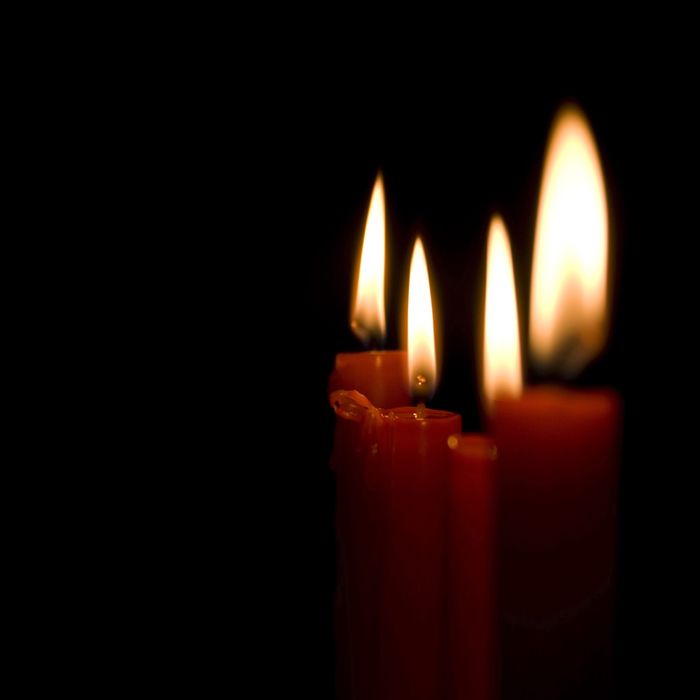 Photo: Tobias Johansson/Getty Images
I heard the word whispered behind me, as faint as the rustle of leaves. "Grief." On group hikes up Mount Kuchumaa, on wisteria-covered walkways, in the lounge over chamomile tea: "I'm grieving." "Grief." "Grief."

I didn't expect my week at Rancho La Puerta, a spa in Tecate, Mexico, to be awash in tears. But it was. Sometimes my fellow guests just dabbed the corners of their eyes; occasionally some broke down in full heaving sobs over vegan tacos at lunch. People were grieving right, left, and center. And they came to the spa in hopes of finding some relief.
There was a mother in her late 50s with her mid-20s daughter on an annual trip memorializing the death of their husband and father. There was the Palm Beach widow with finishing-school posture, an Hermès scarf knotted over her chalk-white sweatshirt and gold button earrings snapped on each lobe. There were the two Cuban women in their 30s from Miami, each reeling from broken engagements. One of them was supposed to be on her honeymoon in San Miguel de Allende, but canceled the caterers, returned the honking diamond, and booked a week at Rancho La Puerta instead, runaway-bride-style. The two told their stories with gallows humor, laughing about "the losers." Still, at meals, they parked a box of tissues near the bottle of hot sauce in case their mood shifted, which it did.
These women were clearing their heads, sweating it out, finding their center, and pulling themselves together so they could return to their regular lives, dry-eyed and unburdened.  
I didn't count myself among the grieving. I signed up for a week of hiking, cardio boxing, Pilates, and meditation at Rancho La Puerta last November — some good clean living before the holidays. Or that's what I told myself and anyone who asked. In truth, I was dealing with my own bucket of sorrow: the loss of two parents in the span of 11 months and the termination of a job I loved for 25 years. No biggie.
When I asked the spa staff about the unexpected number of people in mourning, they were surprised, too. "You had a weird week," one administrator said. That's entirely possible. But I think there's more to this than weirdness or coincidence.
Spa trips have always attracted people at times of transition and reassessment. About 65 percent of visitors to a destination spa are women, and about 15 to 20 percent are women traveling alone, according to Spafinder Wellness, Inc. Over the typical weeklong stay at a destination spa, defenses tend to fall away, sometimes almost literally. Most people stop wearing makeup or fussing with their hair beyond a cursory brush and a gym ponytail after the first day or two. They wander from classes to meals in exercise clothes — and by that I don't mean the color-coordinated athleisure you find on celebrities at the Brentwood Country Mart. These are sweaty exercise clothes. Many roll in to dinner directly from a massage, their faces and hair slick with aromatherapy oil. Without the armor of makeup and street clothes, they start to unwind. And some even start to unravel.
"Everything is stripped away at a spa," says Tricia Brock, a television director (Mozart in the Jungle, Girls, and the Nike web series Margot vs Lily). "It's a safe place. And you find yourself in conversations that are way more deep than you would ever imagine."
Brock didn't go to the Ranch at Live Oaks, a hard-core hiking spa in Malibu, to open her heart to strangers. Her mother had died three months before, and she craved silence. "I was tired of talking and of defaulting to making everyone like me," she said. So she asked the program director if she could treat the week as a silent meditation, and he tied a ribbon on Brock's backpack as a signal to everyone to stay away. "And I made it three days," Brock said. Soon she was confiding in the other guests on the four-hour hikes. "People ask you stuff, and you know what? You really start to answer because you have the time. Plus, there's no cell service. It's a false intimacy, to be sure, but it's intimate anyway."
Another friend, a CEO of a big commercial real-estate company in New York, visited Rancho La Puerta after her father's death and found that she could keep it together until she hit the massage table. "And then I just wept and wept," she said. "Those poor masseuses must be overwhelmed with all the emotion they have to process."
Lorraine Rose, a psychotherapist in private practice in Washington, D.C., was at Rancho La Puerta the same week as me. She believes a spa trip can actually be an important aid in recovering from grief. "When you have the motivation and money to go to a spa, you're making a conscious decision to let healing take place," she told me. "You also have the chance to be anonymous, where no one knows of your struggle, whatever it may be. If you put yourself in a place of vulnerability, receptivity and growth can occur. Just allowing yourself to be touched by a healing masseuse or another person's story can be invaluable."
There are actual, honest-to-God studies that support this. A Swedish researcher examined the effects of hand and foot massages on people for eight weeks after the death of a loved one. The result: The gentle but firm massages "provide much-needed consolation," said Berit S. Cronfalk, the lead author of the study for the Stockholm Sjukhem Foundation published on ScienceDaily. The massage "activates the touch receptors, which then release oxytocin, a hormone known for its positive effects on well-being and relaxation." One participant in the study echoed Brock's words, saying, "I was just lying there … and no one expected me to talk about my feelings."
In a study about the physiological effect of a spa retreat, Andrew Newberg, a researcher at Thomas Jefferson University Hospital, discovered a long list of psychological benefits as well. He noticed "Improvements in anger, tension, vigor, fatigue and confusion," he wrote in Integrative Medicine: A Clinician's Journal. Added to that list, he found a "statistically significant improvement in anxiety and depression levels. Participants also reported significant changes in their feelings about spirituality and religiosity."
I don't know about religiosity, but during my time at Rancho La Puerta, the guests became passionate about a particular massage treatment that was, in the words of one convert, "mind-blowing." Watsu, or underwater shiatsu, takes place in a secluded pool heated to 98 degrees. A therapist holds the recipient's body and glides it around in the water while pressing on different points. It's hard to explain and easy to love. "It's a very womblike experience," says Yvonne Neistadt, who works at Rancho La Puerta. I heard people come back from their Watsu sessions in a state of awe; several used the word reborn. And one woman from Denver told me over dinner how moved she was by the experience. "I realized I hadn't been touched in so long, and I thought I didn't need it. But I did." Now I was crying.
It's difficult to express the feelings of sadness, loss, and loneliness in real life, outside the spa. "Grief is quite overlooked," said David Peretz, an assistant clinical professor of psychiatry at Columbia University's Center for Psychoanalytic Training and Research who specializes in bereavement. "People offer their condolences and come to memorial services, but then it stops. People are expected to go back to their lives and have a stiff upper lip. If sorrow is denied, it can make recovery more difficult."
What struck me about my own experience was how inept I was at mourning. I am not a crier — and I'm illogically proud of my stoicism, as if it's a sign of strength. The day after each of my parents' memorials, I returned to work with my emotions tamped down, ready for business. But here I could let my mind wander. I meditated every day, and even chanted things that ordinarily might have made me roll my eyes. I sometimes sat in perfect stillness, looking out the window at the mountains. The reality of grief settled in. And I could hear my own words of comfort, as faint as the rustle of leaves.