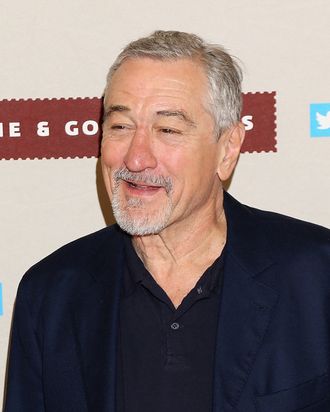 Robert De Niro
Photo: Bill McCay/Getty Images
After coming under fire for scheduling a documentary that some say pushes an anti-vaccination agenda, Robert De Niro's Tribeca Film Festival has decided to remove the film from its schedule.
Vaxxed: From Cover-Up to Catastrophe comes from a former doctor named Andrew Wakefield, who has long been known in the medical field as a quack after he published a 1998 paper that linked vaccines to autism. (His paper has since been disproved and Wakefield was stripped of his medical license for abusing developmentally challenged children.) Filmmaker Penny Lane — whose Sundance doc Nuts! focused on medical fraud — wrote an open letter to the festival asking it to reconsider screening Vaxxed. She argues, "There is a big difference between advocacy and fraud, between point of view and deception. For you to claim there is no difference, and for you to screen this film, perpetuates Wakefield's fraud."
After defending Vaxxed in a statement Friday, De Niro changed course today and announced that TFF will no longer screen the film:
My intent in screening this film was to provide an opportunity for conversation around an issue that is deeply personal to me and my family. But after reviewing it over the past few days with the Tribeca Film Festival team and others from the scientific community, we do not believe it contributes to or furthers the discussion I had hoped for.

The Festival doesn't seek to avoid or shy away from controversy. However, we have concerns with certain things in this film that we feel prevent us from presenting it in the Festival program. We have decided to remove it from our schedule.
Read De Niro's original statement below:
Grace and I have a child with autism and we believe it is critical that all of the issues surrounding the causes of autism be openly discussed and examined. In the 15 years since the Tribeca Film Festival was founded, I have never asked for a film to be screened or gotten involved in the programming. However this is very personal to me and my family and I want there to be a discussion, which is why we will be screening Vaxxed. I am not personally endorsing the film, nor am I anti-vaccination; I am only providing the opportunity for a conversation around the issue.